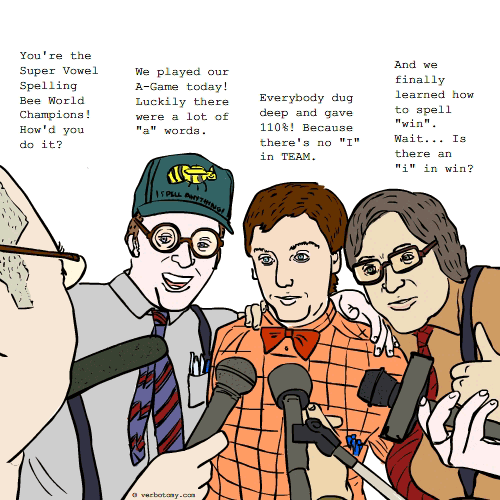 DEFINITION: v., To speak in an inspirational but perhaps incomprehensible manner by stringing together a series of grunts and clichés. n., An inarticulate TV or radio, post-game interview, typically given by a panting, toothless, sweating, verbally-challenged, and hugely overpaid, athletic superstar.
Donkingcoherence
Top verboticism of the day created by karenanne
Pronunciation: don king co HEER ens
Sentence: The coach's donKingcoherence was legendary. Some of the things he said were so incomprehensible that they were quoted on "humorous sayings" websites. For example, "If we're gonna win, we gotta get more points, 'cause usually, when the other team wins, it's 'cause they got more points, and usually there is only one winner, so next time, we definitely gotta prob'ly try to get more points."
Etymology: Don King (flamboyant boxing promoter and motivational speaker, often noted for his unintentionally funny sayings) + incoherence
Created by: karenanne.
Comments:
Ha ha! Good word! - splendiction, 2010-04-22: 21:30:00
excellent word...and that hair! - Nosila, 2010-04-23: 01:06:00
More Top Verboticisms:
(Invented words created by the Verbotomy Writers)
Puzzeal: /pez-zel/ Some people get butterflies in their stomachs, but Kimberly gets bullfrogs in her throat whenever she's excited. "I was just so happy when the final season of LOST started that I couldn't even talk during the first commercial break," she recounted. Sadly, Kimberly is not alone and suffers alongside dozens of stars of romantic comedies. Luckily science can help! PhunPharmasuitcals introduces Puzzealia, a new medication to treat sufferers of Puzzeal. Side effects include: broken eyeballs, leprosy, and cannibalism. Etymology: Puzzle (confuse) + Zeal (excitement) Created by: thegoatisbad.
Verbarrhoea: /Verb-A-ree-aar/ I was watching that boxer on TV the other day, Chris Eubank, and he was talking such verbarrhoea! He was all over the place. They get paid millions to dance around like a ponse and speak utter balls. Pah! Etymology: Verbal - Involving skills with words in a spoken manner. Diarrhoea - frequent, nasty and excessive bowel movement. Created by: Dougalistic.
Comments:
He is one of many "sports stars" that speak Verbarrhoea!! - sean30, 2008-02-04: 16:03:00
Excellent description of 'jockese' mumbo jumbo which is generally nothing more than a cliche' festival. - Mustang, 2008-02-04: 18:52:00
Patterup: /patt-er-up/ The whole side fronted up for the patterup with the journalists after winning the game. The PITCHer started up first with his SPIELE, which soon degenerated into a garBALLed outpouring. His teammates all started shouting the usual cliches about the proverbial wire, the good fight put up by the opposition and taking just one game at a time. Etymology: Batter Up - baseball term to call up the next batter + patter (speech - especially fast/rehearsed) pitch (salesman's speech) spiele (German for games) ball (as in games) Created by: petaj.
Comments:
Classy. The (not so) subtle innuendo adds another level to the pun and hints insightfully at the obsequious relationship between media and sport - emdeejay, 2008-11-27: 04:42:00
It's a hit we can all have a ball using! - silveryaspen, 2008-11-27: 12:29:00
You're a diamond in the rough, petaj...and you keep all your bases covered! - Nosila, 2008-11-27: 20:03:00
More...
To see more verboticisms for this definition go to: We played our A-Game today! Luckily there were a lot of "a" words.
More Winning Words:
More Verboticisms! See the winning words for: Help! There's something in the fridge!