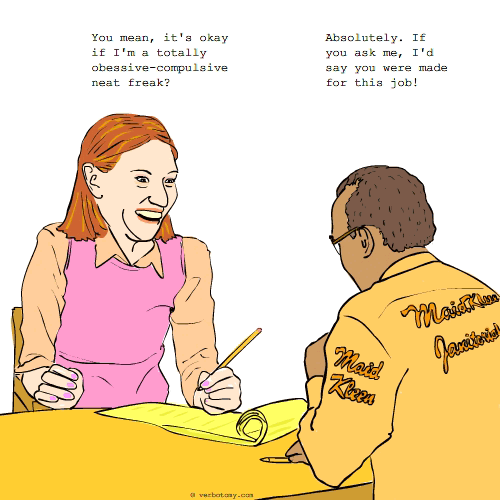 DEFINITION: v. To suddenly discover that your most troublesome personality defect, for which you have been taking medication and/or therapy, is actually your greatest asset. n. A perceived weakness which is actually a strength.
Already Voted
Vote not counted. We have already counted two anonymous votes from your network. If you haven't voted yet, you can login and then we will count your vote.
---
Benifit
You still have one vote left...
Created by: weareallbeautiful
Pronunciation: b-eh-n-kuh-m-puh-v-er-ee
Sentence: Julie made an astonishing bencompovery that her annoying compulsion of organizing everything had gotten her a high paying job as a secretary for the president of one of the most successful corporations in the country.
Etymology: benefit+compulsion+discovery
Created by: galwaywegian
Pronunciation: han dee kap
Sentence: at the Outside the Box employment agency they help change a handicap to a handycap, one person's OCD sufferer is another person's cleaner/office manager/proof reader.
Etymology: handicap, handy
----------------------------
COMMENTS:
love it - remistram, 2007-06-25: 14:37:00
Voted! - Clayton, 2007-06-25: 21:15:00
----------------------------
Created by: bubbos
Pronunciation: e-pi-fa-click
Sentence: Tom acknowledges that Sally's stubbornness as an epifaclick for her career.
Etymology: epiphany + click, for it all to click in
Created by: remistram
Pronunciation: fawlt-it-tood
Sentence: She displayed her stalking practices daily with her staff, sneaking up behind them, checking her watch each time she saw them away from their cubicles chit chatting with coworkers. This behaviour became her faultitude and discovered she should become a private investigator.
Etymology: fault (flaw, imperfection) + fortitude (mental and emotional strength when facing difficulty, adversity)
Created by: Clayton
Pronunciation: fawl-TIL-i-tee
Sentence: Madeline's faultility was her incessant nose-blowing. Her husband thought of divorcing her, but she was such an amazing duck call.
Etymology: fault + utility
Created by: splendiction
Pronunciation: IM pair might
Sentence: Beatta shrieked excitedly, "you mean I can keep everything as clean as I want? Including my hands?" Her impairment would become her impairmight, as long as she agreed to wear gloves.
Etymology: From: impairment and might.
Created by: galwaywegian
Pronunciation: loo na tik awl the rite bok ses
Sentence: She managed to lunatickalltherightboxes despite the rather stained resumé
Etymology: lunatic tick all the right boxes
Created by: andrewa121
Pronunciation: "that's it insane"
Sentence: After interviewing candidate after candidate for our unique position, we finally found one who was thatsitinsane. Her quirks were perfect in every way.
Etymology: from "that's it", an epiphanic phrase, and insane, denoting a tenuous relationship with the rational. cf. "bat shit insane".
Created by: mweinmann
Pronunciation: flaw - po - tent
Sentence: Sally felt flawpotent when her relentless jabbering and wild hair got her a spot on the popular gameshow "Everyone's Talking but Nobody's Listening"....
Etymology: flaw, compenent, potent
----------------------------
COMMENTS:
That gameshow is Twitter - jrogan, 2009-07-31: 10:41:00
----------------------------
Created by: ohwtepph
Pronunciation: deh-fah-set
Sentence: I never knew she was up for the job until I realized that she had a defasset.
Etymology: defect + asset + deficit