Verboticism: Slothouflage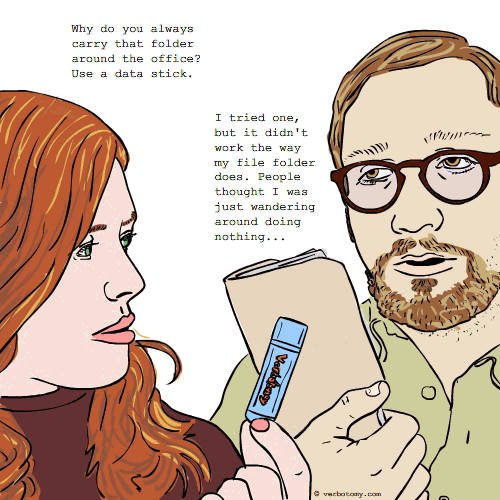 DEFINITION: n. A prop (e.g. papers, files or any non-functional equipment) used to create the illusion of busyness. v. To use office supplies to create the illusion that you are working.
Voted For: Slothouflage
Successfully added your vote for "Slothouflage".
You still have one vote left...
Created by: giveaphuk
Pronunciation: Fib De Jet
Sentence: she fibdjeted with pieces of paper while looking @ the clock waiting from home time.
Etymology: Fib = to like & djet - ending of word fidget - meaning to behave or move nervously or restlessly.
Created by: Nosila
Pronunciation: fyl loo zhun
Sentence: He was the Great Pretender in our office. Sadly, because he was a male, he got away with it for way longer than any female would even dare try. Yes, Seymour Dolittle, was a fileusion. He would stalk the halls carrying a file folder and pretend to "do his rounds" with nothing more than what turned out to be a pizza place menu and and a bus schedule in his file folder. He fooled the senior management for over 5 years (the ladies in the company twigged on after a year or two, but had nowhere to lodge their concerns). When the cuts came, no one could salvage Seymour, as he worked for no one, did not report to anyone and could never successfully explain his presence in the hallowed halls. Luckily for him, he worked long enough to collect a great pension, unemployment insurance and a tasty severance for all his hard-worked time. Nice work if you can get it...and he wasn't even a CEO of anything!
Etymology: File (a set of related records (either written or electronic) kept together) & Illusion (an erroneous mental representation; the act of deluding; deception by creating illusory ideas; an illusory feat; considered magical by naive observers)
Created by: TJayzz
Pronunciation: Fy-el-o-foe
Sentence: Tarquin never went anywhere without his fileofaux, he wanted everyone to think he was extremely busy doing a very important job, when really he was just loafing around doing as little as possible.
Etymology: File(a folder for keeping loose papers in order) + Faux(artificial,imitation) ORIGIN French false = Fileofaux. See also filofax(a loose-leaf notebook for recording notes) ORIGIN representing a colloquial pronunciation of file of facts
----------------------------
COMMENTS:
Fawny collision of meanings there TJ. Good word! - scrabbelicious, 2008-08-06: 06:48:00
File a foe under fiendish! - metrohumanx, 2008-08-06: 16:25:00
Great minds think alike...I had toyed with that word as well...isn't that fauxbulous! - Nosila, 2008-08-06: 21:52:00
----------------------------
Created by: Discoveria
Pronunciation: ess-KAY-pur-wurk
Sentence: Just before weekly staff meetings, Joe's pile of escaperwork would grow to include three reports, two manila envelopes, a stapler and a large black binder labelled 'URGENT'.
Etymology: escape (to avoid) + paperwork (documents)
Created by: ohwtepph
Pronunciation: wohrk-oh-thuh-wiz-prop
Sentence: Oh god, that Ben has been such a work-o-the-wispropper ever since he started out in the business of being the business supervisor. The work-o-the-wisprop he carried around were very convincing: papers to be signed, a neat brown folder and a clipboard with Transformers scribbles on it.
Etymology: will-o-the-wisp [illusion] + work + prop + wiz [the best at something e.g. a math wiz]
----------------------------
COMMENTS:
good one! - pguse, 2007-06-13: 10:04:00
thanks. :D - ohwtepph, 2007-06-13: 10:28:00
It's a good one and I voted for you! - Stevenson0, 2007-06-13: 17:36:00
How did you get that punctuation in there? - mplsbohemian, 2007-06-13: 19:43:00
you can work all sorts of magic if you go into 'oops i want to change the spelling' bit of the edit section.... it makes things much more verbsatile - rikboyee, 2007-06-13: 22:23:00
----------------------------
Created by: mrskellyscl
Pronunciation: sup-plies-guys
Sentence: Herb was office supply guy and had charge of the stock room; however, we knew him as the "suppliesguise" because he'd spend the entire day running back and forth with paper, folders and what not just to make himself look busier than he really was. That wasn't so bad, but when anyone asked him to get supplies for them his response was, "I'm sorry, I'm too busy. You'll have to get it yourself!"
Etymology: supplies: provisions; furnish or equip + guise: an artful or simulated pretense
Created by: administraitor
Pronunciation: row-bow-flaj
Sentence: Howard found that measuring floors desks and windows allowed him to prowl the office at will, his roboflage consisting of a tape and clipboard.
Etymology: robot (worker) + camouflage
Created by: Nosila
Pronunciation: dok u men tal it ee
Sentence: Pierre's ruse was to use his documentality to elude real work. He would carry any official-looking folder or paper to make it look like he was on his way to a very important meeting. In fact, he remembered the trick his English classes used about the different words "stationary & stationery". The "ar" one stood for At Rest, as in stationary machinery and the other "er" one stood for the last 2 letters in paper...or in his case "Eternally Roving".
Etymology: Document (writing that provides information (especially information of an official nature); anything serving as a representation of a person's thinking by means of symbolic marks) & Mentality (a habitual or characteristic mental attitude that determines how you will interpret and respond to situations; mental ability)
Created by: Jabberwocky
Pronunciation: mask/ur/aid
Sentence: No one knew which department he worked in but with his maskqueraid of blackbery and wireless headset he easily passed his day wandering and betting on horses.
Etymology: masquerade + mask + aid
----------------------------
COMMENTS:
great word and welcome back! - Nosila, 2008-08-06: 21:53:00
----------------------------
Created by: artr
Pronunciation: pôrtˈfōnēˌō
Sentence: Gerry has all the correct business props, the pinstripe suit, the proper tie, the Blackberry. He is never seen without his portfolio. The truth; the suit is a cheap knock-off; the tie, a clip-on; Blackberry, a much too expensive cell phone and the portfolio, a portfonio that holds nothing more than his lunch.
Etymology: portfolio (a large, thin, flat case for loose sheets of paper such as drawings or maps) + phony (not genuine; fraudulent)