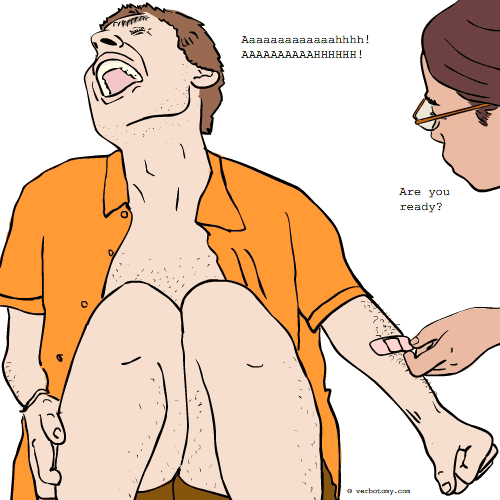 DEFINITION: n. The horrible pain that comes from pulling a bandage off of hairy skin. v. To inflict pain or injure when removing a bandage.
Already Voted
Vote not counted. We have already counted two anonymous votes from your network. If you haven't voted yet, you can login and then we will count your vote.
---
Skinwrip
You still have one vote left...
Created by: Katisms1
Pronunciation: torn-TURE
Sentence: "While the original cut hurt like a mother, removing the band-aid was sheer tornture!"
Etymology: torn (as in flesh) + torture
Created by: serendipity9000
Pronunciation: plaz-ter-rip
Sentence: Even though he braced himself, the plasterip he felt when she yanked of his bandaid made him yell.
Etymology: plaster (british name for band-aids) + rip (what happens to the hair when it gets yanked from your skin by the band-aid being removed)
Created by: Nosila
Pronunciation: fee las to plast
Sentence: Edwin was a big wuss when it came to pain. He could feelastoplast every hair pulled by its roots off his arm by the bandage. He was such a baby about it that his wife Jane took great pleasure in making the pain last as long as possible. She thought that the Human Race would have died out long ago if it were up to men like Edwin to give birth...
Etymology: Feel (perceive by a physical sensation, e.g., coming from the skin or muscles) & Elastoplast ( an elastic adhesive bandage for covering cuts or wounds)
Created by: Mrgoodtimes
Pronunciation: Fol - ah - kill
Sentence: Luigi didn't think twice about the band-aid on his upper lip til it was too late. His 5 o'clock shadow was well past 10 o'clock and the follikill was not going to be pretty.
Etymology: Follicle - Kill (as in death to the nerve ending associated with the cavity)
Created by: lumina
Pronunciation: rip/per/mor/tis
Sentence: Deathly afraid of rippermortis and the possibility of embarrassing himself by crying like a baby, John had convinced himself and others that he was just a very slow healer, very prone to infection, and in need of wearing bandaids until they fell off on their own accord.
Etymology: Derived from rigor mortis: A medical condition that occurs after death and results in the stiffening of muscle mass.
----------------------------
COMMENTS:
Hahahahaa..."fell off on their own accord"...good one! - metrohumanx, 2008-07-29: 02:03:00
Jack the Ripper lives. - OZZIEBOB, 2008-07-30: 05:41:00
----------------------------
Created by: galwaywegian
Pronunciation: bawl dee pat shite iss
Sentence: the baldipatchitis he suffered was excrutiating. he resolved to be less stingy in future and to pay for the proper brazilian job.
Etymology: baldy patch itis
----------------------------
COMMENTS:
Hehe!! - purpleartichokes, 2007-06-06: 07:45:00
i hope it's not congenital! - jadenguy, 2007-06-06: 14:22:00
----------------------------
Created by: texmom
Pronunciation: Yow cha fah licle
Sentence: The nurse warned that a youchafollicle would follow ripping the tape off his IV site.
Etymology: Yowch! - Anamatapia (ok I can't spell) follicle - hair
Created by: mrskellyscl
Pronunciation: skin-jure
Sentence: Sara wasn't trying to skinjure Fred when she pulled the bandaid off his arm; however, he still cried like a girl when she touched him. Even though he was 35 years old, he still feared owies so she wisely kept a smiley face sticker in her purse for just such an occasion and rewarded him for being so brave.
Etymology: skin: outer layer of the body + injure: to cause pain or physical harm
----------------------------
COMMENTS:
Why do we always laugh when grown men act like little girls? - artr, 2009-12-30: 06:40:00
----------------------------
Created by: metrohumanx
Pronunciation: RAP-ih-DEE-pill-AAAAH-gunny (try it a few times fast)
Sentence: Mister Martindale had a very unremarkable wound- merely an irritation of the skin caused by his misguided attempts to defuse a noxolene germ bomb in his basement. He applied the largest adhesive bandage he could find and all seemed well until he asked Lulu to remove it from his forearm. Forearmed with the knowledge that RAPID removal was the preferred method of painless revelation, Lulu gripped the bandage and gritted her artificially whitened yet still appealing teeth. Mr Martindale was sweating like a piece of rancid pork, for he knew what awaited him.....................RAPIDEPILAGONY! It lasted but a nanosecond, but was like de-velcroizing the Wolfman. With tears in his eyes, Mr Martindale pulled Lulu to his chest and they gazed, stupefied, at the offending ex-bandage which looked like a cross between a steel wool pad and a giant mutant flatworm. "I'll NEVER do that again..." said Mr Martindale." I can't take the RAPIDEPILAGONY !" ....And now about that hangnail.....
Etymology: RAPID+DEPILATE+AGONY rapid:fast , quickly..... depilate:the removal of hair, wool, or bristles by chemical or mechanical methods (latin)..... agony:severe or excruciating pain
----------------------------
COMMENTS:
Superabsorbent pre-sliced EMPRESS stringettes available at: http://www.martindalecenter.com/ Thank You. - metrohumanx, 2008-07-29: 01:49:00
Always zany and entertaining; nice "feel" about the word too. - OZZIEBOB, 2008-07-29: 08:17:00
----------------------------