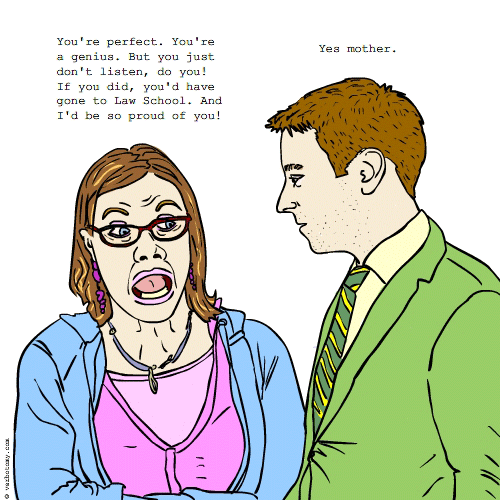 DEFINITION: v. To be offered regular encouragement, unwavering support and subtle but unrelenting criticism based on the worry that you may not be realizing your "full potential". n. The helpful but sometimes annoying advice given by a mother to a child.
Irritribeating
Top verboticism of the day created by metrohumanx
Pronunciation: EAR-it-TRY-beating
Sentence: Artie's old mom was a nasty control freak. Inside he raged, outside he was too meek¦ He wanted to do something manly like logging, But ended up chained to a desk merely blogging. Driven to madness by matronly bleating, Artie succumbed to Mom's IRRITRIBEATING.
Etymology: IRRItate+diaTRIBE+beATING= IRRITRIBEATING.....IRRITATE: transitive verb 1 : to provoke impatience, anger, or displeasure in; Latin irritatus, past participle of irritare.....DIATRIBE: a prolonged discourse, a bitter and abusive speech or coercive harangue; Latin diatriba, from Greek diatribΔ" pastime, discourse, from diatribein to spend (time), wear away, from dia- + tribein to rub.....BEATING: to hit repeatedly so as to inflict pain, to lodge securely by repeated striking; Middle English beten, from Old English bΔ"atan; akin to Old High German bōzan to beat.....
Created by: metrohumanx.
Comments:
Dig deep. Store rice. Verbotomize daily. Never seek hegemony! - metrohumanx, 2009-06-23: 00:44:00
Irritribeally good. - Nosila, 2009-06-23: 16:26:00
More Top Verboticisms:
(Invented words created by the Verbotomy Writers)
Constructical: /con-strukt-i-kal/ Jeremy's mother wanted the best for him. She knew he was gifted but felt he lacked drive and direction. She had always been constructical with him and hoped one day soon it would lead him to seize more of the opportunities around him. Etymology: Constructive - build up (confidence); critical - finding fault with (someone/something) Created by: Rutilus.
Smotherspeak: /smuth-er-speek/ Jason cringed at the very sound whenever his mother began a sentence with a motherspeak preface. "I like the (fill in noun or phrase), but..." Yes, it was like everything she would say before the word "but" softened you up for a reprimand, left-handed compliment, or unsolicited opinion. Etymology: We put the mother in smother + speak, as in newspeak, from the George Orwell novel 1984 where language was manipulated to control thoughts and ideas Created by: arrrteest.
Comments:
Good word. - OZZIEBOB, 2008-05-11: 18:34:00
Impotentate: /im-poe-ten-tate/ His mother was such an impotentate that her nagging had a reverse effect. Etymology: impotent + potentate Created by: bookowl.
More...
To see more verboticisms for this definition go to: You're perfect, but you just don't listen!
More Winning Words:
More Verboticisms! See the winning words for: What did you just call me?