Vote for the best verboticism.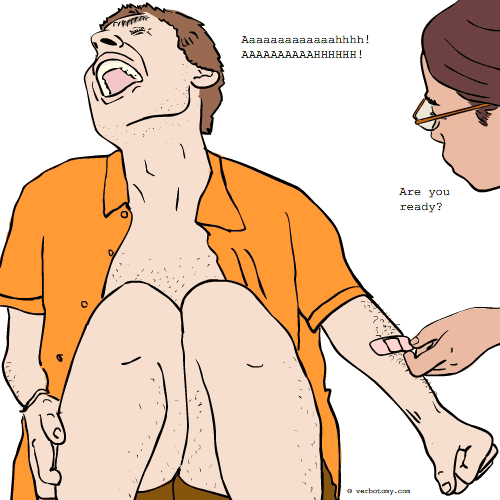 DEFINITION: n. The horrible pain that comes from pulling a bandage off of hairy skin. v. To inflict pain or injure when removing a bandage.
Verboticisms
Click on each verboticism to read the sentences created by the Verbotomy writers, and to see your voting options...
You have two votes. Click on the words to read the details, then vote your favorite.
Created by: notnaught
Pronunciation:
Sentence: An Excrucifilamentectomy is best performed quickly by a skilled professional.
Etymology:
----------------------------
COMMENTS:
makes the hairs on my neck stand up. - OZZIEBOB, 2008-07-30: 05:43:00
Quickly? Make it SLOWLY! - metrohumanx, 2008-07-30: 17:27:00
It's hard to make a pronounceable ten-syllable word, but ya did it! Congrats. - metrohumanx, 2008-07-31: 00:46:00
----------------------------
Created by: pinwheel
Pronunciation: hurt/soot
Sentence: Jane took great pleasure in ripping the plaster off my chest. It hurtsute like hell!
Etymology: hurts (painful) + hirsute (hairy)
----------------------------
COMMENTS:
very funny - Jabberwocky, 2007-06-06: 11:35:00
----------------------------
Created by: remistram
Pronunciation: sass-k-ouch
Sentence: Chet wailed like a little baby when he felt the unavoidable waves of the sasquouch.
Etymology: sasquatch (hairy, like big foot) + ouch
Created by: Rhyme79
Pronunciation: s-kuh-REEP
Sentence: OMG! Stop screaping me! Call yourself a nurse?! You're not a nurse! You're a crazy, sadistic, crazy sadist! Argh! STOP IT!
Etymology: A mixture of 'scream' and 'rip' with a portion of 'scrape', which to me, is a pretty painful sounding word.
Created by: Trystera
Pronunciation: dee-PILL-ut-ow-wee
Sentence: Bruce was a strong man: he endured the motorcycle accident without even flinching, and when they peeled the bandages away from the road rash, the depilatowwie only made him shed one single tear.
Etymology: Depilatory + "owwie" (exclamation of pain, or juvenile term for bandaid-worthy injury)
Created by: kymar
Pronunciation: hair-a-hurtin
Sentence: I knew the cut had healed, and it was time for the dreaded pull...and the hairahurtin.
Etymology: hair, hurts!
Created by: Osomatic
Pronunciation: de + yell + ah + tory
Sentence: Oh no, I'm going to have to give myself a deyellatory later this afternoon...
Etymology: kinda sounds like "depilatory"
Created by: Mustang
Pronunciation: band - aydj - AGG - uh - nee
Sentence: Bradley is a major wuss who screams in extreme bandageagoney even over the small discomfort from the removal of an adhesive strip from a part of his body where there is the slightest amount of hair.
Etymology: Blend of 'bandage' and 'agony'.
----------------------------
COMMENTS:
BANDAGEAGONY- the sure sign of of a bad actor. Major Wuss (retired) revels in the procedure. - metrohumanx, 2008-07-29: 01:58:00
----------------------------
Created by: serendipity9000
Pronunciation: plaz-ter-rip
Sentence: Even though he braced himself, the plasterip he felt when she yanked of his bandaid made him yell.
Etymology: plaster (british name for band-aids) + rip (what happens to the hair when it gets yanked from your skin by the band-aid being removed)
Created by: hooterbug
Pronunciation: ˈsas-ˌkwouch
Sentence: Nurse Betty motioned silently for her young Candy-Striper student nurses to gather 'round. "Sshhhhhhhh" she whispered. "Up ahead you will see a Perfect specimen of Genus Sasquouch in Room 3". "Listen girls, as Nurse Greta removes the bandage from his hairy arm. "You will learn to identify this Medical Oddity by the upcoming scream of "Kelly Clarkson"
Etymology: Sasquatch - large hairy humanoid creature said to live in wilderness areas of the United States and also known as bigfoot (pronounced big baby)and Ouch- Used to express sudden pain or displeasure
----------------------------
COMMENTS:
Ha! "KELLY CLARKSON!" :) - lumina, 2008-07-29: 12:25:00
Love it,hooterbug! Best One Yeti!!! - Nosila, 2008-07-29: 17:19:00
Positively inspired, hooterbug! - metrohumanx, 2008-07-30: 01:18:00
Crazy, yeti like it! - OZZIEBOB, 2008-07-30: 05:40:00
ABOMINABLE SHOWMAN! - metrohumanx, 2008-07-31: 03:55:00
----------------------------