Verboticism: Theartofbullshit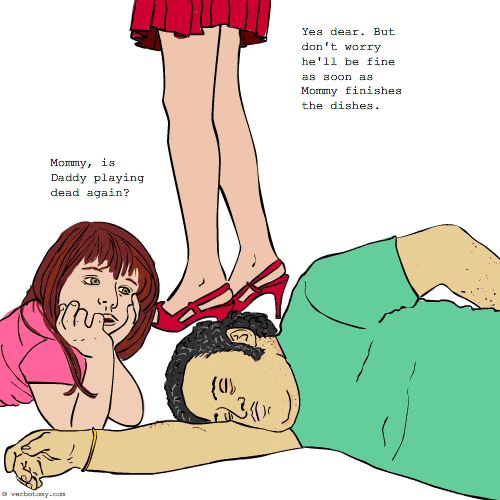 DEFINITION: v. To be physically overcome by a sudden illness, disability, or even death when asked to participate in unrewarding activities -- like work, or household chores. n. A person who gets sick when asked to work.
Voted For: Theartofbullshit
Successfully added your vote for "Theartofbullshit".
You still have one vote left...
Created by: TheBocaj
Pronunciation: DOWN-for-thuh-KOUN-tuh-BIL-i-tee
Sentence: Steve was asked to clean his room on Saturday; however, when his mother checked up on him at lunchtime, she discovered he had contracted yet another case of downforthecontability, which put him out of commission until dinner was served.
Etymology: To be out for the fight [down for the count] when others are relying on you [accountability]
Created by: hugecranium
Pronunciation:
Sentence: Carl came down with a severe case of responsibitis when asked to take out the trash.
Etymology: My cat said it the other day.
Created by: erwalter
Pronunciation: spu·ri·ma·laise·ria
Sentence: Bobby's spurimalaiseria prevented him from taking his final exam and resulted in his falining out of college
Etymology: spurious + malaise + ria
Created by: red11385
Pronunciation: poss-uhm-ize
Sentence: Dad possimized when asked to mow the lawn, but miraculously recovered when his buddy asked him to the football game.
Etymology:
Created by: geekgrrl
Pronunciation:
Sentence: 'Gee Hon, I would love to help do the dishes, but you know that I suffer from LaborisAvoidus.'
Etymology:
Created by: theantiipod
Pronunciation: Ab-sin-tose
Sentence: Oh don't get all absintose on me just because I asked you to vacuum the stairs.
Etymology: Absent + sin (without) + comotose
Created by: Rocky
Pronunciation: Le|tharg|i|scape
Sentence: Your daddy comitted 1st degree lethargiscape when confronted with the honey-do list.
Etymology: Lethargy | Escape
Created by: haroldbarold
Pronunciation: shurk-uh-hall-ick (rhymes with workaholic)
Sentence: Daddy was too drunk to make the weekly Shirkaholics Anonymous meeting yet again.
Etymology: shirk + aholic from "workaholic"
Created by: zombiebex
Pronunciation:
Sentence:
Etymology:
Created by: sargent1
Pronunciation:
Sentence:
Etymology: Very convenient Rigor Mortis