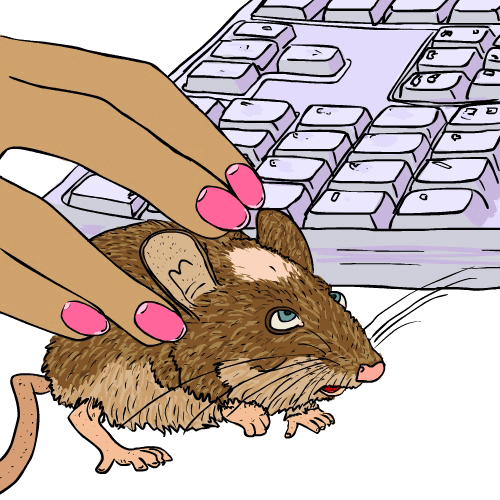 DEFINITION: n., A wear mark, or shiny spot, which appears on a heavily used computer touch-pad, mouse or keyboard. v., To wear down or erode through repetitive clicking, tapping or poking.
Already Voted
Vote not counted. We have already counted two anonymous votes from your network. If you haven't voted yet, you can login and then we will count your vote.
---
Mousopecia
You still have one vote left...
Created by: jkernen1
Pronunciation:
Sentence: The keyboard appeared old and a thin layer of fingerwax had been applied.
Etymology: finger + wax
Created by: remistram
Pronunciation: kuhm-pyoo-buhf
Sentence: She compubuffed her keyboard so bright and shiny that she could almost she her reflection in each key.
Etymology: computer + buff (as in shine)
Created by: Nosila
Pronunciation: eek ro shun
Sentence: Minnie's mouse was worn away by eekrosion. She had used her computer a million times to meet the demands of her boss, but now the surface was taking on a dull patina and she was sure eekrosion was creeping in. It was a pity, always having to work with a Mouse...but that was the price you paid for going to work at the office of the Disney Corporation!
Etymology: eek (the squealing sound people in cartoons make when they see a mouse) & erosion (condition where the finish or top layer is worn away by wind, water or constant friction) & e-rosion (electronic wearing away of something)
----------------------------
COMMENTS:
Last week I captured a mouse in a strongbox and released it in the woods. - metrohumanx, 2008-10-17: 12:17:00
This week I cornered a rat in my office and made him apologize for doing something stupid...I think the 4 legged ones would be easier to train... - Nosila, 2008-10-17: 22:17:00
Hahaha...I just detected mouse #2- a close relative of #1, i guess. Time to set up the strongbox again. - metrohumanx, 2008-10-18: 06:40:00
I caught a mousy brown rat weaseling into a pussy's prim pudding. - zxvasdf, 2008-10-18: 15:15:00
Mice are like insects...when you kill one, all his relatives show up for the funeral! - Nosila, 2008-10-18: 23:36:00
----------------------------
Created by: Nosila
Pronunciation: e rode dent sha
Sentence: When Gabby used her computer sll day long, year in, year out, it showed definite signs of erodentia. The poor mouse finally squeaked,croaked and died.
Etymology: e=electronic; Erode (wear away) and Rodentia (small gnawing animals: porcupines; rats; mice; squirrels; marmots; beavers; gophers; voles; hamsters; guinea pigs; agoutis)
Voted For! | Comments and Points
Created by: libertybelle
Pronunciation: klick - pit
Sentence: I realized I was spending entirely too much time on-line playing those escape the room games when my 3 month old laptop had already developed a clickpit in the touch-pad.
Etymology: click -action of operating a mouse or touchpad + pit - small divot caused by repeated friction.
----------------------------
COMMENTS:
It has a satisfying sound to it. I like it. - astorey, 2008-10-17: 11:55:00
----------------------------
Created by: giIIyp
Pronunciation:
Sentence: Which key is that? N? M? I never know, they are both so nakey.
Etymology: I do not know why, but I wear out the N and M keys - my naked keys.
Created by: Poetikat
Pronunciation: gliss dip
Sentence: Over time the little ball under her mouse formed an irrevocable glisdip.
Etymology: glis - from glisten dip - indentation
Created by: porsche
Pronunciation: pad/teena
Sentence: What a lovely padtina you have on your desk remarked a colleague.
Etymology: pad + patina
----------------------------
COMMENTS:
Great word! - OZZIEBOB, 2007-11-20: 16:45:00
----------------------------
Created by: xirtam
Pronunciation: ri-kur-skohr
Sentence: The mouse attached to that old PC was used so much that there was a recurscore on the left button. It was the exact shape of my finger tip.
Etymology: Recur: Latin recurrere - to occur again + Score: Middle English scoren - to make notches, cuts, marks, or lines in or on.
Created by: purpleartichokes
Pronunciation: kli-kit-ee-dip
Sentence: My son's mouse has already developed a clickitydip - he's either been wearing sandpaper gloves or playing Warcraft way too much.
Etymology: click it, dip
----------------------------
COMMENTS:
clickitydip barbatrick - Jabberwocky, 2007-11-20: 14:18:00
----------------------------