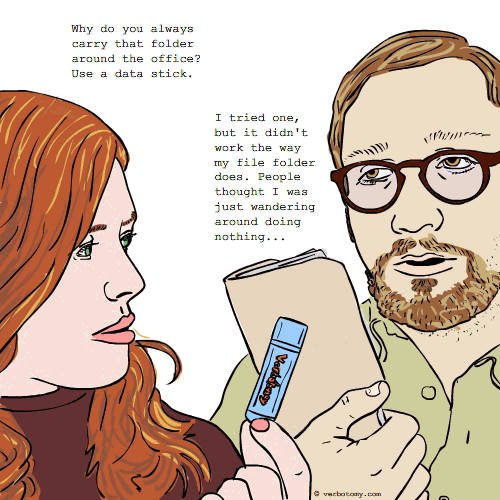 DEFINITION: n. A prop (e.g. papers, files or any non-functional equipment) used to create the illusion of busyness. v. To use office supplies to create the illusion that you are working.
Voted For: Escaperwork
Successfully added your vote for "Escaperwork".
You still have one vote left...
Created by: giveaphuk
Pronunciation: Fib De Jet
Sentence: she fibdjeted with pieces of paper while looking @ the clock waiting from home time.
Etymology: Fib = to like & djet - ending of word fidget - meaning to behave or move nervously or restlessly.
Created by: Clayton
Pronunciation: di-STAK-shuhn
Sentence: Luckily, the Greenly account provided Clarence with a momentary disstacktion as he fumbled to exit GTA: San Andreas. If Mrs. Worthington realized he'd beaten her insane stunt bonus, he could kiss that nickel-an-hour raise goodbye.
Etymology: distraction + stack
----------------------------
COMMENTS:
I must confess I sometimes build a little fortress of files. It makes playing verbotomy much simpler - Jabberwocky, 2007-06-13: 10:51:00
I'm really glad that I don't work in an office, but a file fortress does sound like fun. - Clayton, 2007-06-13: 14:37:00
you get a vote for being such a fun verbotomist - Jabberwocky, 2007-06-13: 14:49:00
Thanks... I didn't put much thought into today's word, as I'm nursing a wounded shoulder. There have been a lot of great words this week, though. - Clayton, 2007-06-13: 20:34:00
----------------------------
Created by: readerwriter
Pronunciation: mal-o-prop
Sentence: Eric is so retro, Petra thought. Everytime she saw him cross the office floor on his way from the men's room to his desk, she had to laugh. Oh yeah, he just had to carry those maloprops to show everyone he knew what it was like in the 20th century. It was ludicrous. And, then if you said something, he had such excuses...like he didn't understand there were better ways of doing things.
Etymology: From mal, Latin/Romance languages, for bad or sick + prop for a property used for show. Also a play on the word malapropism, the ludicrous misuse of a word. In this case, the ludicrous misuse of a prop.
Created by: abrakadeborah
Pronunciation: boss-a-coy
Sentence: In order for Bob to fool his boss...he would often walk around with his trusty bossacoy to look busy.
Etymology: Boss-Manager. Part of "Decoy" - Someone or something used to draw attention away from another.
Created by: ohwtepph
Pronunciation: wohrk-oh-thuh-wiz-prop
Sentence: Oh god, that Ben has been such a work-o-the-wispropper ever since he started out in the business of being the business supervisor. The work-o-the-wisprop he carried around were very convincing: papers to be signed, a neat brown folder and a clipboard with Transformers scribbles on it.
Etymology: will-o-the-wisp [illusion] + work + prop + wiz [the best at something e.g. a math wiz]
----------------------------
COMMENTS:
good one! - pguse, 2007-06-13: 10:04:00
thanks. :D - ohwtepph, 2007-06-13: 10:28:00
It's a good one and I voted for you! - Stevenson0, 2007-06-13: 17:36:00
How did you get that punctuation in there? - mplsbohemian, 2007-06-13: 19:43:00
you can work all sorts of magic if you go into 'oops i want to change the spelling' bit of the edit section.... it makes things much more verbsatile - rikboyee, 2007-06-13: 22:23:00
----------------------------
Created by: rephil
Pronunciation: im-PORT-man-toh
Sentence: Gerry's importmanteau always impressed visitors, but the maintenance man's keys signified he held more true power in the building.
Etymology: import -- rank, necessity, gravity; portmanteau -- a suitcase
----------------------------
COMMENTS:
this is a great word!! - Jabberwocky, 2007-06-13: 14:48:00
Thanks -- I know I've had a few in my time! - rephil, 2007-06-13: 14:50:00
Erm -- importmanteaux, not great words! - rephil, 2007-06-13: 14:51:00
actually your words are terrific - there have just been so many good words to choose from lately - I especially like euphonia - Jabberwocky, 2007-06-13: 15:17:00
----------------------------
Created by: libertybelle
Pronunciation: man-ILL-uh-raj
Sentence: Under the cloaking of a perfectly executed malinarage, Jeff buried his head into the folder labeled "Hudson Acct." as he wandered through the cubicle forest and down to the nearby Starbucks for the 3rd time that morning.
Etymology: manila - as in type of folder typically found in an office setting + Mirage -illusion
Created by: administraitor
Pronunciation: row-bow-flaj
Sentence: Howard found that measuring floors desks and windows allowed him to prowl the office at will, his roboflage consisting of a tape and clipboard.
Etymology: robot (worker) + camouflage
Created by: Wordotwist
Pronunciation: Tom fie la ree
Sentence: Zain was an expert at timefilery;always carrying about a load of files and walking rapidy when moving in front of the boss's window - to give the impression he was very busy.
Etymology: from tomfoolery
Created by: bigdog
Pronunciation: slawth-o-flazhe
Sentence: The piles of paper on my desk are all just slothouflage to stop the boss from seeing my pillow and scotch bottle.
Etymology: sloth (indolence) + camouflage (disguise)