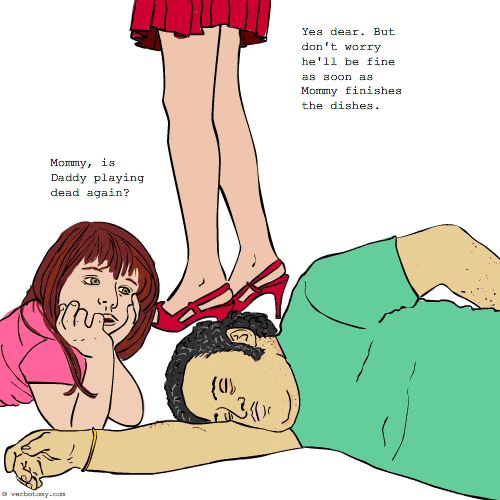 DEFINITION: v. To be physically overcome by a sudden illness, disability, or even death when asked to participate in unrewarding activities -- like work, or household chores. n. A person who gets sick when asked to work.
Voted For: Eschewitis
Successfully added your vote for "Eschewitis".
You still have one vote left...
Created by: mdschermer
Pronunciation: SCRUB-freeze
Sentence: After dinner, everyone spontaneously developed scrubfreeze - until I told them I had a dishwashing machine.
Etymology: to scrub + to freeze
Created by: Shlub
Pronunciation: Were - come - vent
Sentence: "I think I'll workumvent this week's shipping reports," thought John as he positioned the saw above his hand.
Etymology:
----------------------------
COMMENTS:
Good sentence Shlub -- Funny! And frightenly true... - wordmeister, 2006-12-13: 13:46:00
----------------------------
Created by: xCthonx
Pronunciation: work/o/lep/sy (long o sound in second syllable)
Sentence: When things need to be done you can count on his workolepsy disorder to kick in.
Etymology: work + narcolepsy
Created by: mugwai
Pronunciation:
Sentence:
Etymology: latin work(ergo)poison(toxica)
Created by: danboaz
Pronunciation: dis-act-ivia
Sentence: Harold, afflicted with disactivia, was misunderstood even by his own family. He has been unemployed since '86 after his co-workers threated to walk-out if he was not going to be held accountable for not doing his share of taking the garbage out.
Etymology: dis: not + active
Created by: chale
Pronunciation:
Sentence: My dad fell slackpawed to the floor when he saw the vacuum cleaner.
Etymology:
Created by: kevinrio
Pronunciation: Work O Phobic
Sentence: "Honey, I have learnt a new word today, it's 'workophobic'. Ask me to do something and you'll understand its meaning!"
Etymology: work - phobic
----------------------------
COMMENTS:
- kevinrio, 2006-12-13: 14:32:00
----------------------------
Created by: VBIZILJ
Pronunciation:
Sentence:
Etymology:
Created by: Malemocynt
Pronunciation:
Sentence:
Etymology:
Created by: bilbo7369
Pronunciation:
Sentence:
Etymology: