Verboticism: Achoorneyman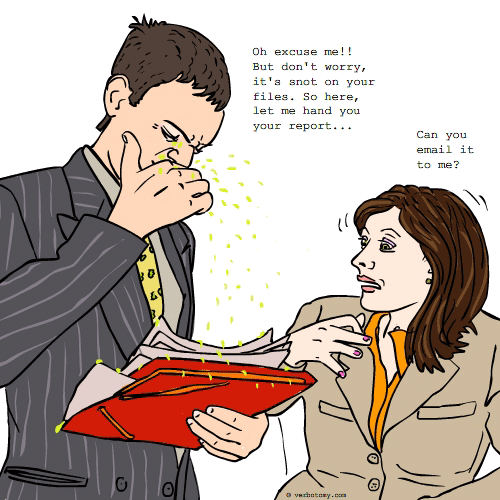 DEFINITION: v. To be so hardworking and dedicated to your job that you come to work even when you're sick and dangerously infectious. n. A person who comes to work sneezing, coughing, contagious, and sick as a dog.
Voted For: Achoorneyman
Successfully added your vote for "Achoorneyman".
You still have one vote left...
Created by: OZZIEBOB
Pronunciation: sneez-BUHK-it
Sentence: SNEEZEBUCKET n A disgusting, self-centred co-worker who, when suffering from a contagious illness, refuses to leave the office and stay at home until better. Coughing, spluttering and sneezing, he suffers from the delusion that his work-ethic is much stronger than that of his colleagues, and that his importance to the organization is far greater than that of theirs also.
Etymology: Sneeze & bucket. If he's a sleazebucket to boot - look out!
----------------------------
COMMENTS:
I'm sitting close to one right now - Jabberwocky, 2008-05-07: 11:49:00
----------------------------
Created by: rebelvin
Pronunciation: employ+malady
Sentence: His frequent coughing and sneezing qualified as an employmalady, which is strictly forbidden by company policy.
Etymology: employ+malady
Created by: galwaywegian
Pronunciation: emp loii eee bow lah
Sentence: the employeebola flu from dest to desk, with germoronic zeal, passing documents and bodily fluids with an apostolic zeal.
Etymology: ebola employee
----------------------------
COMMENTS:
terrific - sorry I didn't see this yeterday - Jabberwocky, 2008-05-08: 05:57:00
oops - yesterday - Jabberwocky, 2008-05-08: 05:57:00
----------------------------
Created by: mweinmann
Pronunciation: werk - hors
Sentence: Jeremy was a real workhoarse. He often came to work hacking, coughing, sneezing and hoarse to the point that he could not talk. He thought he was earning "brownie points" with the boss but in reality, everyone was upset with him because he was contagious.
Etymology: work, hoarse, workhorse
----------------------------
COMMENTS:
Hoarseterical word! - Nosila, 2009-06-19: 13:04:00
great word - Jabberwocky, 2009-06-19: 13:42:00
----------------------------
Created by: didsbury
Pronunciation: floo-vi-ann
Sentence: Jake is such a fluvian. He is literally coughing his lungs up at his desk and its making me nauseous.
Etymology: Derivative of influenza and the Greek 'vianoscous' which has several meanings, the most appropriate of which in this context is, the feeling you are left with when you receive an unwanted gift.
Created by: abrakadeborah
Pronunciation: ik-gust-ing
Sentence: Igor had a ickgusting way of sliming all over the office paperwork.
Etymology: ik- Something gross, a way of saying "ew". Gusting- taken in part of dis'gusting' - Highly offensive; arousing aversion or disgust; "a disgusting smell"; "distasteful language"; "a loathsome disease"; "the idea of eating meat is repellent to me"; "revolting food"; "a wicked stench"
Created by: Nosila
Pronunciation: jurm ploy ee
Sentence: Peter was well on his way to becoming Germployee of the Month. He regularly came in to work, when he should have stayed in his sick bed. The more contagious he was, the more hours he would expose his co-workers to his nasty virulent bacterium. If he just once stayed home when he felt this way, office absenteeism would plummet. His new nickname was Peter Pandemic.
Etymology: Germ (a minute life form (especially a disease-causing bacterium) & Employee (a worker who is hired to perform a job)
----------------------------
COMMENTS:
funny - love Peter Pandemic - Jabberwocky, 2009-06-19: 13:40:00
Clever - Mustang, 2009-06-20: 05:58:00
----------------------------
Created by: Mustang
Pronunciation: in - FEKT - uh - side
Sentence: Germond seemed to care little for the fact that he committed infecticide among his clients and coworkers when he insisted on showing up at work even when extremely ill.
Etymology: Infect with satirical use of suffix -cide, to kill.
----------------------------
COMMENTS:
Good one! - TJayzz, 2008-05-07: 18:27:00
----------------------------
Created by: Ismelstar
Pronunciation: [kuhn-tey-juhnt]
Sentence: In the real estate business, there was only one man that made every client sick. Literally. Whether, rain or shine, herpes or measles, swine flu or walking pneumonia, Dan could always be relied on to show houses or man the phones as the hardest working contagent in the office.
Etymology: A mash-up of 'contagion', the communication of disease by direct or indirect contact and 'agent', a person or business authorized to act on another person or business's behalf, a substance that causes a reaction, or any microorganism capable of causing disease.
----------------------------
COMMENTS:
great word! - Nosila, 2009-06-19: 13:07:00
terrific combo - Jabberwocky, 2009-06-19: 13:39:00
----------------------------
Created by: Nosila
Pronunciation: cof fee urn ner
Sentence: Con Tagion worked as a germologist in a large jewellery store. His favourite song was Peggy Lee's "Fever"; his favourite movies were "Outbreak" and "The English Patient". Con loved to drink Bloody Mary's with Lyme juice and he loved the inspiration he got from tv medical dramas. He was also a coughyearner. He earned his living while he coughed and sneezed all over his customers and his co-workers, his work station...everywhere in the store. He came into work no matter how sick he was, because he needed the money to buy new Shingles for his home and he could not afford to miss his measle-y wages. But every time he came in ill, 3 others got sick and had to miss work. His co-workers were fed up with his communicability and his boss had taken to calling him Typhoid Larry. Con loved his job, because the time really flu by, but his computer really was virused and his infectious enthusiasm for his job was really,well,infectious. Daily, into the workplace, he brought in bacteria and some suspected fronteria, too! One day his boss decided that Con would never take time off work if he thought his workload would suffer, so in a rash decision, a lovely female quaranteen was hired to help him. His boss told him that he was sure Con would soon feel better because his new assistant, Penny Cillin, was bound to help!
Etymology: Cough( sudden expulsion of air from the lungs that clears the air passages; a common symptom of upper respiratory infection or bronchitis or pneumonia or tuberculosis) & coffee (a beverage consisting of an infusion of ground coffee beans) & urn (a large pot for making coffee or tea) & earner (someone who earn wages in return for their labor)
----------------------------
COMMENTS:
great etymology - Jabberwocky, 2008-05-07: 11:41:00
WHOA sentence! - daniellegeorge, 2008-05-08: 14:18:00
----------------------------