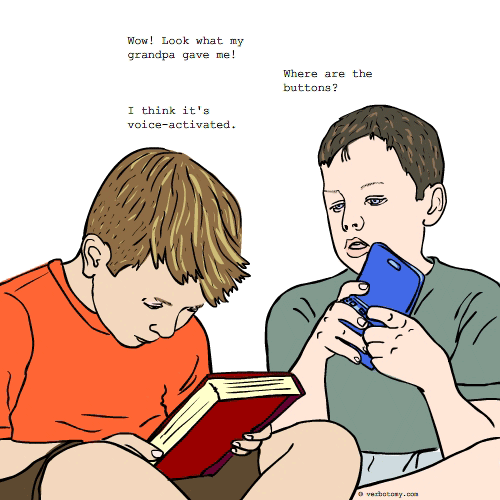 DEFINITION: n. An old media format that is no longer popular or easily accessible, such as floppy disks, VHS tapes or stone tablets. v. To try to access data stored in an old-fashioned media format, especially it requires the use archaic technology and/or protocols.
Already Voted
Vote not counted. We have already counted two anonymous votes from your network. If you haven't voted yet, you can login and then we will count your vote.
---
Betablock
You still have one vote left...
Created by: Nosila
Pronunciation: pas say im pur fect
Sentence: Young Billy adored his grandfather and loved it when the old geezer told him stories about the passéimperfect. He knew his grandpa made this stuff up, but he loved to hear about the good old days anyway and in particular about the ancient tools they used. He regaled Billy with yarns about how his phone had numbers that went round and round when he stuck his finger in the holes for each set of numbers. Grandpa also told him about watching tv shows on the one channel in black & white and for some reason you needed a rabbit's ears to see the tiny picture better. (As if!) He also told him of cooking without using a microwave (yeah, right!) and buying big blocks of ice to keep everything in the fridge cold (you've got to be kidding!). That crazy Grandpa, he told Billy that a log on was something you put on a bonfire and that a link was something you put on your sleeves to keep the cuffs closed. He said a password was something you spoke into a grill on a door to get into a speak-easy (must be some kind of spellcheck for voice actioned computers?) Billy loved the really old things that Grandpa gave him. Like most boys his age, he loved dinosaurs. He was so excited today, because Grandpa was coming over and bringing him a thesaurus...he couldn't wait to play with it!
Etymology: passé (out of fashion) & past imperfect (grammar: tense imperfect refers to an action that is uncompleted or abandoned)
----------------------------
COMMENTS:
Rrrawr! Oh no, here comes the fierce Thesaurus Rex!... That's hilarious. - Tigger, 2008-03-14: 03:09:00
All that was makes me curious about what is to come! Great etymology ... conveys the way passages from the old ... lead to the knew ... growing, evolving, better and better ... perfecting! A Perfectly wonderful sentence and word! - silveryaspen, 2008-03-14: 17:08:00
Thanks, Tigger & silveryaspen. I always thought the best name for the Toronto NBA Team was TorontoSaurus Wrecks...but no one would listen... - Nosila, 2008-03-14: 23:16:00
----------------------------
Created by: diyan627
Pronunciation: tek-no-sil
Sentence: Diyan wants to update her various technossil dated between 1995 and 2007. Only recently did she upgrade to a digital camera as it was bittersweet parting with her SLR Nikon N60. At least there is still an element of art in the use of SLR, but that's way more than can be said for her gigantic desktop computer and the cob-web of wires that pour out from behind it.
Etymology: technology + fossil
----------------------------
COMMENTS:
Great word! Seems so obvious to me. - arrrteest, 2008-03-14: 14:36:00
Applies not only to the byte-gone devices but to the operators of them! I'm a technossil among all my stored technossils! Outstanding won! - silveryaspen, 2008-03-14: 18:36:00
Great word. - Mustang, 2008-03-14: 19:38:00
Thanks Arrrteest, Silveryaspen and Mustang! - diyan627, 2008-03-15: 11:17:00
----------------------------
Created by: monkeyhouse
Pronunciation: bay-tuh-fy-d
Sentence: DVDs are being betafied by Blu-ray.
Etymology: "Beta-" from Betamax, "-fy" ending for "make/form into"
Created by: Banky
Pronunciation: row-set-tah-store-ridge
Sentence: Alex was fixated on amassing the largest collection of rosettastored modern media in the known world. The crown jewels in his menagerie were wax cylinders of Nine Inch Nails' "The Downward Spiral", "The Godfather Part III" presented in a swimming pool sized Zoetrope, and the painstaking and somewhat ironic translation of "The Mummy" in handpainted hieroglyphics. He would take various tour groups through the displays, pointing out the 8400 5 1/4" floppy disk download of the Wikipedia database on the left, the Russian woodcarvings of "Rocky IV" (mostly featuring gilded images of Drago as a werebear), and a series of dangerous pop-up books chronicling late 1970s blaxploitation pornography. Twice daily he would present various skits on a weekly rotating schedule; retellings of Judith Light Lifetime movies of the week in comedia dell'arte Punch and Judy shows, morality plays based on "Snow White" with wildly different dwarves, epic poems in which he related the trials and travels of Richard Branson, and on special occasions would present weeklong mesquite fueled smoke-signal presentations of Cormac McCarthy novels. His latest undertaking, an exhibit of "Norbit" on a series of Grecian urns was expected within the week.
Etymology: Rosetta stone - the large granite stone found by the French in 1799 which facilitated the deciperhing of Egyptian hieroglyphics + storage
----------------------------
COMMENTS:
Great word, awesome sentence! - Jamagra, 2008-03-14: 11:21:00
Great word, awesome sentence! - Jamagra, 2008-03-14: 13:06:00
Wow!! - Jabberwocky, 2008-03-14: 14:16:00
Marvelous! - silveryaspen, 2008-03-14: 17:58:00
Love the use of "rosseta". Great sentence,also. - OZZIEBOB, 2008-03-16: 17:06:00
----------------------------
Created by: youmustvotenato
Pronunciation: rhymes with electronics
Sentence: What's with the retronics? You need to get iPhone 17 already
Etymology: Retro + electronics
Created by: Jabberwocky
Pronunciation: vie/nil/yu/siv
Sentence: The kids found some old vinyl records and after trying to use them as frisbees and monster wheels they found their intended use disturbingly vinylusive.
Etymology: vinyl + illusive
----------------------------
COMMENTS:
Too true! Do you still play your recrods? I sometimes do! Must admit, the sound is better on latter sound media. Now days a 45 is not a record ... but a gun! - silveryaspen, 2009-01-07: 14:41:00
Your reference to 'monster wheel' set off the old Credence Clearwater chorus of: Big wheel keep on turning, Proud Mary keep on burning, Rolling, rolling, rolling on the river. - silveryaspen, 2009-01-07: 16:01:00
----------------------------
Created by: idavecook
Pronunciation: SOUND IT OUT
Sentence: Man I have this old movie and I really want to watch it, but I only have it on HDRIPDVD, dude, I am so screwed. Even the pawn shops don't have those anymore. Now where's that laser disc?
Etymology: FILM-VHS-BETA-LASER DISC-DVD-HDDVD-BLURAY-DEATH
----------------------------
COMMENTS:
Rippingly excellent! - silveryaspen, 2008-03-14: 18:28:00
----------------------------
Created by: Fester361
Pronunciation: rel ee cas ett
Sentence: After several ours wasted, playing on their Nintendo Wii, Mike's kids were bored and decided to explore the attic. Rummaging through old boxes, they came across some mysterious plastic slabs, that appeared to have reels of tape inside. "Dad, how do we get the tape out?" they shouted. "You need to use the relicassette player," he replied. Mike went up into the attic and retrieved a giant metal machine with a huge A4 sized flap on the top. At the press of a button, the flap shot open and all manner of insects flew out. When switched on, the lights in the house went dim and the circuit breaker tripped. "I guess I should have copied these to DVD!" Mike said.
Etymology: Relic; an antiquity that has survived from the distant past. Cassette; A rigid or flexible light-tight container for holding radiographic recording media.
----------------------------
COMMENTS:
Please be gentle, it's my first (of many, I hope) attempt. - Fester361, 2008-03-16: 04:44:00
----------------------------
Created by: Mustang
Pronunciation: ret - ro - surf
Sentence: Having only their granddad's discarded computer to rely on Delbert and Javier had no choice but to resort to retrosurfing method of finding information.
Etymology: Retro + surf
----------------------------
COMMENTS:
What a lot of retrosurfing has been done here today! Great angle! Great word! - silveryaspen, 2008-03-14: 18:41:00
----------------------------
Created by: mokelmoney
Pronunciation: sore/ o/ stink/shon
Sentence: Hey! Johnny these floppy disk and VHS tapes are so out dated and old you must have bought them @ Caveman Charlie's store for the real dinosaur.
Etymology: Listen here! I don't mean to be rude but I need your attention. First, Happy New Year. I want to submit my own word and definition. Please Kahnumblem: noun: A build up of options where one must make a choice however it is difficult to choose one [for instance mate] option because every choice has a use and choosing may require life alterations.
----------------------------
COMMENTS:
Please accept my own creation. "kahnumblem" - mokelmoney, 2009-01-08: 13:29:00
----------------------------