Verboticism: Cypherfathom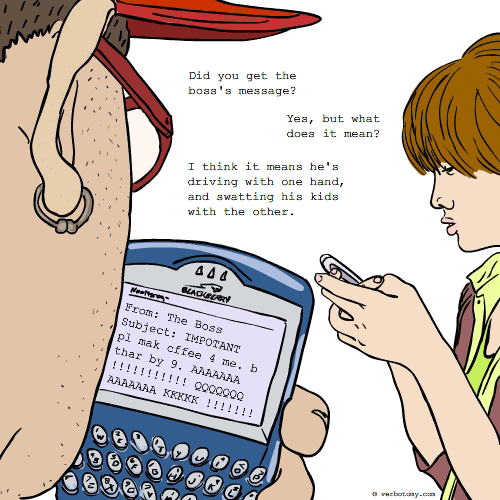 DEFINITION: v., To grasp the meaning of muddled texts like blog posts, emails and text messages where standard grammatical or spelling conventions have been ignored. n., The ability to read and understand confused or poorly written messages.
Already Voted
Vote not counted. We have already counted two anonymous votes from your network. If you haven't voted yet, you can login and then we will count your vote.
---
Cypherfathom
You still have one vote left...
Created by: zxvasdf
Pronunciation: Qwert lyze
Sentence: Because in this day and age people are wont to multitask, as showcased in the common combination of driving and texting, more and more people are becoming skilled in qwertlysis. The same mental processes are also applied to old timers trying to qwertlyze the newfangled 'net jargon floating about on the web.
Etymology: Qwerty (traditional configuration of the keyboard designed in the days of typewriters to spread apart the commonly used letters, thus preventing jamming. This configuration is not necessary in the digital age) & analyze (to examine methodically by separating into parts and studying their interrelations)
----------------------------
COMMENTS:
interesting etymology - Jabberwocky, 2008-10-14: 13:20:00
----------------------------
Created by: perkolady
Pronunciation: sec-ra-TAL-ent
Sentence: "Hmm, forward that message to Sylvia--she's got amazing secretalent."
Etymology: From your standard secretary, nurse, or other aid-giving person's miraculous ability to read their superiors' chickenscratch.
Created by: hendrixius
Pronunciation: dee-sibe-fur-ing
Sentence: I am having trouble decybphering this text message; WTF does MLFJJUICK 4 NOLK mean?
Etymology: decipher and cyber
Created by: MrDave2176
Pronunciation: dee-MUN-gul
Sentence: The message was almost hopelessly unreadable until Jeremy stepped in to demungle it.
Etymology: "to Mung" is a hacker term which means to alter in some negative way. A mungle message would be altered to be unreadable. To demungle would make it whole again, right?
Created by: yaelash
Pronunciation: clear-mext
Sentence: he had very good clearmexting abilities. even when his kid wrote him a note while eating dropping icecream and riding the bike at the same time, he could figure out what was written there.
Etymology: the combination of clear+messy+text, the ability to make a clear text out of a messy one.
Created by: verbotomer
Pronunciation: ˈiːˌdjuːs
Sentence: "I educed that he meant, 'see you later' when he sent, 'cUL8rrrr11111!!!'"
Etymology: similar meaning to the original educe, but with the stress on the first syllable, modelled on Internet-related words such as email, ebusiness, etc. It can also be spelled 'e-duce'.
Voted For! | Comments and Points
Created by: porsche
Pronunciation: ling/jist
Sentence: A talented lingist can unravel the meaning of any text.
Etymology: linguist + gist
----------------------------
COMMENTS:
Good one Porsche! - purpleartichokes, 2007-11-15: 19:03:00
----------------------------
Created by: Mustang
Pronunciation: GOB-ehl-de-geek
Sentence: As are all his associates, Lyndon is a total gobbledegeek who can instantly decipher the garbled lingo and abbreviations used by those who textmessage and post on blogs and forums.
Etymology: Blend of 'gobbledegook' (language characterized by circumlocution and jargon, usually hard to understand) and 'geek' (one who is knowledgeable about current technology)
Created by: rikboyee
Pronunciation: dee-sigh-bah
Sentence: when i texted 'flz 88 grm nb h5g nnzz' to my friend i was confident he would be able to decyber it
Etymology: decipher, cyber
Created by: artr
Pronunciation: dijibər
Sentence: Claire is the perfect personal assistant to Mr. BigPants. She is the only one who can degibber his cryptic e-mails and memos. Most agree that his notes could be created by a chipmunk dancing on a keyboard. They also believe that most of the great ideas that come out of the head office are really generated by Claire. She just smiles and gives credit to her boss.
Etymology: de (denoting removal or reversal) + gibber (speak rapidly and unintelligibly)