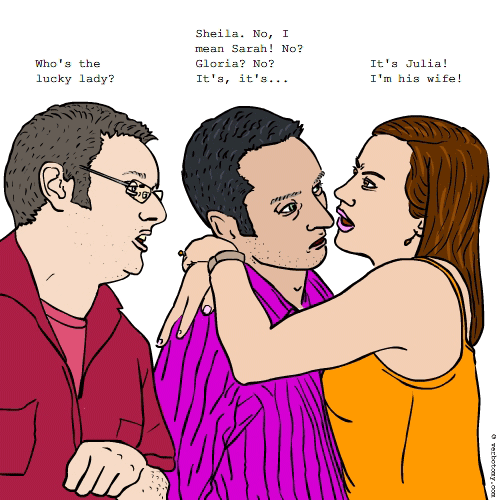 DEFINITION: v. To be unable to remember the name of a person you are speaking to, even though you've had a long-standing, and perhaps even an intimate relationship. n. An inability to remember a person's name.
Already Voted
Vote not counted. We have already counted two anonymous votes from your network. If you haven't voted yet, you can login and then we will count your vote.
---
Oblivinom
You still have one vote left...
Created by: leegro
Pronunciation: /dey-zhah-hoo/
Sentence: As she walked down the aisle of the airplane, Sarah had a sinking feeling of dejawho. Hadn't she once drunkely groped the sweaty man in the aisle seat across from her?
Etymology: From "deja vu," which is French for "I'm not forgetful, I'm just self-absorbed," and "who," which should feel like a familiar word to most of you.
----------------------------
COMMENTS:
What a twist ... a woman groping a man! But the twists in your etymology are even better! Insightfully Clever! - silveryaspen, 2008-03-04: 17:14:00
----------------------------
Created by: OZZIEBOB
Pronunciation: chum-NUN-drum
Sentence: When Bob couldn't remember the names of his five former partners and his ten children, his friends asked whether he was suffering from palzheimers, or was this chumnundrum just a last-hitch attempt to avoid palimony
Etymology: Blend of CHUM: mate, cobber,buddy & NUNDRUM of Conundrum: riddle, enigma. Alternative etymology: Chum: close friend; nun: none, not any & Drum: the facts, info.
----------------------------
COMMENTS:
Terrific word. Very orignal etymology and that isn't easy with this definition! - silveryaspen, 2008-12-29: 10:16:00
love it - Jabberwocky, 2008-12-29: 15:23:00
Love it and palzheimers, too! What was the definition again?? - Nosila, 2008-12-29: 18:49:00
A#1 - metrohumanx, 2008-12-29: 19:11:00
This is clever....parumpachumdum. - mweinmann, 2008-12-30: 09:01:00
----------------------------
Created by: galwaywegian
Pronunciation: pam nee zya
Sentence: Tommy Lee later admitted in court that he had a bout of total Pamnesia before remarrying his former wife. "this blonde started to act like we had a history, and whadya know, she wuz right.!"
Etymology: amnesia. pam.
----------------------------
COMMENTS:
You're with it today! Great sentence! Great last line ... made me burst out laughing! Very fun one! - silveryaspen, 2008-03-04: 17:12:00
Hilarious sentence! I wonder if Pam gets Pamnesia herself sometimes, and forgets who she is... - Tigger, 2008-03-04: 18:58:00
Luv your creativity. I know of Polynesia, Melanesia, Indonesia and Micronesia. Perhaps, Pammie's classic movie, "Blonde and Blondier was filmed in Pamnesia: certainly wasn't fimed in Micronesia! - OZZIEBOB, 2008-03-04: 19:51:00
----------------------------
Created by: zabxuq
Pronunciation: am-naim-shee-ah
Sentence: He distinctly remembered her smile but he couldn't respond to her greeting as he was dumbfounded by total amnamesia.
Etymology: name: identifying handle + amnesia: partial or complete loss of memory.
Created by: timlumber1
Pronunciation:
Sentence:
Etymology:
Created by: Jabberwocky
Pronunciation: nom/duh/ploom
Sentence: It is difficult enough to remember names of old friends but getting together with a writer's group became a nightmare trying to remember their nomduhplumes.
Etymology: nom de plume (pen name) + uh? + duh
----------------------------
COMMENTS:
Delightful! - silveryaspen, 2008-12-29: 10:15:00
Eggzellunt!! Wish I'd thought of it! - Mustang, 2008-12-30: 00:28:00
Clever - OZZIEBOB, 2009-01-04: 16:13:00
----------------------------
Created by: picabomama
Pronunciation: baby/label/er
Sentence: Aaron sounded fatherly and protective, but his wife knew that all the "honey", "sweetheart" & "baby" talk was really just a cover for his profound inability to remember a woman's name. He was a compulsive babylabeler.
Etymology: Baby- the most common name replacer + label
----------------------------
COMMENTS:
I tried to come up with something along these lines, but buddyize, honeyify, and palform just don't roll off the tongue as well as babylabel. - ErWenn, 2008-03-04: 09:57:00
Wow! Sentence captures how annoying and offensive babylabelers are! Your word captures that feeling of being talked down to! Very apt creation! Simple but packs a wallop! Great create! - silveryaspen, 2008-03-04: 10:15:00
Very true. Terms like mate, cobber, digger are often godsends for me! Unfortunately, Women's Lib has stamped out the use of luv, darl, etc. - OZZIEBOB, 2008-03-04: 19:38:00
----------------------------
Created by: metrohumanx
Pronunciation: FAYshull-APSE-OH!-sis
Sentence: Wilfred's palms began to sweat when the mystery woman called his name and coiled her arms around his neck like albino boa constrictors. Managing his best fake smile, names began to flood into his empty skull like a leak in a brass diving helmet. Wilfred was a victim of FACIALAPSOSIS - the often fatal inability to recall the name of someone from the not-so-remote past.
Etymology: FACIAl+LAPSe+OSIS=FACIALAPSOSIS........FACIAL:of or relating to the face, esp one you should know well.....LAPSE:a slight error typically due to forgetfulness or inattention;Latin lapsus, from labi to slip.....-OSIS:indicating a condition or untreated affliction.
----------------------------
COMMENTS:
Great sentence. Painted the picture in the mind! Great create with very original etymology, too! - silveryaspen, 2008-12-29: 10:19:00
Thanks! FIFTY Verbotomists today! I'm gabberflasted. - metrohumanx, 2008-12-29: 19:07:00
----------------------------
Created by: CanadianAndyCapp
Pronunciation: Kog-no-mem-no-krap-u-la
Sentence: As one who suffers from this difficulty, I can assure anyone that the initial stages of momentary forgetfullness of names can easily develop into a case of nomemoriatrix and finally a full-blown state of cognomemnocrapula.
Etymology: Short form of Latin: Cognomen (name), Memoria (Memory), Crapula (Terrible) / Atrox (Bad)
----------------------------
COMMENTS:
Double creations! Etymology latinations. Deep roots sprouting an astounding piar of words! Amazing! - silveryaspen, 2008-03-04: 10:43:00
pair ... forgive me my fingerslips ... they need to learn to quit being too quick tipsy. - silveryaspen, 2008-03-04: 10:44:00
your word would fit in well to the music of "La cucaracha, cognomemnocrapula Ya no puede caminar - Jabberwocky, 2008-03-04: 13:12:00
----------------------------
Created by: Nosila
Pronunciation: for get fil
Sentence: When George brought his friend, Phil, home, he was unaware that Phil already "knew" his wife Julia in the Biblical way. But Phil had had so many previous girlfriends that he could not recall Julia. He was forgetphil, like someone who drank too much Milk of Amnesia...
Etymology: Forget (not able to remember) & play on forgetful (not retentive)