Verboticism: Blabstention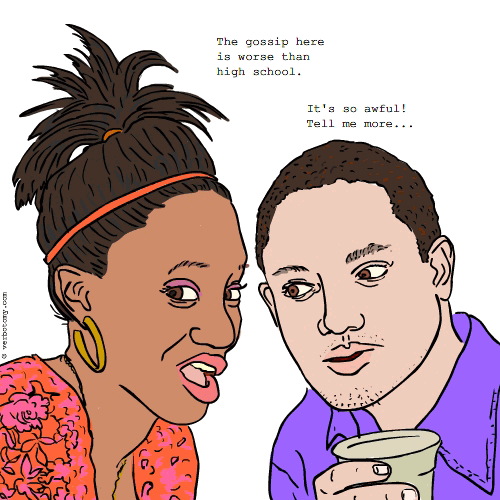 DEFINITION: v. To complain and complain about a problem without ever taking action to correct it. n. A complaint about something which you can fix but choose not to.
Already Voted
Vote not counted. We have already counted two anonymous votes from your network. If you haven't voted yet, you can login and then we will count your vote.
---
Blabstention
You still have one vote left...
Created by: administraitor
Pronunciation: blai-zem-ee
Sentence: The water cooler was the place to hear a fresh blazemy in the heady work-shy days before bankruptcy
Etymology: blame + lazy
Created by: OZZIEBOB
Pronunciation: KAHR- plydl
Sentence: Bob carpidled about everything, going through life without ever once demanding to see the manager.
Etymology: CARP: to find fault or complain querulously or unreasonably; be niggling in criticizing; cavil; IDLE: to pass time doing nothing.
----------------------------
COMMENTS:
Crazy Carpidleing is despicable. I love the word. - metrohumanx, 2008-08-08: 07:21:00
Sure cant complain about a word like that. - Mustang, 2008-08-08: 07:41:00
----------------------------
Created by: Trystera
Pronunciation: heer-SAY-siss
Sentence: Everyone knew that the walls still contained the original asbestos, but nobody so much as called the Health Department -- it was Somebody Else's Problem to everyone in the company, and thus the matter remained in hearsaysis.
Etymology: Hearsay + stasis -- "hearsay" to imply a denigrating thing that is said, but inadmissable in any official capacity, and thus ultimately useless towards the cause.
Created by: purpleartichokes
Pronunciation: in-urk-shun
Sentence: The gals in the office belonged to the PissandMonaLisa Club - they all complained about the leaky faucet, but being prima donnas, felt it was someone else's job to report it. It was no big surprise when their inirktion turned the first floor into the new company swimming pool.
Etymology: inaction, irk
----------------------------
COMMENTS:
bad case of inerktia i'd say - galwaywegian, 2007-06-15: 05:57:00
It's words like these that help me find my inirk child. - Clayton, 2007-06-15: 07:58:00
----------------------------
Created by: artr
Pronunciation: dis-kuhm-pleyn-suhnt
Sentence: Janice is so discomplaincent that she even fusses about her own inactivity.
Etymology: discontent (dissatisfaction) + complain (grumble about) + complacent (pleased, especially with oneself or one's merits, advantages, situation, etc., often without awareness of some potential danger or defect)
Created by: LunaC
Pronunciation: car-pa-thet-tick
Sentence: George carpatheticizes about work, yet refuses to even consider looking for a new job.
Etymology: carp; apathetic
Created by: ekath
Pronunciation: wall-u-tion
Sentence: Is she actually upset that herc lothes don't match?? ... no, she just picked out clashing clothes this morning because she enjoys walluting
Etymology: from wallow + solution
Created by: serendipity9000
Pronunciation: gry-per-sha
Sentence: I started my new job hoping to help bring real change and fix real problems, instead all I found was gripertia.
Etymology: gripe + inertia
Created by: keeno82uk
Pronunciation: Ag-reev-shun
Sentence: Paula suffered from Aggrivshun, so much so that the gossip in the workplace was left to fester until aggrivshun had to take a backseat and the problem solved.
Etymology:
Created by: Mrgoodtimes
Pronunciation: com - stain
Sentence: Rather than fix the windshield, Peter felt like the spidered glass added a great comstain ice breaker during his car pooling trips.
Etymology: Complain - Sustain (sounds offensive but not intended)