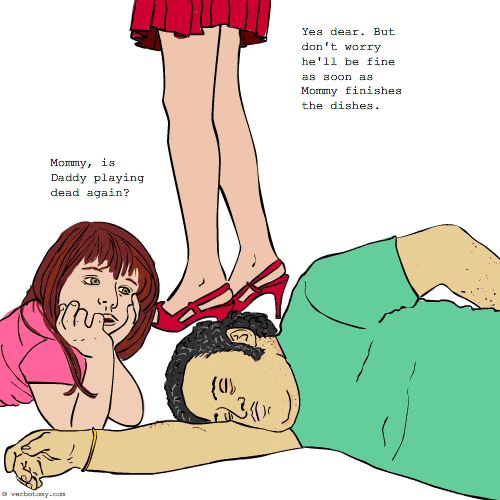 DEFINITION: v. To be physically overcome by a sudden illness, disability, or even death when asked to participate in unrewarding activities -- like work, or household chores. n. A person who gets sick when asked to work.
Already Voted
Vote not counted. We have already counted two anonymous votes from your network. If you haven't voted yet, you can login and then we will count your vote.
---
Choredeath
You still have one vote left...
Created by: PapaChabre
Pronunciation: lay-ZIN-ti-cate
Sentence: Promptly after being asked to mow the lawn, John was found lazinticating.
Etymology:
----------------------------
COMMENTS:
Hey! Are you implying that all fat guys with beards are lazy? Because it could possibly be true and therefore that may be a hate crime! You'll be hearing from my lawyer =P - PapaChabre, 2006-12-13: 23:10:00
----------------------------
Created by: Kevcom2007
Pronunciation: lay/bour/seed
Sentence: Daddy Joe had a severe case of labourcede when it came time to do simple household chores, like getting off the couch and doing the dishes.
Etymology: labour + cede (surrender)
Created by: swifttwinkie
Pronunciation: lay-zuh-play-shuh
Sentence: Tom's laziplasia usually flares up after lunch during the work week and is especially bad on Sunday afternoons and Monday nights.
Etymology:
Created by: HackMaster
Pronunciation: lack-O-wanna-do-that-itis
Sentence: When asked to wash the car, I suddenly experienced an onset of lackowannadothatitis.
Etymology:
Created by: talius
Pronunciation: Foe-stu-mus
Sentence:
Etymology: faux-fake posthumous-after death
Created by: schubig
Pronunciation:
Sentence:
Etymology:
Created by: Mauserketi
Pronunciation: Fayn-ting
Sentence: Don't worry, Bob didn't faint. He's only feignting.
Etymology: From faint and feign.
Created by: misterdoug
Pronunciation: 'chor kO-m&
Sentence: ...
Etymology: ...
Created by: Frejesal
Pronunciation: Lah-BORE-if-eyed
Sentence: When I asked him to run an errand he fell to the ground, totally laborified at the prospect of work!
Etymology:
Created by: ChrisCarrk
Pronunciation: kronik-work-ah-pay-shun
Sentence: Suddenly, Bob had an attack of chronicworkapation and fell down to the floor!
Etymology: chronic + work