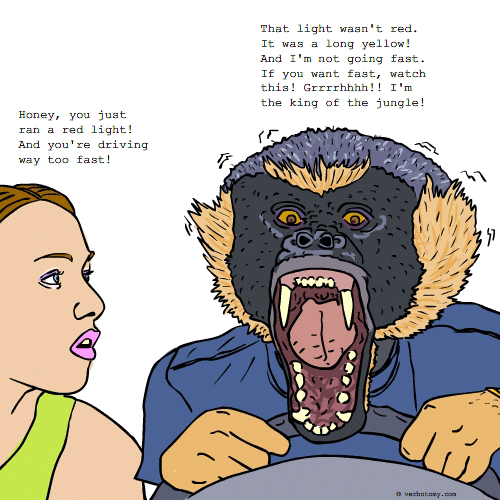 DEFINITION: v. To unintentionally encourage bad behavior by responding to it in a manner that incites even worse behavior. n. A response designed to stop bad behavior, which paradoxically produces more of it.
Voted For: Miscourage
Successfully added your vote for "Miscourage".
You still have one vote left...
Created by: galwaywegian
Pronunciation: rek tifff eye
Sentence: Herhigh pitched complaints only managed to wrectify the situation, as she put her foot on the imaginery brake.
Etymology: rectify wreck.
----------------------------
COMMENTS:
wreckscellent word! - Nosila, 2008-05-20: 22:37:00
Nice word. - OZZIEBOB, 2008-05-22: 01:21:00
----------------------------
Created by: jrogan
Pronunciation: mis-cur-rage
Sentence: Every time Sally miscouraged her boyfriend go slower, he went faster. It didn't matter whether they were on the highway, or in the bedroom.
Etymology: miss + courage as opposed to discourage
Voted For! | Comments and Points
Created by: Mustang
Pronunciation: re-IT-eye-rayt
Sentence: While she was well intentioned Muriel would invariably overdo her prodding to get Stan to do things her way and in the end would almost always reitirate, harping on a topic until Stan would just blow his cork.
Etymology: Blend of reiterate and irate.
Created by: mweinmann
Pronunciation: skair - a - dime
Sentence: There was a scaradigm shift in Tony's behavior after Lisa tried to soothe him during the drive through the Catskills. The road was narrow and slippery and an antelope strolled out and started to play around in the headlights.
Etymology: scare (A general state of alarm), paradigm (A set of assumptions, concepts, values, and practices that constitutes a way of viewing reality)
Created by: OZZIEBOB
Pronunciation: Eks-asz-SUR-bloop
Sentence: When Bob tried to smooth things over with a few words of "wisdom", he quickly found out that many an embarassing moment wouldn't be so embarassing if it only lasted a moment. The daftermath of his exacerblooper and exacerblooping, lead to a hellishing harangue from Roxie that lasted an hour.
Etymology: Blend of EXACERBate & BLOOP/er: an embarassing, silly, verbal error, usually during a serious moment.
----------------------------
COMMENTS:
great sentence - Jabberwocky, 2008-05-20: 15:32:00
----------------------------
Created by: Nosila
Pronunciation: nag resh shun
Sentence: Rhoda Rage always lectured her spouse,Red, about the importance of defensive driving. She also pointed out potential hazards to him along the route...like a person crossing the road, a mile ahead. Or a red light, three blocks away. Although she could not drive herself, she was an expert on what he should be doing. But all her cautions became a form of nagression and irritated the heck out of Red. Her constant comments made him nervous and edgy. He took his frustration out on other motorists. They eventually split up, because he wanted to take another Rhoda and she did not want to see Red anymore.
Etymology: Nag (remind or urge constantly; bother persistently with trivial complaints;worry persistently) & Aggression (violent action that is hostile and usually unprovoked;deliberately unfriendly behavior; the act of initiating hostilities;a disposition to behave aggressively;a feeling of hostility that arouses thoughts of attack)
Created by: Nosila
Pronunciation: ha bet ual
Sentence: Joanie nagged at Chachi when he drove, which drove him insane. She failed to under stand that her habetual commentary on his poor driving habits made him a worse driver. It would have probably worked better if she had actually had a driving license of her own before passing such critiques on his driving skills...
Etymology: Habitual (commonly used or practiced; usual) & Abet (assist or encourage, usually in wrongdoing)
Created by: Mustang
Pronunciation: re-VERB-eye-rayt
Sentence: It seemed that whenever Cindy would try to motivate her husband, Charlie, to behave more civilly, her words would only reverbirate in some dark corner of his psyche and have the opposite effect with him responding in even more outrageous manner.
Etymology: blend of 'reverberate' (echo) and 'irate' (angry)
Created by: mrskellyscl
Pronunciation: neg-a-ten-shen-al
Sentence: As a teacher, Mary knew that negatentional responses were equal to posintentional ones to the kids who acted up to get her attention, although the results were disastrous for her classroom management. She soon realized that by nagging Kevin the same result would happen, Kevin would do the opposite of what she wanted to get a response from her. She decided to ignore the inappropriate behavior and reward him for proper behavior, just as she would her kindergarten children, in order for him to get posattention from her.
Etymology: negative: unfavorable or disconfirming + intentional: done deliberately + attention: notice or recognition. Teachers and trainers understand that to some children or animals negative attention is just as good as positive attention because it gives them the reward of recognition and response.
----------------------------
COMMENTS:
Do I not lie it? Negatory! Good word. - Nosila, 2009-06-30: 17:31:00
----------------------------
Created by: Nosila
Pronunciation: mor gram ming
Sentence: Wanda whined, "You are such a loser, I don't know what I saw in you! Loser, loser!" To which Ralphie replied, "You keep calling me that, but I'm not a loser! You keep moregramming me with that title." After which he stormed out of the house, went to the store and bought himself the Powerball Lottery ticket which became the single winner of $280 million, U.S.!
Etymology: More (comparative of much; to a greater degree or extent) & Programming (a learning process in which an organism's behavior becomes dependent on the occurrence of a stimulus in its environment)