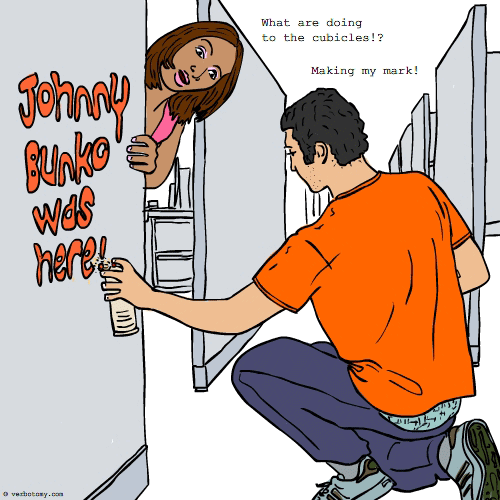 DEFINITION: v. To create an impression that you have made a positive contribution, especially when related to career activities. n. A personal mark or imprint which proves that you have done something that matters.
Already Voted
Vote not counted. We have already counted two anonymous votes from your network. If you haven't voted yet, you can login and then we will count your vote.
---
Taggression
You still have one vote left...
Created by: arrrteest
Pronunciation: jahb-eh-fakt
Sentence: Johnny left little jobifacts around the office to look like he was busy working. He would leave papers by the printer of drafts of written work, he would save and stack his telephone messages (real and made up ones, mind you) on his desk, and left emails of his work exploits. He would often start sentences like, "You know Bob, I've been thinking about this . . ." or "What's been bothering me, Florence, about the Dithers' case is . . ." He constantly asked his co-workers if he could borrow their White-Out, extra large paper clips, or staples because he just "ran out." Whenever a report came out that had his name on it, he would post it on the staff bulletin board and pin it on the walls of his tiny cubicle. In essence, Johnny didn't do much.
Etymology: Job, profession, place of work + artifact, a spurious observation or result arising from preparatory or investigative procedures
----------------------------
COMMENTS:
Sounds like he was jobiquitous! - OZZIEBOB, 2008-05-06: 18:03:00
----------------------------
Created by: Nosila
Pronunciation: win press shun
Sentence: Freddy wanted to make his mark at the Moonlight Auto Body Shop. He knew he was smarter and more personable than the other guys and way more ambitious. He knew that someday he would run the company. The surest way to make a winpression was the easiest and none of the others had even thought of it. He courted and married the boss' very homely daughter and made a great winpression on his boss that secured his future permanently.
Etymology: Win (win something through one's efforts) & Impression (a clear and telling mental image or a vague idea in which some confidence is placed)
Created by: Tigger
Pronunciation: /kuh-REER-mahrk/
Sentence: The database that Jason had created ten years ago was still used for the company's inventory tracking, and he felt that it was his carearmark ― that the work he'd done so long ago was still being used today. That, and 'casual Friday', from the day when he thought he'd come to the office to do some extra work on a Saturday, wearing baggy jeans and a tee shirt, and it turned out to be a Friday instead.
Etymology: Career - chosen pursuit, profession or occupation (from Middle French, carriere "road, racecourse") + Earmark - any identifying or distinguishing mark or characteristic (from ear + mark; originally a cut or mark in the ear of sheep and cattle, serving as a sign of ownership)
----------------------------
COMMENTS:
clever blend - Jabberwocky, 2008-05-05: 16:14:00
nice. - galwaywegian, 2008-05-05: 17:09:00
----------------------------
Created by: d1420
Pronunciation: mahrks uh-lot
Sentence: Looking to also leave a genetic marksallot on the National Basketball Association, Wilt "The Big Dipper" Chamberlain scored with 20,000 women during his basketball career in hopes that a small fraction of the potential offspring would bounce into the NBA.
Etymology: mark(s) = evidence of the influence or involvement of somebody or something + allot = to appropriate for a special purpose *also see Marks-A-Lot to gain further clarity
----------------------------
COMMENTS:
Verey nice. - OZZIEBOB, 2008-05-06: 17:57:00
----------------------------
Created by: Nuwanda
Pronunciation:
Sentence:
Etymology:
Created by: Stevenson0
Pronunciation: kol/uh/fiti
Sentence: John placed his distinctive colophiti on all office collaborative work and memos to demonstrate to his boss that he had personally read and digested all the important information.
Etymology: colophon (printer's distinctive emblem, used as an identifying device on its books and other works) + graffiti (markings, tags, or initials)
----------------------------
COMMENTS:
Lovely word. - OZZIEBOB, 2008-05-06: 18:05:00
----------------------------
Created by: Mustang
Pronunciation: aht - oh - graft
Sentence: To insure that credit was given for his contributions to any endeavor, no matter how small or insignificant, Garrison would find some clever way to autograught his personal mark on the project.
Etymology: blend of the words autograph and graft, to attach as if by grafting.
----------------------------
COMMENTS:
nice - Jabberwocky, 2008-05-05: 16:15:00
Good one - Nosila, 2008-05-05: 21:33:00
----------------------------
Created by: OZZIEBOB
Pronunciation: WURTH-print
Sentence: Who will leave the greater worthprint: Foo, Kilroy or Johnny Bunko?
Etymology: WORTH: usefulness or importance, as to the world, to a person or a purpose & PRINT: impression or mark; to impress on the mind or memory. As a schoolboy, in the 1950s, it was a lark to write "Foo was here!" Later on he was replaced by Kilroy. Looks like now it's about to be Johnny Bunko's turn. Actually, "Johnny Bunko was here!" sounds great.
Created by: phoenix89
Pronunciation:
Sentence:
Etymology:
Created by: Mustang
Pronunciation: my-cred-eh-TAY-shun
Sentence: Vernon wanted to make sure that everyone knew about his contributions to various programs that succeeded whether or not due to his efforts, and he found ways to engage in mycreditation, managing to put his 'stamp' on paperwork or other things that would surely draw attention toward him.
Etymology: Blend of 'my' and 'accreditation' (to ascribe or attribute to)
----------------------------
COMMENTS:
Talkin' 'bout mycreditation (Who said that) - Jabberwocky, 2009-06-15: 13:20:00
The Who's on first... - Nosila, 2009-06-15: 14:17:00
----------------------------