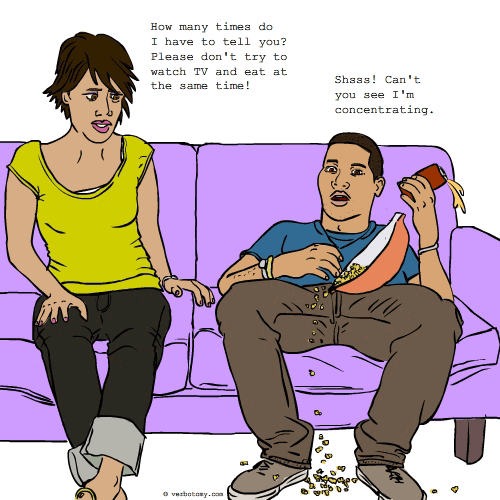 DEFINITION: n. A person who gets completely disoriented whenever they try to do more that one thing at a time. v. To make a big mess because you are trying to do too many things at once.
Already Voted
Vote not counted. We have already counted two anonymous votes from your network. If you haven't voted yet, you can login and then we will count your vote.
---
Sloperative
You still have one vote left...
Created by: abrakadeborah
Pronunciation: Pig-sty-bunk-ist
Sentence: Sallynag Sunkist knew all too quickly when she married Alberto, he was a pigstybunkist. No matter how many times she nagged...she couldn't change the fact Alberto was so slack. Try as she might to be his Mother he would ignore her. He said "listen here my dear Sallynag, if you don't like the way I am...then pack your bags and leave my pigpen...I've already have a Mother and I do not need another!"
Etymology: Pigsty:(Slang) A dirty,very untidy place,very messy! Bunk: (slang) meaning absurd,ridiculous,something totally stupid. Bunkist: A person that is absurd and ridiculous. Pigstybunkist: A person that is sloppy and untidy and a ridiculous slob.
Created by: BeauKnows
Pronunciation: Complex-Tro-fee
Sentence:
Etymology: Complex:Composed of many interconnected parts. Catastrophe:A sudden and widespread disaster.
Created by: DrWebsterIII
Pronunciation: am' bee - kluts - er- us
Sentence: Yvonne knows how ambiklutzerous William is. She loves him dearly though, even more than the scotch guard.!
Etymology: ambi (around, both, ) + klutz (clumsy, awkward) + dexterous (w/o the dexterity)
Created by: galwaywegian
Pronunciation: slohpp ur aht iv
Sentence: George Jnr was a natural born sloperative, just like his dad. The only family in thos parts that were allergic to Wrigleys
Etymology: operative, slop
----------------------------
COMMENTS:
terrific - Jabberwocky, 2009-05-14: 14:47:00
----------------------------
Created by: readerwriter
Pronunciation: dihs-tahs-ker
Sentence: Whether it was calculated or not, every time Rip Van Winkle tried to do anything other than sleep, he showed his nagging wife he was a real distasker.
Etymology: Playing on DISASTER, using DIS/not + TASK/ a piece of work, usually assigned
----------------------------
COMMENTS:
really like this word! - splendiction, 2009-05-13: 22:46:00
----------------------------
Created by: artr
Pronunciation: muhl-tee-tak-sing
Sentence: Nobody wants to admit how slow-witted Jeremy is, afterall, he is the boss. Doing more than one thing at a time is multitaxing for him. He often has to hold his breath to form a thought.
Etymology: multitasking (the carrying out of two or more tasks at the same time by one person) + taxing (to make heavy demands on; strain)
Created by: mrskellyscl
Pronunciation: mul-ti-tasked
Sentence: Richard was so inept at multitasking that he was obviously multitaxed.
Etymology: multitask: the ability do several things at once -- the word is derived from a computer term that means the concurrent operation by one central processing unit of two or more processes. + taxed: to use to the limit; to strain or extend
----------------------------
COMMENTS:
No doubt a new government scheme. - Mustang, 2009-05-13: 07:59:00
nice one - galwaywegian, 2009-05-13: 08:52:00
----------------------------
Created by: bookowl
Pronunciation: task/mix/mas/tur
Sentence: A true taskmixmaster will royally screw up multiple tasks at once.
Etymology: task + mixmaster
----------------------------
COMMENTS:
Good onme...stir the pot! - Nosila, 2009-05-13: 19:18:00
----------------------------
Created by: Jabberwocky
Pronunciation: mull/tee/bas/ket/case
Sentence: Sam was a complete multibasketcase whenever Sally asked him to help with the housework. In the end it was safer to do it on her own.
Etymology: multitask + basket case
----------------------------
COMMENTS:
Good one! - Nosila, 2009-05-13: 19:19:00
So true Jabber! Kudos to you again! :) - abrakadeborah, 2009-05-14: 10:34:00
----------------------------
Created by: Koekbroer
Pronunciation: moh noh tas ker
Sentence: Doug is such a monotasker, he just spilled his nachos because the movie started.
Etymology: mono + task