Verboticism: Stillifecoach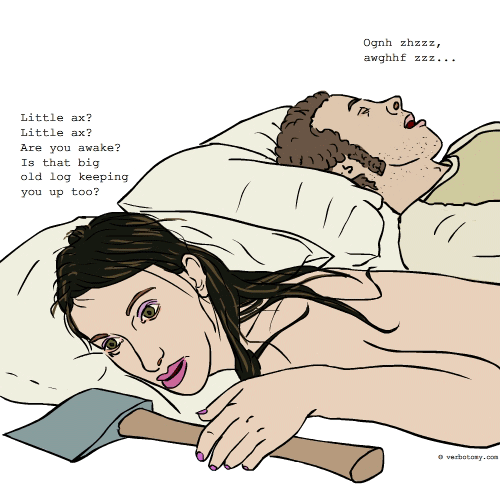 DEFINITION: v. To talk to, encourage and advise inanimate objects, in hopes that they will work better. n. A person who talks to their tools, cars, kitchen appliances, furniture, or whatever...
Voted For: Stillifecoach
Successfully added your vote for "Stillifecoach".
You still have one vote left...
Created by: abrakadeborah
Pronunciation: Ob-jek-ter-ize
Sentence: In Sally's sleepless thoughts she would often objecterize an ax across flying across the room to clunk her sleeping husband in the head with...so he would stop snoring.
Etymology: Taken from the word ~ Object -Something perceptible by one or more of the senses, especially by vision or touch; a material thing. 2. A focus of attention, feeling, thought, or action: an object of contempt.
Created by: petaj
Pronunciation: ma-sheen-ta-cors
Sentence: Sharleen's children were stressed and jealous because their mother's machintercourse took precedence over any attention she gave to them. But, my goodness she never had a day's trouble from any of her appliances.
Etymology: machinery + intercourse (conversation - keep it clean!)
----------------------------
COMMENTS:
now that's just too wierd! :) - galwaywegian, 2009-03-25: 06:05:00
it is a little disturbing - makes me wonder how you spend your spare time petaj - Jabberwocky, 2009-03-25: 15:22:00
Sounds borderline kinky. I LIKE it!! - Mustang, 2009-03-25: 23:41:00
Did Mach have intercourse? lol!:)funny! - abrakadeborah, 2009-03-27: 05:30:00
----------------------------
Created by: Mustang
Pronunciation: yew-tens-uhl-LEX-eh-kon
Sentence: Martha had developed her own very extensive utensilexicon, a language whereby she actually believed she could communicate with and encourage her kitchen utensils and appliances as well as other tools to behave in ways beneficial to her.
Etymology: Blend of 'utensil' (any instrument, vessel, or tool serving a useful purpose) and 'lexicon' (the vocabulary of a particular language, field, social class, person, etc)
Created by: remistram
Pronunciation: gah-jet-yak
Sentence: Her gadgetyack was performed not only to encourage the lawn mower, but to scare all the neighbours into thinking she was crazy, and more importantly not to mess with her.
Etymology: gadget + yack (as in yackety-yak)
Created by: Rapunzel2426
Pronunciation:
Sentence:
Etymology:
Created by: bookowl
Pronunciation: drill/vil
Sentence: It may seem like drillvel but it works.
Etymology: drill + drivel
Created by: Nosila
Pronunciation: wok tok
Sentence: Judy talked to her appliances. She'd have a toaster toast; a spout shout; a fridge bitch; a kettle prattle and her favourite was a woktalk. She loved to stir-fry gossip and chopped vegetables with her fancy new wok, Wokker, the Texas Ranger. He understood her better than her husband and didn't argue back. One day, Judy and Wokker plotted the demise of her hubby, Ralph. By having a woktalk with her sharp knife, David Bowie and her ax, Nurse Hatchet, Judy's plan to eliminate an animate object was coming together. Ralph's shaver, Darth Razor, overheard the plotting and yelled at Ralph, "Run, don't Wok!"
Etymology: Wok (pan with a convex bottom; used for frying in Chinese cooking) & Talk (express in speech)
Created by: galwaywegian
Pronunciation: still leye fff kowch
Sentence: Dorothy was a stilllifecoach on speaking terms with her red shoes and intimate with a tin man.
Etymology: still life, life coach
----------------------------
COMMENTS:
Your refer to those in the land of Oz won some Ahhhs! - silveryaspen, 2009-03-25: 14:34:00
intimate with a tin man? you and petaj have obviously been talking - Jabberwocky, 2009-03-25: 15:25:00
I'm picturing the tin man in red high heels in bed with petaj with an ax "to grind"!:) LOL - abrakadeborah, 2009-03-27: 22:54:00
----------------------------
Voted For! | Comments and Points
Created by: Ismelstar
Pronunciation: [an-thruh-broh-mawrf-min-yuhn]
Sentence: Speaking gently, Catalonia anthrobromorphminized the office printer, whispering, "Don't you know what a hurry I'm in? All I want for you to do is print. Print for me O sweet Cannon M882. Print!" "You'll never understand Her like I do," muttered Ralph as he passed them on the way to the water cooler.
Etymology: A mash up of anthropomorphism, bro and minion. To attribution Best Friends Forever characteristics to inanimate objects in order to make them your minion and do your bidding.
----------------------------
COMMENTS:
WOW, WEE! and I thought I made them long! - abrakadeborah, 2012-03-07: 14:41:00
Say that five times, fast! ;) - abrakadeborah, 2012-03-07: 14:42:00
----------------------------
Created by: Nosila
Pronunciation: aks sent
Sentence: When Wanda spoke to her ax, Blade, she spoke with an axecent, in the hopes that her husband, Biff, would not understand. His open-mouth snoring and drooling had gotten on her nerves. Log-cutter or not, it was time to ax him from her life. His bad habits annoyed her and she found him incredibly boring. When Wanda felt this way, she knew she had to act and get a replacement quickly. She needed to make room for husband #4, Axel, someone far more suited to her. He was handsome, rich and wanted her badly. She spoke tenderly in her axecent to Blade and encouraged him to use his power on the hapless Biff. She persuaded him to do the deed and bury him in the back yard with the first 3 husbands who annoyed her. They were dead only because she could not hack them anymore!
Etymology: Ax (an edge tool with a heavy bladed head mounted across a handle; to terminate) & Accent (a diacritical mark used to indicate stress or placed above a vowel to indicate a special pronunciation;distinctive manner of oral expression)
----------------------------
COMMENTS:
What a hilarious story....great word. - mweinmann, 2009-03-25: 08:46:00
If ever discovered, she could claim it was an axident! - silveryaspen, 2009-03-25: 09:57:00
axcellent - galwaywegian, 2009-03-25: 11:26:00
I think ax might need an accomplice to bury #3 - perhaps she would have to enlist the shove(woo)l - Jabberwocky, 2009-03-25: 15:19:00
----------------------------