Verboticism: Machintercourse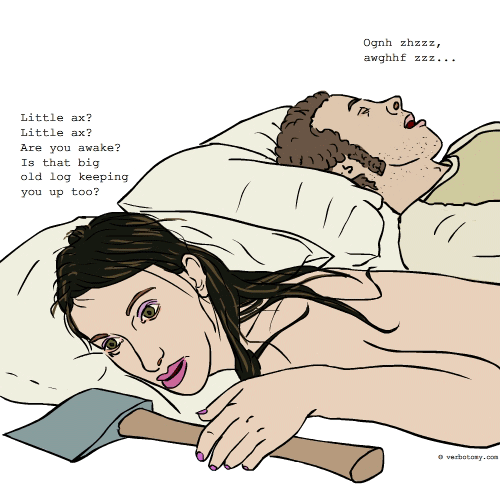 DEFINITION: v. To talk to, encourage and advise inanimate objects, in hopes that they will work better. n. A person who talks to their tools, cars, kitchen appliances, furniture, or whatever...
Already Voted
Vote not counted. We have already counted two anonymous votes from your network. If you haven't voted yet, you can login and then we will count your vote.
---
Machintercourse
You still have one vote left...
Created by: abrakadeborah
Pronunciation: Ob-jek-ter-ize
Sentence: In Sally's sleepless thoughts she would often objecterize an ax across flying across the room to clunk her sleeping husband in the head with...so he would stop snoring.
Etymology: Taken from the word ~ Object -Something perceptible by one or more of the senses, especially by vision or touch; a material thing. 2. A focus of attention, feeling, thought, or action: an object of contempt.
Created by: kateinkorea
Pronunciation: AN throw po MORE prate
Sentence: "May I sit on you?" she said to the chair. "Of course I can. I know you don't mind." And then turning to the table, she said, "Now I will put my soup on you. Don't worry it's not too hot. Now then where was I yesterday? I was telling you about the time that I went to France twenty years ago and how I met that nice gentleman there, and…" All day long she would anthropomoreprate and we would have to listen to her anthropomoreprattle bore us to tears, other than to make us want to laugh. But she continued, as if everything around her had ears and held on to her every word.
Etymology: ANTHROPOMORPHIC: treating inanimate objects, gods, or animals like they are real MORE: lots, continuous PRATE: to talk too much in a stupid or boring way
----------------------------
COMMENTS:
:) nice word there Kateinkorea! - abrakadeborah, 2009-03-25: 03:21:00
Great sentence, excellent choice and blending of words! - silveryaspen, 2009-03-25: 09:52:00
terrific - Jabberwocky, 2009-03-25: 15:14:00
----------------------------
Created by: abrakadeborah
Pronunciation: Pər-ˈswād-the-thing
Sentence: Jeff snored so loud that his wife Michelle never even got a wink of sleep,often she would lay awake thinking of solutions to end his awful snoring. One night out of sheer frustraion she grabbed Jeff's ax out of his tool box and started to "persuadethething" to jump out of her hand and clunk Jeff in the head! ~:-0
Etymology: Persuade;To to plead with or urge. The;before consonants usually thə, before vowels usually thē, sometime before vowels also thə; for emphasis before titles and names or to suggest uniqueness often ˈthē. Thing;An object.
Created by: Nosila
Pronunciation: aks sent
Sentence: When Wanda spoke to her ax, Blade, she spoke with an axecent, in the hopes that her husband, Biff, would not understand. His open-mouth snoring and drooling had gotten on her nerves. Log-cutter or not, it was time to ax him from her life. His bad habits annoyed her and she found him incredibly boring. When Wanda felt this way, she knew she had to act and get a replacement quickly. She needed to make room for husband #4, Axel, someone far more suited to her. He was handsome, rich and wanted her badly. She spoke tenderly in her axecent to Blade and encouraged him to use his power on the hapless Biff. She persuaded him to do the deed and bury him in the back yard with the first 3 husbands who annoyed her. They were dead only because she could not hack them anymore!
Etymology: Ax (an edge tool with a heavy bladed head mounted across a handle; to terminate) & Accent (a diacritical mark used to indicate stress or placed above a vowel to indicate a special pronunciation;distinctive manner of oral expression)
----------------------------
COMMENTS:
What a hilarious story....great word. - mweinmann, 2009-03-25: 08:46:00
If ever discovered, she could claim it was an axident! - silveryaspen, 2009-03-25: 09:57:00
axcellent - galwaywegian, 2009-03-25: 11:26:00
I think ax might need an accomplice to bury #3 - perhaps she would have to enlist the shove(woo)l - Jabberwocky, 2009-03-25: 15:19:00
----------------------------
Created by: Nosila
Pronunciation: aks playn
Sentence: Mary had to axplain to her trusty hatchet what would happen when she could not hack her snoring hubby anymore.
Etymology: Ax (edge tool with heavy sharp blade) & Explain (define, make to understand)
Created by: Rapunzel2426
Pronunciation:
Sentence:
Etymology:
Created by: petaj
Pronunciation: ma-sheen-ta-cors
Sentence: Sharleen's children were stressed and jealous because their mother's machintercourse took precedence over any attention she gave to them. But, my goodness she never had a day's trouble from any of her appliances.
Etymology: machinery + intercourse (conversation - keep it clean!)
----------------------------
COMMENTS:
now that's just too wierd! :) - galwaywegian, 2009-03-25: 06:05:00
it is a little disturbing - makes me wonder how you spend your spare time petaj - Jabberwocky, 2009-03-25: 15:22:00
Sounds borderline kinky. I LIKE it!! - Mustang, 2009-03-25: 23:41:00
Did Mach have intercourse? lol!:)funny! - abrakadeborah, 2009-03-27: 05:30:00
----------------------------
Created by: remistram
Pronunciation: gah-jet-yak
Sentence: Her gadgetyack was performed not only to encourage the lawn mower, but to scare all the neighbours into thinking she was crazy, and more importantly not to mess with her.
Etymology: gadget + yack (as in yackety-yak)
Created by: silveryaspen
Pronunciation: nur rhet or a cle
Sentence: We all give in to that pixilated urge to talk to objects. Here are some examples of neurhetoricals. "Please, please, start" the mechanic begged the groaning car that would not spring to life. The painter said to his brush "Don't be such a drip." Watching impatiently, Emeril said to the water for pasta "How long is it going to take you to come to a boil?" When it did, Emeril praised it with his famous "Bam!" Then of course, the opposite of a neurhetorical can happen, too. For example, the little boy with a face smeared by chocolate icing explained to his mother "The cake kept calling to me, mom. Honest! It kept saying 'lick me, lick me!'"
Etymology: NEUROSIS -a mild disorder, one where an individual succumbs to the urge to talk to objects. RHETORICAL - relating to the skill of using language effectively and persuasively. RHETORICAL QUESTION - question asked for effect that neither expects nor requires an answer. The last part of this verbotomy is homonymous with ORACLE - an object, that has become a shrine, people visit to ask questions and seek advice; the most famous being the Delphic Oracle of Apollo. Such people are beyond nuerhetorical, because they expect the shrine to answer!
----------------------------
COMMENTS:
great combo silvery - Jabberwocky, 2009-03-25: 15:23:00
Good word...it's like when donuts call your name or something in a store window says, "Buy me, Buy Me!" - Nosila, 2009-03-25: 15:44:00
----------------------------
Created by: artr
Pronunciation: ôtōpəmɔrfaɪz
Sentence: Most couples have ups and downs in their relationships. John and Camaro are no exception. Some mornings he has to sweet talk her just to get her to turn over. When she is happy she practically purrs. John's male friends understand how he could autopomorphize his car. His female friends are just a little jealous of Cammy.
Etymology: auto (a road vehicle, typically with four wheels, powered by an internal combustion engine or electric motor and able to carry a small number of people) + anthropomorphize (the attribution of human characteristics or behavior to a god, animal, or object)