Verboticism: Persuadethething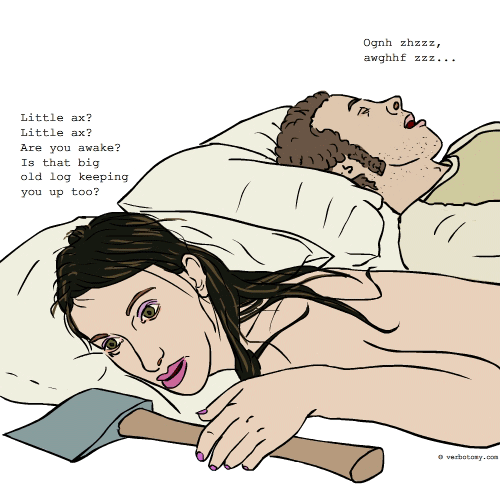 DEFINITION: v. To talk to, encourage and advise inanimate objects, in hopes that they will work better. n. A person who talks to their tools, cars, kitchen appliances, furniture, or whatever...
Voted For: Persuadethething
Successfully added your vote for "Persuadethething".
You still have one vote left...
Created by: mweinmann
Pronunciation: fur - rench
Sentence: Suzy slowly turned the bolt and this time; used soothing words spoken in frwrench. It seemed to work as the wrench smoothly fit over the bolt and responded to her parisian accent. Job done, thought Suzy as she tipped her beret....
Etymology: french (a romantic languate), wrench (a tool used to tighten bolts).
----------------------------
COMMENTS:
tres bien! - Nosila, 2010-10-07: 21:52:00
----------------------------
Created by: abrakadeborah
Pronunciation: Ob-jek-ter-ize
Sentence: In Sally's sleepless thoughts she would often objecterize an ax across flying across the room to clunk her sleeping husband in the head with...so he would stop snoring.
Etymology: Taken from the word ~ Object -Something perceptible by one or more of the senses, especially by vision or touch; a material thing. 2. A focus of attention, feeling, thought, or action: an object of contempt.
Created by: artr
Pronunciation: kärmyoōnukāshun
Sentence: We think it all started to go wrong when Chad named his car Rusty (short for rust bucket) Next he was indulging in carmummication, coaxing it to start on cold mornings, asking it to stop making those odd noises. Soon it spilled over to most every inanimate object he came into contact with. He has been known to demand an explanation from the company laserwriter when his document doesn't print correctly. If he sets a pen down on a table and it starts to roll, he will bark "STAY!" Friends are beginning to worry.
Etymology: Communication (the imparting or exchanging of information or news) + Car (a road vehicle, typically with four wheels, powered by an internal combustion engine and able to carry a small number of)
----------------------------
COMMENTS:
More common than one would think - am I correct computer? - Jabberwocky, 2009-03-25: 15:20:00
----------------------------
Created by: petaj
Pronunciation: ma-sheen-ta-cors
Sentence: Sharleen's children were stressed and jealous because their mother's machintercourse took precedence over any attention she gave to them. But, my goodness she never had a day's trouble from any of her appliances.
Etymology: machinery + intercourse (conversation - keep it clean!)
----------------------------
COMMENTS:
now that's just too wierd! :) - galwaywegian, 2009-03-25: 06:05:00
it is a little disturbing - makes me wonder how you spend your spare time petaj - Jabberwocky, 2009-03-25: 15:22:00
Sounds borderline kinky. I LIKE it!! - Mustang, 2009-03-25: 23:41:00
Did Mach have intercourse? lol!:)funny! - abrakadeborah, 2009-03-27: 05:30:00
----------------------------
Created by: Ismelstar
Pronunciation: [an-thruh-broh-mawrf-min-yuhn]
Sentence: Speaking gently, Catalonia anthrobromorphminized the office printer, whispering, "Don't you know what a hurry I'm in? All I want for you to do is print. Print for me O sweet Cannon M882. Print!" "You'll never understand Her like I do," muttered Ralph as he passed them on the way to the water cooler.
Etymology: A mash up of anthropomorphism, bro and minion. To attribution Best Friends Forever characteristics to inanimate objects in order to make them your minion and do your bidding.
----------------------------
COMMENTS:
WOW, WEE! and I thought I made them long! - abrakadeborah, 2012-03-07: 14:41:00
Say that five times, fast! ;) - abrakadeborah, 2012-03-07: 14:42:00
----------------------------
Created by: Mustang
Pronunciation: yew-tens-uhl-LEX-eh-kon
Sentence: Martha had developed her own very extensive utensilexicon, a language whereby she actually believed she could communicate with and encourage her kitchen utensils and appliances as well as other tools to behave in ways beneficial to her.
Etymology: Blend of 'utensil' (any instrument, vessel, or tool serving a useful purpose) and 'lexicon' (the vocabulary of a particular language, field, social class, person, etc)
Created by: abrakadeborah
Pronunciation: Pər-ˈswād-the-thing
Sentence: Jeff snored so loud that his wife Michelle never even got a wink of sleep,often she would lay awake thinking of solutions to end his awful snoring. One night out of sheer frustraion she grabbed Jeff's ax out of his tool box and started to "persuadethething" to jump out of her hand and clunk Jeff in the head! ~:-0
Etymology: Persuade;To to plead with or urge. The;before consonants usually thə, before vowels usually thē, sometime before vowels also thə; for emphasis before titles and names or to suggest uniqueness often ˈthē. Thing;An object.
Voted For! | Comments and Points
Created by: kateinkorea
Pronunciation: AN throw po MORE prate
Sentence: "May I sit on you?" she said to the chair. "Of course I can. I know you don't mind." And then turning to the table, she said, "Now I will put my soup on you. Don't worry it's not too hot. Now then where was I yesterday? I was telling you about the time that I went to France twenty years ago and how I met that nice gentleman there, and…" All day long she would anthropomoreprate and we would have to listen to her anthropomoreprattle bore us to tears, other than to make us want to laugh. But she continued, as if everything around her had ears and held on to her every word.
Etymology: ANTHROPOMORPHIC: treating inanimate objects, gods, or animals like they are real MORE: lots, continuous PRATE: to talk too much in a stupid or boring way
----------------------------
COMMENTS:
:) nice word there Kateinkorea! - abrakadeborah, 2009-03-25: 03:21:00
Great sentence, excellent choice and blending of words! - silveryaspen, 2009-03-25: 09:52:00
terrific - Jabberwocky, 2009-03-25: 15:14:00
----------------------------
Created by: artr
Pronunciation: ôtōpəmɔrfaɪz
Sentence: Most couples have ups and downs in their relationships. John and Camaro are no exception. Some mornings he has to sweet talk her just to get her to turn over. When she is happy she practically purrs. John's male friends understand how he could autopomorphize his car. His female friends are just a little jealous of Cammy.
Etymology: auto (a road vehicle, typically with four wheels, powered by an internal combustion engine or electric motor and able to carry a small number of people) + anthropomorphize (the attribution of human characteristics or behavior to a god, animal, or object)
Created by: bookowl
Pronunciation: drill/vil
Sentence: It may seem like drillvel but it works.
Etymology: drill + drivel