Verboticism: Bankmananrobbing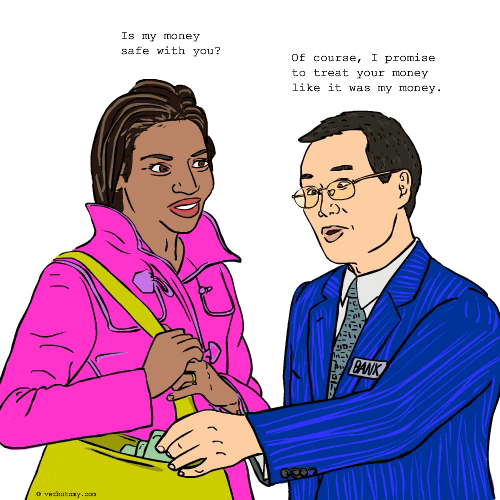 DEFINITION: n. A bank which pays huge salaries to its executives who bet their customers' money on dumb investments, risky loans, and the inevitable government bail-out. v. To lend, spend, and mismanage a bank into bankruptcy.
Already Voted
Vote not counted. We have already counted two anonymous votes from your network. If you haven't voted yet, you can login and then we will count your vote.
---
Bankmananrobbing
You still have one vote left...
Created by: Jabberwocky
Pronunciation: in/vest/ment/ban/kwet/tur
Sentence: When I was lining up at the soup kitchen I saw the group of investmentbanqueters who had managed my portfolio stepping into a limo to take them to the investmentbanqueting eat all you can buffet.
Etymology: investment banker + banquet
----------------------------
COMMENTS:
Food for thought! Good one - TJayzz, 2009-01-27: 10:10:00
Well said. Super Word! - silveryaspen, 2009-01-27: 10:22:00
Only BELUGA caviar, please. - metrohumanx, 2009-01-27: 15:25:00
----------------------------
Created by: Nosila
Pronunciation: mor gowj
Sentence: Remember the good old days, when a bank was synonymous with fidelity, trust, credit? Now they only pay you interest when they want to lien on you. They mortgouge your soul and make you do a balancing act everyday. They venture your hard-earned money and sell it into bondage. They make an asset out of you and me and you can take that to the bank.
Etymology: Mortgage (a conditional conveyance of property as security for the repayment of a loan; put up as security or collateral) & Gouge (obtain by coercion or intimidation)
Created by: mweinmann
Pronunciation: din - vest - or
Sentence: Margery began to suspect that her bank had become a dinvestor instead of an investor of her funds. Lately, she was growing suspicious that either they were incompetent or that they were siphoning off funds and worried that her money might disappear. There were an increasing number of expensive cars in the parking lot but the property was looking a bit unkempt. She had also stopped receiving statements lately....hmmmm
Etymology: Divest + Investor >>> Divest (In finance and economics, divestment or divestiture is the reduction of some kind of asset for either financial goals or ethical objectives. A divestment is the opposite of an investment) Investor (A person who invests money in order to make a profit)
Created by: galwaywegian
Pronunciation: fan neee ab owt
Sentence: they went from fanny can to fannyabout to fannymaynot in three months.
Etymology: fanny about as in mess about.
----------------------------
COMMENTS:
WOW! - silveryaspen, 2009-01-27: 10:12:00
fannymay or fannymae??? - mweinmann, 2009-01-27: 11:41:00
----------------------------
Created by: readerwriter
Pronunciation: sigh-mun-pyoor-leh-gree
Sentence: Once the citizenry realized they had become slaves to an economic system that ultimately only benefitted corporate leaders of banks, they threw off their shackles and exposed the hypocrisy of simonpurelegree. Once convicted and exposed the greedy ones were sent to Guantanomo which was renamed the Simonpurelegrist Mill.
Etymology: From SIMONPURE, an adjective meaning hypocritically virtuous and SIMON LEGREE, the cruel and horrible slavemaster of Uncle Tom's Cabin.
----------------------------
COMMENTS:
I like the creativity in this! - kateinkorea, 2009-01-27: 20:53:00
----------------------------
Created by: idavecook
Pronunciation: Shit-EEE-Bay-n-k
Sentence: "I just got a job at Shitibank!" exclaimed Joe the plumber as he leapt unknowingly down the stairs to his demise. To the horror of his co-workers and recent ex-coworkers, they wondered if Joe knew he had been laid off before his neck hit the last step?
Etymology: A loan, a dick, and your ass.
----------------------------
COMMENTS:
Good play on Citibank butt the etymology?? - mweinmann, 2009-01-27: 11:44:00
Great word...you'd think with exorbitant interest they charge they could keep a few more Joe's on staff.. - Nosila, 2009-01-27: 23:20:00
----------------------------
Created by: GlobalGallery
Pronunciation: grow-on-tree-pren-yer
Sentence: "Thankyou Sir" uttered Manuel as he palmed the wrinkled dollar bill handed to him by the sunburnt banker in the driveway of the country club. "The keys are in your Ferrari, and your golf clubs wouldn't quite fit so I've put them in your wife's Bentley" he said politely. As the Ferrari sped off Manuel wondered if one day he too could be a wealthy growontreepreneur.
Etymology: 1. Money doesn't grow on trees - A phrase used to express the need for financial restraint. 2. entrepreneur - someone who organises a business venture and assumes the risk for it.
----------------------------
COMMENTS:
An Irony Hit! - silveryaspen, 2009-01-27: 10:08:00
----------------------------
Created by: splendiction
Pronunciation: bank boo zl
Sentence: Bankboozle (noun or verb). The bankboozle denied its shifty ways of taking finance to the extreme: purchasing companies that didn't exist, providing discredit and embezzling the rest to their shrwiss accounts.
Etymology: This word is a combination of "bank" and part of the word "bamboozle". Bank means to hold (in this case, one's money or investments) and bamboozle means to hoodwink, deceive or confuse.
----------------------------
COMMENTS:
I think I've been bankboozled before. Good word. - Mustang, 2009-01-27: 19:42:00
meaning so apparent, easy to say, fun to say, good pun, has originality ... exceptional verbotomy. - silveryaspen, 2009-01-28: 01:44:00
----------------------------
Created by: thegoatisbad
Pronunciation: per-fun-dor-e
Sentence: Kimberly wasn't concerned about the perfundory attitude of bankers because she kept all her dollars stuffed into a mattress locked inside her panic room. In her words: "my funds are not some fat cat's fundough to shape into a golden parachute!"
Etymology: Perfunctory (with little care) + Fund (reserve of money)
Created by: silveryaspen
Pronunciation: bank rape ers
Sentence: As CEO (Cheat Em Officer) of the bank, the first disorder of business was to set my salary at a million of your invested dollars, per year. Of course, each bored member voted the same for themselves. Knowing loans made, would never be repaid, we voted to lend all our business buzzard friends, millions more, so they could carrion their extravagant lifestyles and hide their rotting businesses. The rest of your money, we sinvested in the worthless stock of these business buzzards' companies. For screwing you out of your money, and screwing the government out of billions more, we have become known as the biggest bankrapers in history!
Etymology: BANK, RAPE. Also a word play on bank robbers. BANK - business offering financial services: a business that KEEPS MONEY for individual people or companies, exchanges currencies, makes loans, and offers other financial services. RAPE - violent abusive destructive treatment.