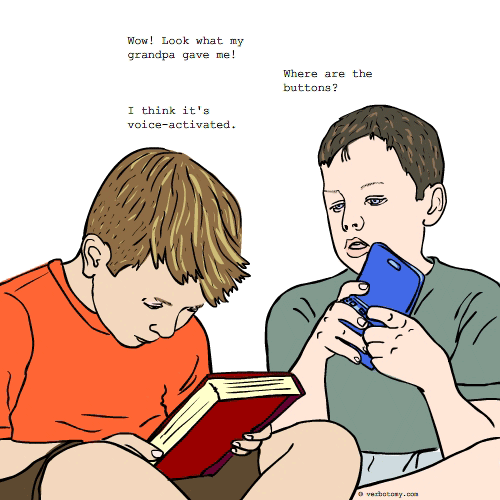 DEFINITION: n. An old media format that is no longer popular or easily accessible, such as floppy disks, VHS tapes or stone tablets. v. To try to access data stored in an old-fashioned media format, especially it requires the use archaic technology and/or protocols.
Voted For: Yestersurf
Successfully added your vote for "Yestersurf".
You still have one vote left...
Created by: Nosila
Pronunciation: pas say im pur fect
Sentence: Young Billy adored his grandfather and loved it when the old geezer told him stories about the passéimperfect. He knew his grandpa made this stuff up, but he loved to hear about the good old days anyway and in particular about the ancient tools they used. He regaled Billy with yarns about how his phone had numbers that went round and round when he stuck his finger in the holes for each set of numbers. Grandpa also told him about watching tv shows on the one channel in black & white and for some reason you needed a rabbit's ears to see the tiny picture better. (As if!) He also told him of cooking without using a microwave (yeah, right!) and buying big blocks of ice to keep everything in the fridge cold (you've got to be kidding!). That crazy Grandpa, he told Billy that a log on was something you put on a bonfire and that a link was something you put on your sleeves to keep the cuffs closed. He said a password was something you spoke into a grill on a door to get into a speak-easy (must be some kind of spellcheck for voice actioned computers?) Billy loved the really old things that Grandpa gave him. Like most boys his age, he loved dinosaurs. He was so excited today, because Grandpa was coming over and bringing him a thesaurus...he couldn't wait to play with it!
Etymology: passé (out of fashion) & past imperfect (grammar: tense imperfect refers to an action that is uncompleted or abandoned)
----------------------------
COMMENTS:
Rrrawr! Oh no, here comes the fierce Thesaurus Rex!... That's hilarious. - Tigger, 2008-03-14: 03:09:00
All that was makes me curious about what is to come! Great etymology ... conveys the way passages from the old ... lead to the knew ... growing, evolving, better and better ... perfecting! A Perfectly wonderful sentence and word! - silveryaspen, 2008-03-14: 17:08:00
Thanks, Tigger & silveryaspen. I always thought the best name for the Toronto NBA Team was TorontoSaurus Wrecks...but no one would listen... - Nosila, 2008-03-14: 23:16:00
----------------------------
Created by: karenanne
Pronunciation: tek STINCT
Sentence: Why is it that the VHS video format is considered boring and old-fashioned, while both the Beta tapes and the Beta machines required to play them, which are even older, are now considered "retro" and "cute?" I guess the closer something gets to becoming techstinct, the cooler it becomes for collectors due to its rarity.
Etymology: tech + extinct
Created by: idavecook
Pronunciation: SOUND IT OUT
Sentence: Man I have this old movie and I really want to watch it, but I only have it on HDRIPDVD, dude, I am so screwed. Even the pawn shops don't have those anymore. Now where's that laser disc?
Etymology: FILM-VHS-BETA-LASER DISC-DVD-HDDVD-BLURAY-DEATH
----------------------------
COMMENTS:
Rippingly excellent! - silveryaspen, 2008-03-14: 18:28:00
----------------------------
Created by: mokelmoney
Pronunciation: sore/ o/ stink/shon
Sentence: Hey! Johnny these floppy disk and VHS tapes are so out dated and old you must have bought them @ Caveman Charlie's store for the real dinosaur.
Etymology: Listen here! I don't mean to be rude but I need your attention. First, Happy New Year. I want to submit my own word and definition. Please Kahnumblem: noun: A build up of options where one must make a choice however it is difficult to choose one [for instance mate] option because every choice has a use and choosing may require life alterations.
----------------------------
COMMENTS:
Please accept my own creation. "kahnumblem" - mokelmoney, 2009-01-08: 13:29:00
----------------------------
Created by: c2flores
Pronunciation:
Sentence:
Etymology:
Created by: justacrosshair
Pronunciation: an-tek
Sentence: "A cassette tape? Sorry, we don't stock antechques."
Etymology: antique (old); tech (man made)
Created by: galwaywegian
Pronunciation: ann teh wot eee
Sentence: the sound of the antechwhatee scratched along, every now and then receding so you could make out a strangulated voice crooning something about gramma.
Etymology: antiquity, tech, what
----------------------------
COMMENTS:
What a witty clever pun! Nice one! - silveryaspen, 2008-03-14: 23:52:00
----------------------------
Created by: Tigger
Pronunciation: /ruhs-teh-kor-ding/
Sentence: George totally enjoyed bringing his 8-year-old son with him to help clean out Grandpa's attic — where Grandpa had stored all of his old electronics and rusticordings. Grandpa had been an avid technophile in his day and the attic was like an obsolete technology museum. When George showed him the Betamax and VHS video tapes, and explained that they were like DVD-R's, Nathan inpected them and asked where the lasers went. Then, when they got to the cassettes and 8-track tapes, George told Nathan that they were what people kept their MP3's on, and then he showed Nathan the rust-colored tape and demonstrated how it turned. Nathan wanted to know how people selected the song they wanted to hear, and so George had to explain Fast Forward and Rewind, while his son struggled with the archaic concept. The vinyl records were next, and when George showed him the groove on the record, and explained how you had to carefully position the needle so as not to scratch the record, Nathan just winced and said, "Wow, Grandpa really had it rough!"
Etymology: Rust[ic] - iron [ferric] oxide; also, a thin layer of ferric oxide was used in most magnetic tapes, floppy disks and early hard discs (Old German, rost "red") + Recording - storage device containing information (from Old French, recorder "testimony")
----------------------------
COMMENTS:
Yeah, I can no longer play my rustaccordion either! - arrrteest, 2008-03-14: 12:04:00
Will use it a lot! Excellent word! - silveryaspen, 2008-03-14: 18:22:00
----------------------------
Created by: Mustang
Pronunciation: YES-tur-serf
Sentence: Having only a discarded very ancient computer, their father's first machine, to rely on Lyndal and Terrance had no choice but to resort to yestersurf methods of finding information.
Etymology: Blend of yesterday and surf
----------------------------
COMMENTS:
'yestersurf - all my problems were on different turf' - Jabberwocky, 2009-01-07: 14:26:00
Oh the nostalgia ... of yestersurf and the song "yesterday" ... I'm off on another trip down memory lane! - silveryaspen, 2009-01-07: 16:04:00
Yestersurf...all my nightmares looked like Smurf... - Nosila, 2009-01-07: 19:04:00
Goes really good with yesterturf - Mustang, 2009-01-07: 22:11:00
----------------------------
Voted For! | Comments and Points
Created by: galwaywegian
Pronunciation: ark ay oll og on
Sentence: the bit Dr Frank missed most about the old format, was the fifteen minutes he could spend cackling while running around the laborotory, before the screen would "come to life" as it were.
Etymology: archaelogy, log on
----------------------------
COMMENTS:
Great word. Took a stroll down memory lane with it. Remember the first tv sets that had to warm up and then had a test pattern for hours? Can't quit laughing over how fascinated we were by that test pattern! Oh! How the times have changed! Thank goodness! - silveryaspen, 2009-01-07: 14:36:00
----------------------------