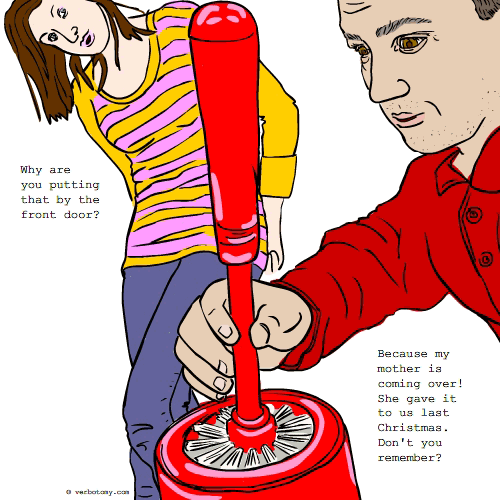 DEFINITION: n., An ugly decorative item or article of clothing received from friends or relatives, which is kept stored away but ready to be pulled out at a moment's notice in anticipation of a return visit. v., To temporarily place an old, and perhaps unattractive gift in a place of honor.
Already Voted
Vote not counted. We have already counted two anonymous votes from your network. If you haven't voted yet, you can login and then we will count your vote.
---
Giftquester
You still have one vote left...
Created by: Maxine
Pronunciation: 'byu ti fayk
Sentence: "Uncle Simone is coming over, Samantha. Time to beautifake yourself."..."No way, Dad. That plaid sweater is such an ugly beautifakation."
Etymology: beautify + fake
Created by: metrohumanx
Pronunciation: rez-ure-REG-ahl-ee-uh
Sentence: Babs and Jake always greeted the holidays with excitement and dread. With extended family coming to visit, these reunions often degenerated into verbal slug fests. Babs would prepare the mandatory dishes, and Jake's job was to break out the RESURREGALIA...those tacky gifts and mementoes which would have been endearing if they weren't SO ugly and tasteless. Jake was especially fond of Aunt Lydia's "Sceptre of Authority"- a self-contained toilet accesory with disturbingly phallic qualities which kept everyone laughing well into the wee hours. Bottoms up!
Etymology: RESURREct+reGALIA=RESURREGALIA.........RESURRECT:to bring to view, attention, or use again,to raise from the dead;back-formation from resurrection-1772......REGALIA:: the emblems, symbols, or paraphernalia indicative of royalty,decorations or insignia,special dress or trappings;Medieval Latin, from Latin, neuter plural of regalis-1540
----------------------------
COMMENTS:
Re(as)suringly regal resurrection complete with elegant use of Latin. Very nice! - dochanne, 2008-12-16: 03:00:00
Brings back so many memories. I like it. - Mustang, 2008-12-16: 21:00:00
Good word...been there done that! - Nosila, 2008-12-16: 22:16:00
----------------------------
Created by: hendrixius
Pronunciation: /in-tur-ruh-man-tull-pees/
Sentence: John reluctantly displayed the interimantlepiece over the couch in the family room, despite the fact that a singing bass did not exactly match the room's decor.
Etymology: "interim" and "mantle-piece"
Created by: drkesper
Pronunciation:
Sentence: Where is the box with our tempresents. Aunt Margret is visiting...
Etymology:
----------------------------
COMMENTS:
Perfect!!! - Niktionary, 2007-12-12: 12:05:00
----------------------------
Created by: Jabberwocky
Pronunciation: emb/hell/ish/ment
Sentence: Sally prided herself on her home's sleek minimilist decor and cringed in horror every time she had to bedeck the bathroom in the fuzzy pink acrylic toilet embhellishments her best friend had given her.
Etymology: embellishment + hellish
----------------------------
COMMENTS:
Nice - TJayzz, 2008-12-16: 13:14:00
----------------------------
Created by: tonii
Pronunciation: /ug-ift-o-rate/
Sentence: If you don't ugiftorate that nasty green vase onto the coffee table, your sister-in-law will never speak to you again!
Etymology: ugly + gift+ decorate
Created by: Lidipop
Pronunciation: ssh-oh-g-iz
Sentence: Sweety, get your mothers gifts out of the closet...it's time to "showgiz" them!!! :)
Etymology: show case + gift + gizmos
Created by: Niktionary
Pronunciation: disstplay
Sentence: "I hate this sweater! But my grandma gave it to me, and I'm having dinner with her. I have to dissedplay it. I hope we go someplace dark!"
Etymology: Slang term diss and display
Created by: remistram
Pronunciation: wur-trash-ip
Sentence: Polly knew he would wortraship the tacky sinister looking Christmas elves that his mother gave them. The elves' faces disturbed and terrified their young daughter so much so that Polly decided to re-gift them and donate the ugly things to the Kris Kringle gift exchange at work.
Etymology: worship (honor) + trash (junk)
Created by: mrowka
Pronunciation: Re-late-ment
Sentence: Before Aunt Patty came over, I had to find the proper relatement for her decoupage crockpot.
Etymology: Relation + Placement