Verboticism: Textamessology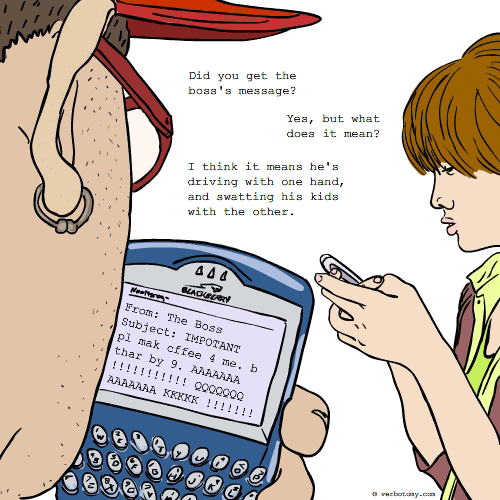 DEFINITION: v., To grasp the meaning of muddled texts like blog posts, emails and text messages where standard grammatical or spelling conventions have been ignored. n., The ability to read and understand confused or poorly written messages.
Already Voted
Vote not counted. We have already counted two anonymous votes from your network. If you haven't voted yet, you can login and then we will count your vote.
---
Textamessology
You still have one vote left...
Created by: artr
Pronunciation: sīfərfaðəm
Sentence: Harry spent his career breaking coded messages in his job at the NSA. Despite this he has trouble trying to cypherfathom emails and texts from his kids.
Etymology: cypher (a secret or disguised way of writing) + fathom (understand)
Created by: Nosila
Pronunciation: dee sye for
Sentence: Once again Nancy had to try and decode her boss's text message. She always hoped her hunky boss would find her as attractive as she found him and send her a personal message. So far she could only dsighfor his texts, which all seemed to be business related. It did not help that he was such a poor speller and tended to multitask while texting her instructions. The latest message was especially confusing. "Gout 4 drinks? Call" She didn't know if she should pretty herself up and make reservations or call his doctor to make an appointment...
Etymology: Decypher (convert code into ordinary language;read with difficulty) & Sigh For (an utterance made by exhaling audibly; indicating anxiety about one's emotional attachment for someone)
Created by: Amaya1961
Pronunciation:
Sentence:
Etymology:
Created by: Stevenson0
Pronunciation: tex/hume
Sentence: His job was to texhume cryptic messages that had been buried in emails.
Etymology: text + exhume
----------------------------
COMMENTS:
K-rad ! c u l8r - OZZIEBOB, 2007-11-15: 17:37:00
----------------------------
Created by: LotusB
Pronunciation: text-a-mess-ology
Sentence: Thank goodness Lisa's so good at textamessology, or she'd never understand her sister's messages!
Etymology: Text (words/wording) + a (a) + mess (untidy/jumble) + ology (science/branch of knowledge) = Textamessology
Created by: sipsoccer
Pronunciation: (Text-a-ty-tus)
Sentence: What the heck? You got textititis or something? I can't read your texts.
Etymology: Text: what you do or see. ititis: diseased
Voted For! | Comments and Points
Created by: perkolady
Pronunciation: sec-ra-TAL-ent
Sentence: "Hmm, forward that message to Sylvia--she's got amazing secretalent."
Etymology: From your standard secretary, nurse, or other aid-giving person's miraculous ability to read their superiors' chickenscratch.
Created by: rikboyee
Pronunciation: dee-sigh-bah
Sentence: when i texted 'flz 88 grm nb h5g nnzz' to my friend i was confident he would be able to decyber it
Etymology: decipher, cyber
Created by: comborracha
Pronunciation: a-sume-a-sife
Sentence: I didn't put enough thought into assumaciphing his message. I didn't realize that "ples get ma bgle t/ cm chee" does not mean please get my mom a bagel with kim chee.
Etymology: assume+decipher
Created by: zxvasdf
Pronunciation: Qwert lyze
Sentence: Because in this day and age people are wont to multitask, as showcased in the common combination of driving and texting, more and more people are becoming skilled in qwertlysis. The same mental processes are also applied to old timers trying to qwertlyze the newfangled 'net jargon floating about on the web.
Etymology: Qwerty (traditional configuration of the keyboard designed in the days of typewriters to spread apart the commonly used letters, thus preventing jamming. This configuration is not necessary in the digital age) & analyze (to examine methodically by separating into parts and studying their interrelations)
----------------------------
COMMENTS:
interesting etymology - Jabberwocky, 2008-10-14: 13:20:00
----------------------------