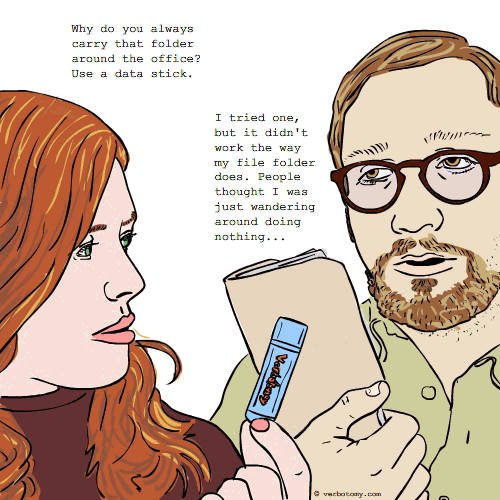 DEFINITION: n. A prop (e.g. papers, files or any non-functional equipment) used to create the illusion of busyness. v. To use office supplies to create the illusion that you are working.
Already Voted
Vote not counted. We have already counted two anonymous votes from your network. If you haven't voted yet, you can login and then we will count your vote.
---
Maloprop
You still have one vote left...
Created by: ohwtepph
Pronunciation: wohrk-oh-thuh-wiz-prop
Sentence: Oh god, that Ben has been such a work-o-the-wispropper ever since he started out in the business of being the business supervisor. The work-o-the-wisprop he carried around were very convincing: papers to be signed, a neat brown folder and a clipboard with Transformers scribbles on it.
Etymology: will-o-the-wisp [illusion] + work + prop + wiz [the best at something e.g. a math wiz]
----------------------------
COMMENTS:
good one! - pguse, 2007-06-13: 10:04:00
thanks. :D - ohwtepph, 2007-06-13: 10:28:00
It's a good one and I voted for you! - Stevenson0, 2007-06-13: 17:36:00
How did you get that punctuation in there? - mplsbohemian, 2007-06-13: 19:43:00
you can work all sorts of magic if you go into 'oops i want to change the spelling' bit of the edit section.... it makes things much more verbsatile - rikboyee, 2007-06-13: 22:23:00
----------------------------
Created by: kendriveset
Pronunciation: bo-ga-strive
Sentence: Jim took more effort to bogustrive around the office than it would\'ve taken to actually do some work.
Etymology: bogus + strive
----------------------------
COMMENTS:
good one - Nosila, 2010-01-07: 18:50:00
thanks so much - kendriveset, 2010-01-08: 15:48:00
----------------------------
Created by: protothor
Pronunciation: fillusion
Sentence: This fillusion is working very well; no one even expects I'm not doing anything.
Etymology: From 'file' and 'illusion', anything that gives an observer the idea that you're preoccupied.
Created by: ErWenn
Pronunciation: /ˌɛvəˈdɪlədʒɛns/
Sentence: While folders and papers make excellent passive evidiligence for someone on the move, a mobile phone or PDA can serve the same purpose even when seated at one's desk, though such tools require an active effort to complete the effect of slackofflage.
Etymology: From evidence + diligence
----------------------------
COMMENTS:
very on-message you evidiligently gave it a lot of thought. - galwaywegian, 2007-06-13: 07:03:00
Don't indilige him. - Clayton, 2007-06-13: 07:50:00
Actually, I didn't give it that much thought. I just borrowed some thoughts I'd had from when I created the previous verboticism "slackofflage." I've noticed that some of my highest-scoring words are ones I was least confident in (such as "mockliment.") Maybe there's a message there. Maybe I just give everything too much thought. Yeah, that seems more likely. - ErWenn, 2007-06-13: 14:02:00
now now ErWenn - you know what they say about making ASSumptions - Jabberwocky, 2007-06-13: 14:20:00
----------------------------
Created by: trunktickle
Pronunciation:
Sentence:
Etymology:
Created by: Rhyme79
Pronunciation: fob-jekt
Sentence: Shuffling papers whilst wearing my glasses on the end of my nose is the most effective combination of fobjects I have found. It creates the illusion that I'm actually doing what I'm paid to do.
Etymology: Fob -(as in 'fob off', deceive or dupe) + object = fobject
----------------------------
COMMENTS:
Short and snappy - I could use this. :) - Discoveria, 2012-09-26: 12:14:00
----------------------------
Created by: administraitor
Pronunciation: row-bow-flaj
Sentence: Howard found that measuring floors desks and windows allowed him to prowl the office at will, his roboflage consisting of a tape and clipboard.
Etymology: robot (worker) + camouflage
Created by: texmom
Pronunciation: Eer pen sill
Sentence: He wandered around with an earpencil as if he were doing math.
Etymology: ear - yeah the body part pencil - simple graphic tool
Created by: libertybelle
Pronunciation: man-ILL-uh-raj
Sentence: Under the cloaking of a perfectly executed malinarage, Jeff buried his head into the folder labeled "Hudson Acct." as he wandered through the cubicle forest and down to the nearby Starbucks for the 3rd time that morning.
Etymology: manila - as in type of folder typically found in an office setting + Mirage -illusion
Created by: mplsbohemian
Pronunciation: BIHZ-ee-bahb-ihn
Sentence: The stack of files and papers at Alex's desk proved to be a most effective busybobbin, as no-one knew about his large Lego fort he was constructing behind it.
Etymology: busy + bobbin (trinket) + busybody
----------------------------
COMMENTS:
Grr, I meant bauble, not bobbin. Oh, well. - mplsbohemian, 2007-06-13: 22:30:00
Sounds good either way. - ErWenn, 2007-06-13: 23:54:00
----------------------------