Verboticism: Longwhineded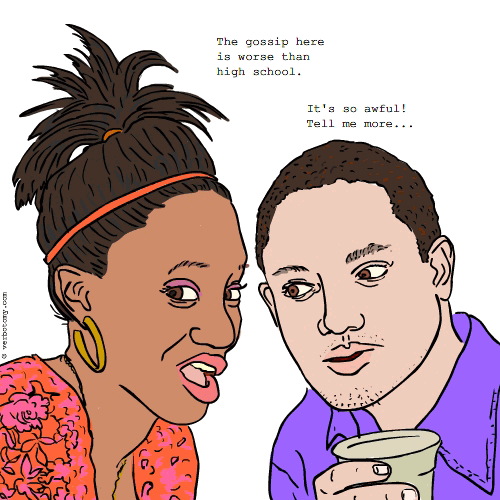 DEFINITION: v. To complain and complain about a problem without ever taking action to correct it. n. A complaint about something which you can fix but choose not to.
Already Voted
Vote not counted. We have already counted two anonymous votes from your network. If you haven't voted yet, you can login and then we will count your vote.
---
Longwhineded
You still have one vote left...
Created by: Alchemist
Pronunciation: Kvech-twen-tee-too
Sentence: There was only one kvetch, and that was KvetchTwentyTwo. When Woesarrian started complaining about all the complaining going on, he realized that his liver was never going to heal.
Etymology: Kvetch (complain incessantly) + Catch22
Created by: artr
Pronunciation: dis-kuhm-pleyn-suhnt
Sentence: Janice is so discomplaincent that she even fusses about her own inactivity.
Etymology: discontent (dissatisfaction) + complain (grumble about) + complacent (pleased, especially with oneself or one's merits, advantages, situation, etc., often without awareness of some potential danger or defect)
Created by: OZZIEBOB
Pronunciation: KAHR- plydl
Sentence: Bob carpidled about everything, going through life without ever once demanding to see the manager.
Etymology: CARP: to find fault or complain querulously or unreasonably; be niggling in criticizing; cavil; IDLE: to pass time doing nothing.
----------------------------
COMMENTS:
Crazy Carpidleing is despicable. I love the word. - metrohumanx, 2008-08-08: 07:21:00
Sure cant complain about a word like that. - Mustang, 2008-08-08: 07:41:00
----------------------------
Created by: Nosila
Pronunciation: mone ot tennus
Sentence: Mona Lott never said a positive word in her life. She was famous for her endless, moanotonous harangues. She found a soulmate in her co-worker, Beef Grizzle, the Whine-Stoned Owwwboy! They spent many hours grumbling, griping, muttering, squawking and bitching about everything and everyone at work. Luckily, they had no friends or lives, so their complaints were work-driven. After their new boss warned them about their bad-apple effect on the whole retail team, they still could not resist tirading about her mean streak. I mean, after all, even though they changed the name of their department to Customer Service, it was still really The Complaint Department. It's just a pity that most of the moanotonous activity came from their own 2 employees!
Etymology: moan (complain, gripe, grumble, whine or an utterance expressing pain or disapproval)& monotonous (tediously repetitious or lacking in variety or sounded or spoken in a tone unvarying in pitch)
----------------------------
COMMENTS:
Hilariously appropriate. Scored again! - metrohumanx, 2008-08-08: 07:18:00
Very funny sentence, good word too! - TJayzz, 2008-08-08: 09:25:00
groanoh!! thanks for the welcome back - Jabberwocky, 2008-08-08: 10:53:00
----------------------------
Created by: Stevenson0
Pronunciation: grahyp/es/ents
Sentence: Every office has two, or three incessant bitchers (women) and bastarders (men) who complain about every detail and do nothing about it except be bitchers and bastarders about anything and everything. This evil underlying gripescence is the single most distructive force in the workplace.
Etymology: GRIPESCENCE - noun - from GRIPE (complain constantly; grumble) + QUIESCENCE (being at rest; still; inactive, or motionless)
----------------------------
COMMENTS:
Amen, Brother! It's usually perceived that the women at work bitch, but the men provide valuable work-related feedback!!! - Nosila, 2008-08-08: 00:40:00
I like it - OZZIEBOB, 2008-08-09: 18:41:00
----------------------------
Created by: Mustang
Pronunciation: car - puh - THET - ik
Sentence: Elwood is completely carpathetic about things he feels are wrong; he carps and complains but is such an ineffectual wimp he never does anything to improve things.
Etymology: Blend of 'carp' (complain) and 'pathetic' (miserably or contemptibly inadequate)
----------------------------
COMMENTS:
I like this word more each time i see it. - metrohumanx, 2008-08-12: 14:45:00
----------------------------
Created by: sarahnade
Pronunciation: sim-pehst-er
Sentence: Susan sympestered me all week about how dirty the house was.
Etymology: sympathy + pester
Created by: texmom
Pronunciation: com plaint ah man ticks
Sentence: All complainimatics aside, what should we do about the problem?
Etymology: complaint - gripes amantics - actions
Created by: rephil
Pronunciation: stat-us-KWOT
Sentence: The number of people who statusquote this place without citing their sources is remarkable.
Etymology: status quo -- (idiom, Latin) unchanging state of affairs; to quote -- to restate
----------------------------
COMMENTS:
The etymology is difficult, because it becomes so circular one gets dizzy -- status = state, quote = restate, but quote comes from quo, I believe... AARG, the irony! - rephil, 2007-06-15: 10:13:00
I like your thinking on this one. - petaj, 2007-06-15: 21:15:00
----------------------------
Created by: ErWenn
Pronunciation: /hɪˈpɑkɹəˌbɪtʃ/
Sentence: We all hypocribitch sometimes.
Etymology: From hypocrite + bitch
----------------------------
COMMENTS:
usually while playing a game of hypocribbage - galwaywegian, 2007-06-15: 06:08:00
Must be the Season of the Bitch. (Damn this tunacy.) - purpleartichokes, 2007-06-15: 09:41:00
----------------------------