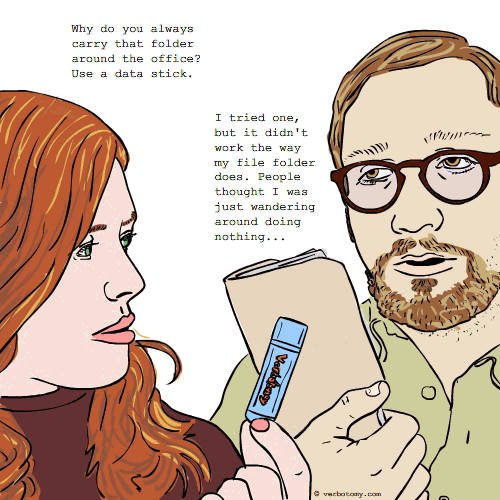 DEFINITION: n. A prop (e.g. papers, files or any non-functional equipment) used to create the illusion of busyness. v. To use office supplies to create the illusion that you are working.
Voted For: Fileofaux
Successfully added your vote for "Fileofaux".
You still have one vote left...
Created by: Jabberwocky
Pronunciation: mask/ur/aid
Sentence: No one knew which department he worked in but with his maskqueraid of blackbery and wireless headset he easily passed his day wandering and betting on horses.
Etymology: masquerade + mask + aid
----------------------------
COMMENTS:
great word and welcome back! - Nosila, 2008-08-06: 21:53:00
----------------------------
Created by: bookwerm18
Pronunciation: Eh-vee-deh-sk
Sentence: The pile of evidesks on my table collapsed today, demonstrating how overworked I actually am.
Etymology: Evidence + Desk
Created by: Discoveria
Pronunciation: ess-KAY-pur-wurk
Sentence: Just before weekly staff meetings, Joe's pile of escaperwork would grow to include three reports, two manila envelopes, a stapler and a large black binder labelled 'URGENT'.
Etymology: escape (to avoid) + paperwork (documents)
Created by: Mustang
Pronunciation: DOCK-yew-flawj
Sentence: Harper fancied himself a very clever tactician, using an old empty attache case as docuflage, believing that coworkers were convinced that he was actually packing a large work schedule, though everyone in the office had been on to his scam for years.
Etymology: Blend of the words 'document' (various paperwork) and 'camouflage' (a device or stratagem used for concealment)
Created by: jesster
Pronunciation: Ass-id-you-plicity
Sentence: While Neville's constant assiduplicity never fooled the people that actually accomplished things, management was completely taken in. He was promoted so frequently that his failures never caught up to him, and soon was in charge of the entire department.
Etymology: assiduous (involved in often constant activity )+ duplicity (the inclination or practice of misleading others through lies or trickery)
Created by: texmom
Pronunciation: Eer pen sill
Sentence: He wandered around with an earpencil as if he were doing math.
Etymology: ear - yeah the body part pencil - simple graphic tool
Created by: Nosila
Pronunciation: dok u men tal it ee
Sentence: Pierre's ruse was to use his documentality to elude real work. He would carry any official-looking folder or paper to make it look like he was on his way to a very important meeting. In fact, he remembered the trick his English classes used about the different words "stationary & stationery". The "ar" one stood for At Rest, as in stationary machinery and the other "er" one stood for the last 2 letters in paper...or in his case "Eternally Roving".
Etymology: Document (writing that provides information (especially information of an official nature); anything serving as a representation of a person's thinking by means of symbolic marks) & Mentality (a habitual or characteristic mental attitude that determines how you will interpret and respond to situations; mental ability)
Created by: OZZIEBOB
Pronunciation: SHURK-prop
Sentence: Bob was a fauxbullient gizbo, but most of all he was a scheming skirkprop.
Etymology: SHIRK: One who lives by shifts and tricks; one who avoids the performance of duty or labor& PROP: any movable articles, item or objects used on the set of a play or movie;
----------------------------
COMMENTS:
Bob sounds like a complete fauxny. Shirkbait? Good word! - Mustang, 2008-08-06: 05:35:00
----------------------------
Created by: giveaphuk
Pronunciation: Fib De Jet
Sentence: she fibdjeted with pieces of paper while looking @ the clock waiting from home time.
Etymology: Fib = to like & djet - ending of word fidget - meaning to behave or move nervously or restlessly.
Created by: rjk31
Pronunciation:
Sentence:
Etymology: