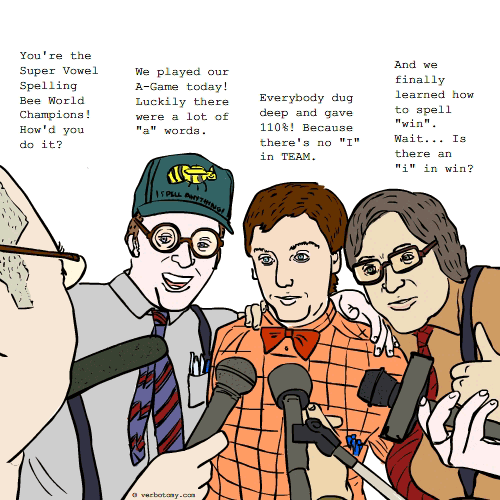 DEFINITION: v., To speak in an inspirational but perhaps incomprehensible manner by stringing together a series of grunts and clichés. n., An inarticulate TV or radio, post-game interview, typically given by a panting, toothless, sweating, verbally-challenged, and hugely overpaid, athletic superstar.
Already Voted
Vote not counted. We have already counted two anonymous votes from your network. If you haven't voted yet, you can login and then we will count your vote.
---
Patwha
You still have one vote left...
Created by: raindrops
Pronunciation:
Sentence: As media rushed towards him and poured questions,Jon Bedraw dufferedview some big words he had recently heard on the tv.
Etymology: A viewpoint of a duffer
Created by: HerOralHighness
Pronunciation: Jack - a - glory
Sentence: sometimes the team spokesman begins to believe his own bull-shite. When this happens, we can forget a brief post match 'gloatament' (gloat & statement) as is normal, and find ourselves listening to a Jackaglory of epic proportions.
Etymology: a mix of glory & jackanory (kids programme where celebs read a story in a way that could hold the attention of even the most restless of kids). You can sometimes stop a fabulist in their tracks by butting in with the phrase 'tell us a story, Jackanory'
Created by: sean30
Pronunciation: Ani-mar-ill-son
Sentence: i suffer with Animarillson, but im famous and rich and super and great. What where we talking about again?
Etymology: Animarillson; to remain ignorant and stupid, and to remain so after by luck a person succeeds in sport...(word created from all other sports commenters names; Hill/Motson/Kamare etc)
----------------------------
COMMENTS:
I like the way you constructed your word - bookowl, 2008-02-04: 15:58:00
----------------------------
Created by: abrakadeborah
Pronunciation: id-e-ot-ik-ers
Sentence: The Speebee team rambled on with idiotickers during the interview.
Etymology: A play on the word Idiot- An utterly foolish or senseless person.
Created by: OZZIEBOB
Pronunciation: pig-skin-NEEZ
Sentence: Spurred on by the victory and athulation of the fans, the pigskinese of the full-back, during the after-match interview, went from golemic to gridiotic.
Etymology: PIGSKIN: Slang term for a football; pig and its grunting & ESE: as in languages as computerese. Golemic: Blend of goal & golem+ic (yiddish) for graceless, tactless, foolish - altho, not necessarry intentionally. GRIDIOTIC (grid(iron) & idiotic
----------------------------
COMMENTS:
good timing with the super bowl - Jabberwocky, 2008-02-04: 13:42:00
Amusing words and impressive etymology! - bananabender, 2008-02-04: 23:58:00
----------------------------
Created by: Maxine
Pronunciation: jawk tawk
Sentence: My son's old baseball coach, Mr. Greminski, was a regular jocktalker. His jocktalk brought tears to my eyes, and a restraining order to my legal files.
Etymology: Jock: Obsessed athlete who like play sport. Talk: Loosely defined as issuing words from one's mouth.
----------------------------
COMMENTS:
Excellent! - silveryaspen, 2008-02-04: 22:09:00
----------------------------
Created by: Nosila
Pronunciation: jok tok
Sentence: Sammy Strap the local sports reporter was used to understanding jocktalk when teams were being interviewed after a game. He could understand hocktalk;golftalk;hooptalk;punttalk any other kind of stopclocktalk. But when he had to interview the Spelling Bee champs, he found they spoke annoyingly with vowel trouble, a term he later coined as irritable vowel syndrome.
Etymology: Jock (athlete) & Talk (verbal expression;conversation)
Created by: rombus
Pronunciation: sports - skat
Sentence: Bob led his team to a brilliantly executed final touchdown so, now for the sportscat.... "So, Bob, tell me how you executed that brilliant play leading up to your team's final touchdown." "Well, Bart, I sckibby deed da down on my right foot and started to do the scatty walk and bada run and getting ready to dibble de throw da ball. It was dooble da received and scatty touch da down."
Etymology: Sports (Physical activity that is governed by a set of rules or customs and often engaged in competitively) + Scat (Jazz singing in which improvised, meaningless syllables are sung to a melody,vocal improvisation with random vocables and syllables or without words at all.)
----------------------------
COMMENTS:
terrific word - Jabberwocky, 2008-11-27: 13:19:00
----------------------------
Created by: Dougalistic
Pronunciation: Verb-A-ree-aar
Sentence: I was watching that boxer on TV the other day, Chris Eubank, and he was talking such verbarrhoea! He was all over the place. They get paid millions to dance around like a ponse and speak utter balls. Pah!
Etymology: Verbal - Involving skills with words in a spoken manner. Diarrhoea - frequent, nasty and excessive bowel movement.
----------------------------
COMMENTS:
He is one of many "sports stars" that speak Verbarrhoea!! - sean30, 2008-02-04: 16:03:00
Excellent description of 'jockese' mumbo jumbo which is generally nothing more than a cliche' festival. - Mustang, 2008-02-04: 18:52:00
----------------------------
Created by: artr
Pronunciation: platichatər
Sentence: After an embarrassing comment or two, the coach decided to give players a few talking points to consider. Now the post-game interviews have become so much platichatter.
Etymology: platitude (a remark or statement, esp. one with a moral content, that has been used too often to be interesting or thoughtful) + chatter (talk rapidly or incessantly about trivial matters)