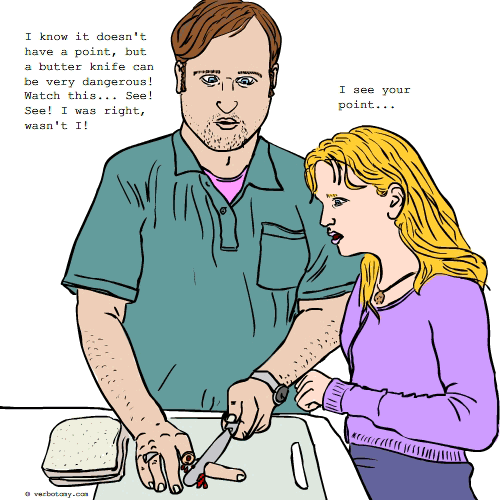 DEFINITION: n., The immense sense of self-satisfaction the one gets from winning a pointless argument. v., To be so addicted to proving yourself right that you argue compulsively, and endlessly, about anything and everything.
Already Voted
Vote not counted. We have already counted two anonymous votes from your network. If you haven't voted yet, you can login and then we will count your vote.
---
Rayvondaism
You still have one vote left...
Created by: day4ghee
Pronunciation: MY-WIF-IN-ITIS
Sentence: WHEN SALLY CUT ME WITHA RAMBO KNIFE JUST TO PROVE THAT SHE COULD SEW I REALIZED THAT SHE SUFFERED FROM MYWIFEINITIS LIKE MY WIFE WHO WON'T LEAVE ME THE HELL ALONE.AHHHHHHHH!!!
Etymology:
Created by: Tigger
Pronunciation: /stub-ern-thoo'-zee-az-uhm/
Sentence: Matt smiled with stubbornthusiasm, or tried to, as he picked up his teeth, because he just knew he was right — his favorite player had been fouled in the finals, so the other team's win in the championships was null and void as far as he was concerned, no matter what that big, hairy, drunk guy with the big knuckles said.
Etymology: stubborn - tenaciously unwilling to yield (c.1386, of uncertain origin) + enthusiasm - great excitement or interest in a subject or cause (Greek, enthousiasmós "god-possessed")
----------------------------
COMMENTS:
funny - Jabberwocky, 2008-01-11: 11:01:00
----------------------------
Created by: galwaywegian
Pronunciation: dah g poom att ik
Sentence: He was always dogpoomatic about his nonconspiracy theories, like a paranoid optimist, thinking everyone was out to get him.....gifts
Etymology: dogmatic, dog poo
----------------------------
COMMENTS:
pretty shitty word - but I like it - Jabberwocky, 2008-01-11: 10:38:00
Does this word smell? Great sentence ... what a last word! - silveryaspen, 2008-01-11: 14:34:00
Really enjoyed your sentence ! - Tigger, 2008-01-12: 00:04:00
----------------------------
Created by: eljono
Pronunciation:
Sentence: She's very argusive, she just loves being right
Etymology: argumentative + compulsive
Created by: OZZIEBOB
Pronunciation: OM-nee-Boo-shoor-Leyt.
Sentence: Bob said: "I'm sorting things out now, don't worry; all you need to do is listen and I'll keep it simple so even you will understand." But this one sided discussion was far from finished. He spoke on and on, his argurrhea continuing for a further thousand words, ending with "This is the end of the matter, all that need be said, has been said." He was so addicted to proving himself right that he omnibouchelated compulsively, and endlessly, about anything and everything.
Etymology: OMNI : all, totally, BOUCHE: Fr. mouth; consider embouchure "river mouth, " from bouche "mouth", from L. bucca, lit. "cheek & ELATE: to be happy, joyful;feeling of great joy or pride; high spirits, extreme gladness.
----------------------------
COMMENTS:
VERY profound! - metrohumanx, 2008-11-14: 02:38:00
----------------------------
Created by: UncleRaf
Pronunciation: Smug-ay-shee-us
Sentence: I wanted so much to smack off that smugacious look on his face once and for all!
Etymology:
Created by: artr
Pronunciation: disˈpyoōtin
Sentence: Victor's detractors referred to him as Disputin. He seemed to revel in any opportunity to jump in on a debate. Whatever opinion someone expressed, he was all too ready to take up the opposing argument. It didn't matter how trivial the point, he would hammer his rival into submission. The only thing worse his assault was the gloating that followed.
Etymology: dispute (a disagreement, argument, or debate) + Rasputin (Russian monk. He exerted great influence over Tsar Nicholas II and his family during World War I known for his powers of elocution)
----------------------------
COMMENTS:
Can't argue over a dispute about Rasputin.... - Mustang, 2008-11-10: 06:55:00
Very interesting blend - OZZIEBOB, 2008-11-11: 03:45:00
great word - Jabberwocky, 2008-11-11: 08:01:00
simple yet so meaningful.... - rombus, 2008-11-11: 10:52:00
excellent word!! This is one for the dictionary! - libertybelle, 2008-11-11: 12:28:00
----------------------------
Created by: JusMeLP
Pronunciation: Ob-KNOCKS-U-MEANT
Sentence: He is such an obnoxument human!!
Etymology: Obnoxious + Argument
Created by: G1GGSY11
Pronunciation: bic-er-bait
Sentence: he constantly bickerbaits, anything for an argument
Etymology: bicker + bait
Created by: Nuwanda
Pronunciation: glib-er-A-shun
Sentence: Monique knew that being right wasn't always worth the eye-rolling exasperation she induced in everyone around her when she belabored a point until all her would-be opponents had given up arguing. However, she did find the gliberation of those moments a little intoxicating, gliberating even.
Etymology: combination of glib and liberation, with the bonus of getting berate in there, too.
----------------------------
COMMENTS:
Gliberace would have loved this word! - Nosila, 2008-11-10: 15:56:00
----------------------------