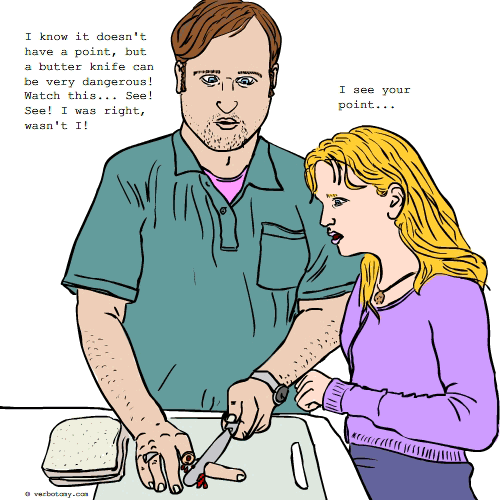 DEFINITION: n., The immense sense of self-satisfaction the one gets from winning a pointless argument. v., To be so addicted to proving yourself right that you argue compulsively, and endlessly, about anything and everything.
Voted For: Rayvondaism
Successfully added your vote for "Rayvondaism".
You still have one vote left...
Created by: day4ghee
Pronunciation: MY-WIF-IN-ITIS
Sentence: WHEN SALLY CUT ME WITHA RAMBO KNIFE JUST TO PROVE THAT SHE COULD SEW I REALIZED THAT SHE SUFFERED FROM MYWIFEINITIS LIKE MY WIFE WHO WON'T LEAVE ME THE HELL ALONE.AHHHHHHHH!!!
Etymology:
Created by: Jabberwocky
Pronunciation: dee/bate/a/bull
Sentence: He was so inflated by his need to be confrontational that he would even argue with the cat. Even the time of day was debatabull.
Etymology: debatable + bull****
----------------------------
COMMENTS:
Short and right on the definition! Kudos for this creation! - silveryaspen, 2008-01-11: 13:43:00
Sounds like a bit of unidebatabullology - and catty, too! Good word. - OZZIEBOB, 2008-01-13: 04:08:00
----------------------------
Created by: mrskellyscl
Pronunciation: bick-tor-i-ous
Sentence: Jim was a notorious fussbudget and had to be bicktorious in every little squabble, so it became hard to live with him. He bickered with his wife about peanut butter brands and with his friends about golf. He bickered with his daughter about the way she cut bread and the baby about the way he held his bottle. Once he tried to pick a fight with his dog over a pork chop (he won, but it was hard to eat it without lips).
Etymology: bicker: to engage in petty squbbles or arguments + victorious: winning a conflict or struggle
Created by: Nuwanda
Pronunciation: glib-er-A-shun
Sentence: Monique knew that being right wasn't always worth the eye-rolling exasperation she induced in everyone around her when she belabored a point until all her would-be opponents had given up arguing. However, she did find the gliberation of those moments a little intoxicating, gliberating even.
Etymology: combination of glib and liberation, with the bonus of getting berate in there, too.
----------------------------
COMMENTS:
Gliberace would have loved this word! - Nosila, 2008-11-10: 15:56:00
----------------------------
Created by: denise
Pronunciation: pic-u-YOU-FOR-E-u
Sentence: His recurring issues with picayuphoria resulted simultaneously in a severed finger and an intense feeling of pride over proving his point as his wife watched in horror.
Etymology: A blend of picayune + euphoria
Created by: artr
Pronunciation: soh-th air-uh-thon
Sentence: Craig is always right. It doesn't matter how trivial or meaningless the point is, he must convince everybody that he knows more than them. His friends, the few he has left, refer to his pointless rantings as sothereathons.
Etymology: so there (used for emphasis, or to show that something is being done in opposition to someone else's wishes)+ marathon (any contest, event, or the like, of great, or greater than normal, length or duration or requiring exceptional endurance)
Created by: milorush
Pronunciation: (n.) mass-dee-ba-shun (intr. v.) mass-dee-bate
Sentence: I've seldom seen such offensive and public displays of masdebation as witnessed in a classroom of freshmen boys. Some of them are so intent on proving their naive points that they won't give it up until they go blind.
Etymology: mas[tur]bation + deb[ate]
----------------------------
COMMENTS:
Chuckling ... just the right tinge of risque as it rolls off the tongue! - silveryaspen, 2008-01-11: 14:36:00
----------------------------
Created by: Mustang
Pronunciation: ob-SESS-eh-test
Sentence: Whenever making any kind of point in an argument or discussion, Calvin would obsessattest at length until his audience would give in whether or not they agreed with him.
Etymology: Blend of 'obsess' (to preoccupy intensely or abnormally obsessed with success) and 'attest' (to bear witness to; certify; declare to be correct, true, or genuine; declare the truth of, in words or writing)
Created by: JusMeLP
Pronunciation: Ob-KNOCKS-U-MEANT
Sentence: He is such an obnoxument human!!
Etymology: Obnoxious + Argument
Created by: treehous
Pronunciation: \pri-ˈpäs-t-i-ˈrä-ti-kə\ (pre-pos-tur-ott-ika)
Sentence: Joe felt a brief wave of preposterotica as his wife finally admitted he might be right.
Etymology: preposterous- from Latin præposterus "absurd, contrary to nature" erotica- from French érotique, from Greek erotikos, from eros (gen. erotos) "sexual love"