Verboticism: Hypermouseration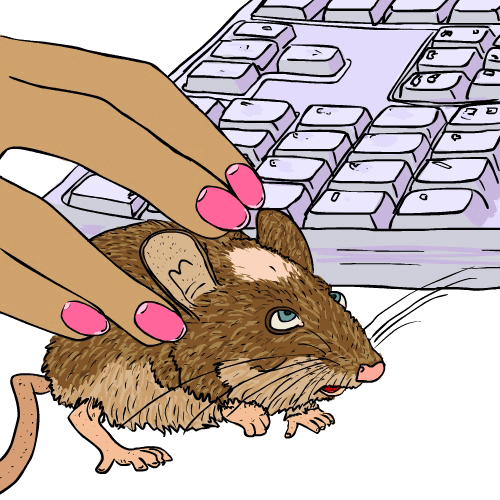 DEFINITION: n., A wear mark, or shiny spot, which appears on a heavily used computer touch-pad, mouse or keyboard. v., To wear down or erode through repetitive clicking, tapping or poking.
Already Voted
Vote not counted. We have already counted two anonymous votes from your network. If you haven't voted yet, you can login and then we will count your vote.
---
Hypermouseration
You still have one vote left...
Created by: jkernen1
Pronunciation:
Sentence: The keyboard appeared old and a thin layer of fingerwax had been applied.
Etymology: finger + wax
Created by: OZZIEBOB
Pronunciation: uh-BREY-shahyn
Sentence: Bob lived in canescrapent, click-button cyberia with mice that abrashined, remote controls with repitritus and gnawhite-spotted screens.
Etymology: Abrashine:abrasion:scraped spot or area & shine 2.Repitritus (repitition & detritus) 3. Gnawhite:(gnaw: eat away & white) 4. Cyberia:from "Life in the Trenches of Hyperspace" by Doug Rushkoff. 5.Canescrapent:greyish white & scrape.
----------------------------
COMMENTS:
poor Bob, what a grind - Jabberwocky, 2007-11-20: 14:17:00
----------------------------
Created by: looseball
Pronunciation:
Sentence: Look another nervhole.Somebody ger her a xanex,then she'll slow down.
Etymology:
Created by: garythesnail
Pronunciation: bor-SO-FLY-POORD
Sentence: Felix had many boursoflypords on his keyboard.
Etymology: french 'boursouflure' for blister, + type + keyboard
Created by: artr
Pronunciation: klikəpēshēə
Sentence: It's good for Bill that he's a touch typist. He has worn most of the letters off of the keys on his keyboard. His mouse has a bad case of clickopecia, a bald spot caused by excessive clicking.
Etymology: click (an act of pressing a mouse button) + alopecia (the partial or complete absence of hair from areas of the body where it normally grows; baldness)
Created by: xirtam
Pronunciation: ri-kur-skohr
Sentence: The mouse attached to that old PC was used so much that there was a recurscore on the left button. It was the exact shape of my finger tip.
Etymology: Recur: Latin recurrere - to occur again + Score: Middle English scoren - to make notches, cuts, marks, or lines in or on.
Created by: bzav1
Pronunciation: geek + polish
Sentence: Judging by the geekpolish on Jimmy's laptop, he had been spending a bit too much time on Facebook.
Etymology: Not to be confused with my Eastern European roots (geek Polish)
Created by: lafillepirate
Pronunciation: Air-road-ee-us-bald-ih-cuss
Sentence: If he doesn't stop playing computer games, he's going to lose his mouse to erodiousbaldicus.
Etymology: Rumored to have been written on rock polishing kits.
Created by: jeremy21
Pronunciation: /crap-doo/
Sentence: That dude crapdooed on the wrong person. Crapdooing is not the way to go
Etymology: Old american- coming from some old english
Created by: libertybelle
Pronunciation: klick - pit
Sentence: I realized I was spending entirely too much time on-line playing those escape the room games when my 3 month old laptop had already developed a clickpit in the touch-pad.
Etymology: click -action of operating a mouse or touchpad + pit - small divot caused by repeated friction.
----------------------------
COMMENTS:
It has a satisfying sound to it. I like it. - astorey, 2008-10-17: 11:55:00
----------------------------