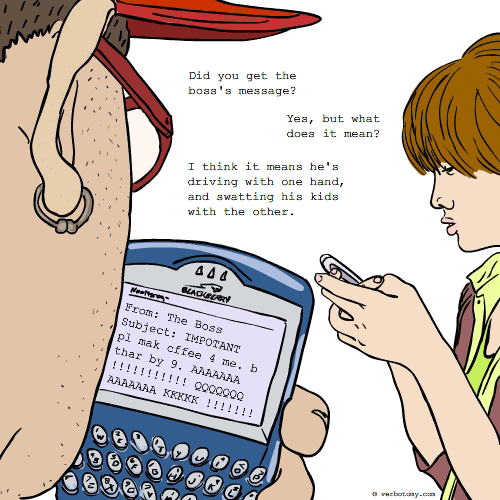 DEFINITION: v., To grasp the meaning of muddled texts like blog posts, emails and text messages where standard grammatical or spelling conventions have been ignored. n., The ability to read and understand confused or poorly written messages.
Already Voted
Vote not counted. We have already counted two anonymous votes from your network. If you haven't voted yet, you can login and then we will count your vote.
---
Lingjist
You still have one vote left...
Created by: solocard
Pronunciation: bayb-lol-fish-cayt
Sentence: Even though Jimmy was adamant that his texts were easily understood, it took a while before his parents were able to babelolfishcate his messages.
Etymology: From the term "Babel Fish", mixed with internet speak. Other usages include Babelwtfish.
----------------------------
COMMENTS:
Got give a vote for a HGTTG reference - petaj, 2007-11-16: 06:51:00
----------------------------
Created by: MrDave2176
Pronunciation: dee-MUN-gul
Sentence: The message was almost hopelessly unreadable until Jeremy stepped in to demungle it.
Etymology: "to Mung" is a hacker term which means to alter in some negative way. A mungle message would be altered to be unreadable. To demungle would make it whole again, right?
Created by: mrskellyscl
Pronunciation: tex-ti-col-o-gist
Sentence: Having twin 15 year old daughters, and a 13 year old son qualified Sara as an expert texticologist and she was often called as an expert witness in court proceedings where text interpretation was needed.
Etymology: lexicology:the study of words and their meanings + text: + (-ologist-science or study of)texting: sending a text message
----------------------------
COMMENTS:
good one - Nosila, 2010-03-11: 16:12:00
----------------------------
Created by: leechdude
Pronunciation: in-text-pret
Sentence: It was difficult to intextpret what Diego was trying to say but Joe figured it meant, 'never enter the ladies' washroom.'
Etymology: interpret, text
Created by: galwaywegian
Pronunciation: diss leks ik ohn
Sentence: he was a walking dyslexicon, the sweet spell of success.
Etymology: dyslexic lexicon
----------------------------
COMMENTS:
The dyslexicon in your sentence is a noun. - buffalocargo, 2015-08-21: 09:03:00
----------------------------
Created by: Stevenson0
Pronunciation: tex/hume
Sentence: His job was to texhume cryptic messages that had been buried in emails.
Etymology: TEXHUME - verb from TEXT (a unit of connected writing) + EXHUME (to revive, or restore; bring to light)
----------------------------
COMMENTS:
Good word - Nosila, 2008-10-14: 20:14:00
----------------------------
Created by: xirtam
Pronunciation: krip-tuh-grahsp
Sentence: See if you can cryptograsp what I am typing. "You don't hvae to crroeclty sepll erevyhting jsut hvae all the ltteres, and hvae the fsrit and lsat lteetr in the crreoct poistoin." Pretty cool.
Etymology: crypto from cryptogram, A piece of writing in code or cipher. + grasp, mental hold or capacity; power to understand.
----------------------------
COMMENTS:
Nice! - purpleartichokes, 2007-11-15: 19:00:00
----------------------------
Created by: Nosila
Pronunciation: kode depen dent
Sentence: When Marnie's boss acquired a PDA device, she had to transcribe his peculiar messages. She became so good at deciphering his notes that she developed a codedependent ability to read any bizarre messages anywhere and make sense of them. Now she was having trouble going back to reading books with straightforward language...they were no longer a challenge to her intellectually.
Etymology: Code (a coding system used for transmitting messages requiring brevity or secrecy;a process to convert ordinary language into code and vice-versa & Dependent (of a clause; unable to stand alone syntactically as a complete sentence) & Wordplay on Co-Dependent (mutual dependence)
Created by: remistram
Pronunciation: di-sahy-fe-text
Sentence: She knew what days to steer clear of her boss, she intuitively could tell how messed up he was by her inability to deciphetext his morning messages.
Etymology: decipher + text
Created by: hooterbug
Pronunciation: kwûr'kē
Sentence: Fortunately I have one of the new QWERKY keypads on my Crackberry that will decipher whatever I'm texting incorrectly and change it to intelligible English before it is sent. Nothing is worse than poor KEYBONICS!!!!
Etymology: From the proper QWERTY keypad and of course..please practice correct KEYBONICS
----------------------------
COMMENTS:
Who can qwibble with a word like that? - Nosila, 2008-10-14: 20:16:00
Good one, H-bug! - metrohumanx, 2008-10-17: 12:19:00
----------------------------