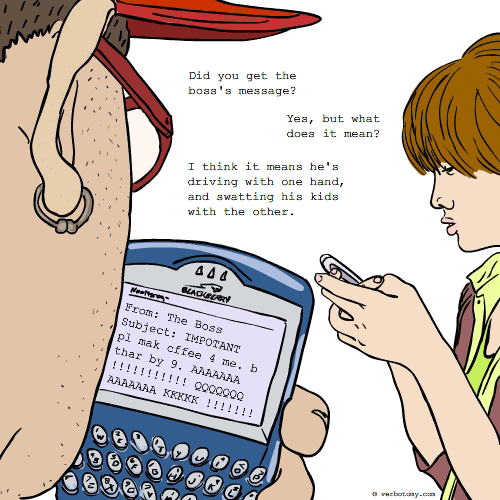 DEFINITION: v., To grasp the meaning of muddled texts like blog posts, emails and text messages where standard grammatical or spelling conventions have been ignored. n., The ability to read and understand confused or poorly written messages.
Voted For: Decyber
Successfully added your vote for "Decyber".
You still have one vote left...
Created by: zxvasdf
Pronunciation: Qwert lyze
Sentence: Because in this day and age people are wont to multitask, as showcased in the common combination of driving and texting, more and more people are becoming skilled in qwertlysis. The same mental processes are also applied to old timers trying to qwertlyze the newfangled 'net jargon floating about on the web.
Etymology: Qwerty (traditional configuration of the keyboard designed in the days of typewriters to spread apart the commonly used letters, thus preventing jamming. This configuration is not necessary in the digital age) & analyze (to examine methodically by separating into parts and studying their interrelations)
----------------------------
COMMENTS:
interesting etymology - Jabberwocky, 2008-10-14: 13:20:00
----------------------------
Created by: Nosila
Pronunciation: geek code er
Sentence: Josh could unravel any online message...he was a geekcoder of the top degree. If he had of lived 60 years earlier, he would have been called (The Man Called Incryted`.
Etymology: Geek (nerd, computer whiz) & Coder (someone who can encrypt/decrypt secret messages) Wordplay on Decoder (translater of encrypted messages)
Created by: LotusB
Pronunciation: text-a-mess-ology
Sentence: Thank goodness Lisa's so good at textamessology, or she'd never understand her sister's messages!
Etymology: Text (words/wording) + a (a) + mess (untidy/jumble) + ology (science/branch of knowledge) = Textamessology
Created by: gregflynn
Pronunciation:
Sentence:
Etymology:
----------------------------
COMMENTS:
Noun: Ntrprt8n - gregflynn, 2007-11-15: 00:09:00
----------------------------
Created by: dubld
Pronunciation: dee-sigh-burr-skate
Sentence: He had to decyberscate the the cryptic text.
Etymology: De + Cyber/Cypher + Obfuscate
----------------------------
COMMENTS:
nice - reminds me of rollerball - Jabberwocky, 2007-11-15: 13:01:00
A good'un that's "c" to the "g"! - OZZIEBOB, 2007-11-15: 17:34:00
----------------------------
Created by: perkolady
Pronunciation: sec-ra-TAL-ent
Sentence: "Hmm, forward that message to Sylvia--she's got amazing secretalent."
Etymology: From your standard secretary, nurse, or other aid-giving person's miraculous ability to read their superiors' chickenscratch.
Created by: lumina
Pronunciation: jum/bl/gi/a
Sentence: The new boss seemed to have his own language when it came to texting. At first everyone was nervous. It wasn't until someone made a call down to the mailroom where Simon the jumbleguya worked. He could unscramble eggs.
Etymology: play on Jambalaya
----------------------------
COMMENTS:
Twenty lashes with a wet noodle, Lumina. - metrohumanx, 2008-10-14: 02:34:00
Youch! (mix of Yummy and Ouch) :) - lumina, 2008-10-14: 10:04:00
great word - Jabberwocky, 2008-10-14: 13:20:00
----------------------------
Created by: MrDave2176
Pronunciation: dee-MUN-gul
Sentence: The message was almost hopelessly unreadable until Jeremy stepped in to demungle it.
Etymology: "to Mung" is a hacker term which means to alter in some negative way. A mungle message would be altered to be unreadable. To demungle would make it whole again, right?
Created by: porsche
Pronunciation: ling/jist
Sentence: A talented lingist can unravel the meaning of any text.
Etymology: linguist + gist
----------------------------
COMMENTS:
Good one Porsche! - purpleartichokes, 2007-11-15: 19:03:00
----------------------------
Created by: Mustang
Pronunciation: Sie-ber-fath-um
Sentence: Mary Lou was an old hand at internet communications and could cyberfathom any and all internet shorthand
Etymology: cybernetics and comprehension
----------------------------
COMMENTS:
neat - nerdkiller, 2007-11-15: 18:34:00
----------------------------