Verboticism: Communigrate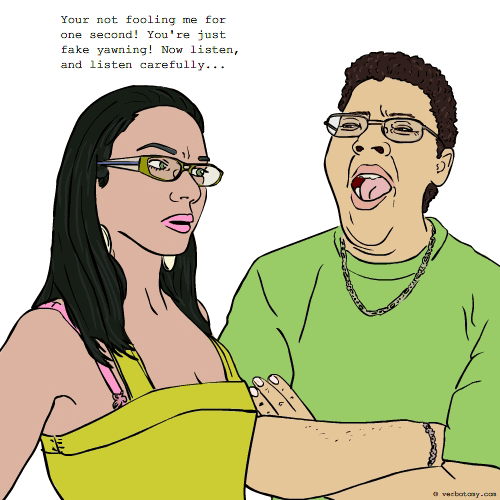 DEFINITION: v., To yawn or sigh repeatedly in an effort to subtly communicate one's lack of interest in the current conversation. n., A series of long, exasperated, and often escalating sighs indicating extreme boredom.
Already Voted
Vote not counted. We have already counted two anonymous votes from your network. If you haven't voted yet, you can login and then we will count your vote.
---
Communigrate
You still have one vote left...
Created by: DeaniKelu
Pronunciation: Kakareeboochakeeweyded
Sentence: I am a kakaribuciakiwejded I am a retarded toilet
Etymology: Kakari=It takes(jap.) Buci=ass(romanian) aki=who(hungarian) wej=input(polish) ded=against(arab)
Created by: svnfsvn
Pronunciation: FFFF awn
Sentence: I fawn repeatly till she went home.
Etymology: fake yawn
Created by: deepbluenpurple
Pronunciation: eekzhas/fayi
Sentence: Collective exaspighs during lectures did little to dissuade the Professor's misplaced enthusiasm.
Etymology: exasperated + sigh
Created by: Juny1
Pronunciation: yawn-ur-ate
Sentence: While reading the newspaper, I could not stop yawnerating there was nothing interesting to read.
Etymology:
Created by: wjames
Pronunciation: bor-ish-ass-ity
Sentence: George's maddening, overt, borishassity while his wife Jane tried to tell him about her day's work adventures, ended when Jane unexpectedly stuffed a sock in his mouth.
Etymology: borish= act of being a bore, ass= (need I say more)
----------------------------
COMMENTS:
Strong and natural! - OZZIEBOB, 2007-10-15: 21:44:00
----------------------------
Created by: artr
Pronunciation: sīlanggwij
Sentence: Bill used his best sighlanguage to try to communicate his boredom but his buddy droned on and on about his new hobby. Who knew that people could create artwork from dryer lint?
Etymology: sigh (emit a long, deep, audible breath expressing sadness, relief, tiredness) + language (the method of human communication) a play on sign language
Created by: alyssatassi
Pronunciation:
Sentence:
Etymology:
Created by: Lolagrrl
Pronunciation: yew-boar-mee
Sentence: Steve's eubormistic approach to his subordinates suggestions was legendary. The fact that these same suggestions resurfaced months later under Steve's heralding confirmed that he was simply an asshole.
Etymology: you+bore+me - yeah, it's pretty self explanatory but I like the adverb form "eubormistic"
Created by: micvice
Pronunciation: yAWn-uh-tih-ZAY-shun
Sentence: By the time he had reached his third yawnatization, he realized his roomates story had been going on for 20 minutes.
Etymology: yawn, dramatization
Created by: Nosila
Pronunciation: tee dee ay shun
Sentence: In absolute tediashun, Marco would yawn and sigh in a bored manner whenever Gwen went into one of her longwinded tirades about her job.
Etymology: Tedious (so lacking in interest as to cause mental weariness) & Shun (avoid and stay away from deliberately; stay clear of)