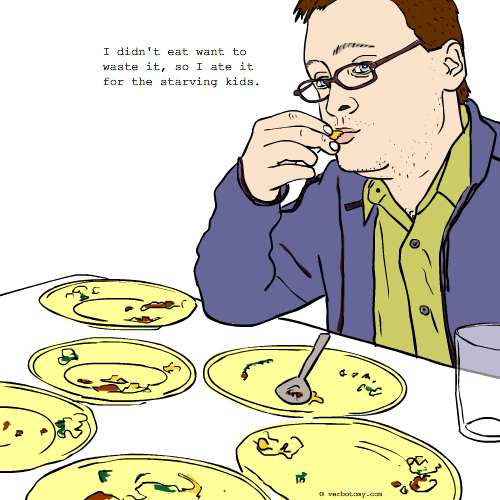 DEFINITION: v., To finish your plate and eat all the food in front of you, even when not hungry. n., Compulsive over-consumption of food in order to relieve guilt.
Already Voted
Vote not counted. We have already counted two anonymous votes from your network. If you haven't voted yet, you can login and then we will count your vote.
---
Consumize
You still have one vote left...
Created by: systemax57
Pronunciation:
Sentence:
Etymology:
Created by: Kevcom
Pronunciation: Ack-wheat
Sentence: "Clear the plate young man! Aqueat your food - starving children would love to have that last piece of brocolli on your plate."
Etymology: Aquit (to clear), Eat (to consume)
Created by: Osomatic
Pronunciation: terr + ih + bleat
Sentence: Look, those poor kids are starving, so the least I can do is terrobleat this food...for them.
Etymology: terrible + eat + guilt, of course
Created by: Mustang
Pronunciation: n. e-yew-roe-nate
Sentence:
Etymology:
Created by: TJayzz
Pronunciation: Gobb-el-sayt
Sentence: As a child, Tom's mother always reminded him of the starving children in Africa everytime he thought about leaving his dinner. So even now at the age of forty two he would never leave a single thing on his plate in order to ease the guilt of the mental picture she had planted firmly in his head. Even if he had to sit there for hours just to make sure every scrap of food had been eaten, it didn't matter as long as he felt he had done his bit for mankind. This could possibly explain why he weighed thirty five and a half stone!
Etymology: Gobble( to hurriedly eat a large amount) + Sate( supply with as much or more than desired or can be managed) = Gobblesate
Created by: Kyoti
Pronunciation: Shuh-vuhl-ish-shuhs
Sentence: Stan's wife's meatloaf was absolutely shovelicious, as the three empty casserole pans could attest to, if they were actually able to talk.
Etymology: Shovel: eat fast + Delicious: tasty meal.
Created by: grllkme
Pronunciation:
Sentence: Scumching can make you fat.
Etymology:
Created by: wtwhitaker
Pronunciation: o-vur/glut-tun/is-ing/
Sentence: It is crazy to overgluttonize even when the food isn't yours.
Etymology: over(more) glutton(eating a lot) ize(suffix)
Created by: oxinlingo
Pronunciation:
Sentence:
Etymology:
Created by: deaninc
Pronunciation: over-sal-vism
Sentence: having oversalvism may lead to psychological disorders
Etymology: The sensory perceptors creating over-zealous enzymes within the mouth triggering individual ideology.
Voted For! | Comments and Points