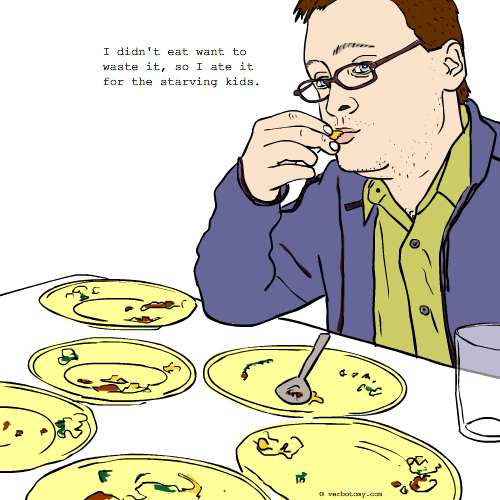 DEFINITION: v., To finish your plate and eat all the food in front of you, even when not hungry. n., Compulsive over-consumption of food in order to relieve guilt.
Voted For: Terribleat
Successfully added your vote for "Terribleat".
You still have one vote left...
Created by: systemax57
Pronunciation:
Sentence:
Etymology:
Created by: LoftyDreamer
Pronunciation: al-tru-glut-uny
Sentence: Because of his altrugluttony, Hal started a Weight Watchers group at his place of employment, the Atlanta Food Bank.
Etymology: altru (from altruism, the selfless regard for others) + gluttony (eating to excess)
Created by: Stevenson0
Pronunciation: gawr/man/i/tair/ee/uhn
Sentence: Joey, the ultimate gormanitarian, was quoted as saying, " I ate six helpings of everything for all the starving children in the world. God bless them and pass the leftover ham and potatoes."
Etymology: gormandizer (glutton) + humanitarian
----------------------------
COMMENTS:
funny! - remistram, 2007-10-12: 09:34:00
Very good word! - OZZIEBOB, 2007-10-14: 19:08:00
----------------------------
Created by: Mustang
Pronunciation: com-PUHLS-in-gorj
Sentence: Ingemar was virtually without self control when it came to eating and he had a fear of uneaten food going to waste so he would compulsengorge, even cleaning other people's plates, until all food was gone.
Etymology: Blend of 'compulsion'(a strong, usually irresistible impulse to perform an act) and 'engorge' (To swallow (food or drink) greedily or rapidly in large amounts)
Created by: crazycupcake1999
Pronunciation:
Sentence:
Etymology:
Created by: artr
Pronunciation: ree-mawr-suhl
Sentence: Jonah's mother hammered him every night about cleaning his plate and how there were starving children around the world. Now he can't stand to see any remorsel go uneaten. His wife hasn't had to rinse a single plate before loading it into the dishwasher since they first met.
Etymology: remorse (deep and painful regret for wrongdoing; compunction) + morsel (a bite, mouthful, or small portion of food, candy, etc)
Created by: tdhall56
Pronunciation:
Sentence:
Etymology: proxy, glutton
Created by: KenM2
Pronunciation:
Sentence: I couldn't believe he performed shovelumption on those leftovers.
Etymology: Shoveling the food + Consumption
Created by: deadrat
Pronunciation:
Sentence:
Etymology:
Created by: aayeye
Pronunciation:
Sentence: My gastronopathic tendencies forces me to clean my plate.
Etymology: Gastronomy + Empathy