Verboticism: Bonusneurosis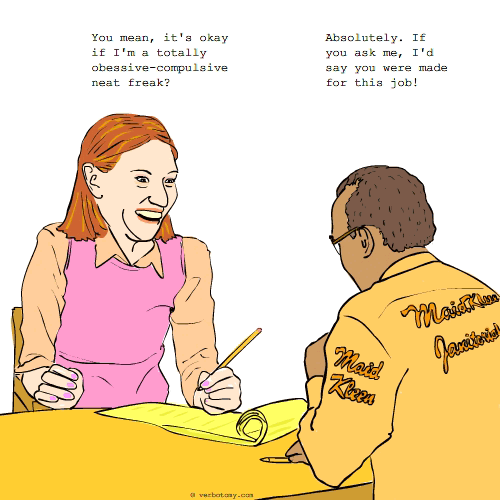 DEFINITION: v. To suddenly discover that your most troublesome personality defect, for which you have been taking medication and/or therapy, is actually your greatest asset. n. A perceived weakness which is actually a strength.
Voted For: Bonusneurosis
Successfully added your vote For "Bonusneurosis".
You still have one vote left...
Created by: galwaywegian
Pronunciation: loo na tik awl the rite bok ses
Sentence: She managed to lunatickalltherightboxes despite the rather stained resumé
Etymology: lunatic tick all the right boxes
Created by: artr
Pronunciation: nänˈpləspləs
Sentence: The fact that Jerry was unsure what to do and accomplished little made him perfect for his government job. It turned out to be a nonplusplus. He even developed a theory and an entire unofficial training program entitled DYNAMIC INACTION in which you look very busy working in one direction only to reverse course before you get to any measurable goal. The net result; status quo. Not only do you NOT rock the boat, you confine all your activity to the dock.
Etymology: nonplus (surprise and confuse (someone) so much that they are unsure how to react) + plus (an advantage)
----------------------------
COMMENTS:
"DYNAMIC INACTION" - hilarious! Good word - splendiction, 2009-07-31: 18:01:00
----------------------------
Created by: Osomatic
Pronunciation: ben + ih + fit
Sentence: My epilepsy gets me a lot of work in industrial blending applications, so it's turned out to be a benifit.
Etymology: bene + fit (only I spelled it with an "i" instead of the second e, to distinguish it from the original word).
Created by: fadedeidolon
Pronunciation:
Sentence:
Etymology: flair, failure
Created by: mplsbohemian
Pronunciation: OH-nuhs-boh-nuhs
Sentence: Alex's utter lack of personality proved an onusbonus when he landed a job as an Abercrummie clerk.
Etymology: onus (burden) + bonus (benefit)
----------------------------
COMMENTS:
She's a leftie, cool. -from an ambie - mplsbohemian, 2007-06-26: 01:47:00
Oops, I meant that for the main dealie. - mplsbohemian, 2007-06-26: 01:48:00
----------------------------
Created by: splendiction
Pronunciation: IM pair might
Sentence: Beatta shrieked excitedly, "you mean I can keep everything as clean as I want? Including my hands?" Her impairment would become her impairmight, as long as she agreed to wear gloves.
Etymology: From: impairment and might.
Created by: galwaywegian
Pronunciation: han dee kap
Sentence: at the Outside the Box employment agency they help change a handicap to a handycap, one person's OCD sufferer is another person's cleaner/office manager/proof reader.
Etymology: handicap, handy
----------------------------
COMMENTS:
love it - remistram, 2007-06-25: 14:37:00
Voted! - Clayton, 2007-06-25: 21:15:00
----------------------------
Created by: remistram
Pronunciation: bo-nuss-nerr-os-iss
Sentence: Viv discovered that her bonusneurosis actually enhanced her standing in the company....numbering all the photocopy paper saved the office money, which in turn led to her promotion.
Etymology: bonus (as in free gift, or reward) + neurosis (a relatively mild personality disorder typified by excessive anxiety or indecision and a degree of social or interpersonal maladjustment)
Voted For! | Comments and Points
Created by: kirkaw
Pronunciation: traw-maze
Sentence: When Michael's obnoxious outburst at the Marsha resulted in her quiting the next day, to the delighted of the rest of the office staff, he was simply traumazed at himself.
Etymology: trauma - amazed
Created by: Lapper
Pronunciation: pro-FEKT-ihv
Sentence: John was found to be quite profective when his lack of heart permitted him to be one of the country's top assassins.
Etymology: The prefix "pro-" and "defective".