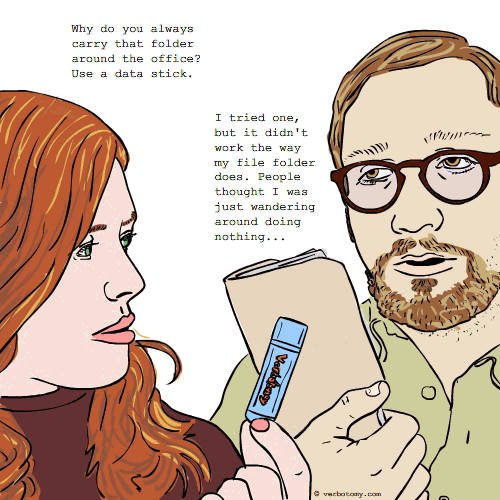 DEFINITION: n. A prop (e.g. papers, files or any non-functional equipment) used to create the illusion of busyness. v. To use office supplies to create the illusion that you are working.
Already Voted
Vote not counted. We have already counted two anonymous votes from your network. If you haven't voted yet, you can login and then we will count your vote.
---
Fillusion
You still have one vote left...
Created by: Jabberwocky
Pronunciation: mask/ur/aid
Sentence: No one knew which department he worked in but with his maskqueraid of blackbery and wireless headset he easily passed his day wandering and betting on horses.
Etymology: masquerade + mask + aid
----------------------------
COMMENTS:
great word and welcome back! - Nosila, 2008-08-06: 21:53:00
----------------------------
Created by: ohwtepph
Pronunciation: wohrk-oh-thuh-wiz-prop
Sentence: Oh god, that Ben has been such a work-o-the-wispropper ever since he started out in the business of being the business supervisor. The work-o-the-wisprop he carried around were very convincing: papers to be signed, a neat brown folder and a clipboard with Transformers scribbles on it.
Etymology: will-o-the-wisp [illusion] + work + prop + wiz [the best at something e.g. a math wiz]
----------------------------
COMMENTS:
good one! - pguse, 2007-06-13: 10:04:00
thanks. :D - ohwtepph, 2007-06-13: 10:28:00
It's a good one and I voted for you! - Stevenson0, 2007-06-13: 17:36:00
How did you get that punctuation in there? - mplsbohemian, 2007-06-13: 19:43:00
you can work all sorts of magic if you go into 'oops i want to change the spelling' bit of the edit section.... it makes things much more verbsatile - rikboyee, 2007-06-13: 22:23:00
----------------------------
Created by: readerwriter
Pronunciation: mal-o-prop
Sentence: Eric is so retro, Petra thought. Everytime she saw him cross the office floor on his way from the men's room to his desk, she had to laugh. Oh yeah, he just had to carry those maloprops to show everyone he knew what it was like in the 20th century. It was ludicrous. And, then if you said something, he had such excuses...like he didn't understand there were better ways of doing things.
Etymology: From mal, Latin/Romance languages, for bad or sick + prop for a property used for show. Also a play on the word malapropism, the ludicrous misuse of a word. In this case, the ludicrous misuse of a prop.
Created by: Mustang
Pronunciation: DOCK-yew-flawj
Sentence: Harper fancied himself a very clever tactician, using an old empty attache case as docuflage, believing that coworkers were convinced that he was actually packing a large work schedule, though everyone in the office had been on to his scam for years.
Etymology: Blend of the words 'document' (various paperwork) and 'camouflage' (a device or stratagem used for concealment)
Created by: abrakadeborah
Pronunciation: boss-a-coy
Sentence: In order for Bob to fool his boss...he would often walk around with his trusty bossacoy to look busy.
Etymology: Boss-Manager. Part of "Decoy" - Someone or something used to draw attention away from another.
Created by: Clayton
Pronunciation: di-STAK-shuhn
Sentence: Luckily, the Greenly account provided Clarence with a momentary disstacktion as he fumbled to exit GTA: San Andreas. If Mrs. Worthington realized he'd beaten her insane stunt bonus, he could kiss that nickel-an-hour raise goodbye.
Etymology: distraction + stack
----------------------------
COMMENTS:
I must confess I sometimes build a little fortress of files. It makes playing verbotomy much simpler - Jabberwocky, 2007-06-13: 10:51:00
I'm really glad that I don't work in an office, but a file fortress does sound like fun. - Clayton, 2007-06-13: 14:37:00
you get a vote for being such a fun verbotomist - Jabberwocky, 2007-06-13: 14:49:00
Thanks... I didn't put much thought into today's word, as I'm nursing a wounded shoulder. There have been a lot of great words this week, though. - Clayton, 2007-06-13: 20:34:00
----------------------------
Created by: ErWenn
Pronunciation: /ˌɛvəˈdɪlədʒɛns/
Sentence: While folders and papers make excellent passive evidiligence for someone on the move, a mobile phone or PDA can serve the same purpose even when seated at one's desk, though such tools require an active effort to complete the effect of slackofflage.
Etymology: From evidence + diligence
----------------------------
COMMENTS:
very on-message you evidiligently gave it a lot of thought. - galwaywegian, 2007-06-13: 07:03:00
Don't indilige him. - Clayton, 2007-06-13: 07:50:00
Actually, I didn't give it that much thought. I just borrowed some thoughts I'd had from when I created the previous verboticism "slackofflage." I've noticed that some of my highest-scoring words are ones I was least confident in (such as "mockliment.") Maybe there's a message there. Maybe I just give everything too much thought. Yeah, that seems more likely. - ErWenn, 2007-06-13: 14:02:00
now now ErWenn - you know what they say about making ASSumptions - Jabberwocky, 2007-06-13: 14:20:00
----------------------------
Created by: Stevenson0
Pronunciation: fan/toe/files
Sentence: Joe had six different coloured sets of phantofiles he alternated at various times of the day to keep 'The Man' off his case and to demonstrate his industriousness and multitasking abilities. "Damn, he's good!" thought his boss. "He's been working on six different projects today and it's only noon." Joe's phantofiles put him in line for a raise.
Etymology: PHANTOFILES - noun - from PHANTOM (an appearance, or illusion without material substance) + FILES (a container, or folder for keeping papers in order)
----------------------------
COMMENTS:
I worked with a guy that did that...he got away with it until his new female boss figured him out and gave him the boot! - Nosila, 2008-08-06: 00:50:00
pesty female bosses! - scrabbelicious, 2008-08-06: 06:43:00
What datum lurks in the hearts of men?Only the Phantofile knows. - metrohumanx, 2008-08-06: 11:25:00
----------------------------
Created by: libertybelle
Pronunciation: man-ILL-uh-raj
Sentence: Under the cloaking of a perfectly executed malinarage, Jeff buried his head into the folder labeled "Hudson Acct." as he wandered through the cubicle forest and down to the nearby Starbucks for the 3rd time that morning.
Etymology: manila - as in type of folder typically found in an office setting + Mirage -illusion
Created by: cpeterc
Pronunciation: Fo - Port
Sentence: "Wait - I'll never make it past Mr. Big's office without a Fauxport, This folder will do."
Etymology: Faux = faxe or simulated Port from Passport a document that allows you to travel freely.
----------------------------
COMMENTS:
Your papers, please.... - metrohumanx, 2008-08-06: 16:48:00
----------------------------