Verboticism: Slackcessory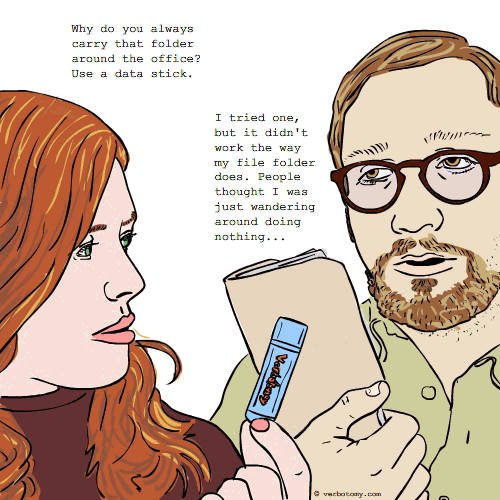 DEFINITION: n. A prop (e.g. papers, files or any non-functional equipment) used to create the illusion of busyness. v. To use office supplies to create the illusion that you are working.
Already Voted
Vote not counted. We have already counted two anonymous votes from your network. If you haven't voted yet, you can login and then we will count your vote.
---
Slackcessory
You still have one vote left...
Created by: ohwtepph
Pronunciation: wohrk-oh-thuh-wiz-prop
Sentence: Oh god, that Ben has been such a work-o-the-wispropper ever since he started out in the business of being the business supervisor. The work-o-the-wisprop he carried around were very convincing: papers to be signed, a neat brown folder and a clipboard with Transformers scribbles on it.
Etymology: will-o-the-wisp [illusion] + work + prop + wiz [the best at something e.g. a math wiz]
----------------------------
COMMENTS:
good one! - pguse, 2007-06-13: 10:04:00
thanks. :D - ohwtepph, 2007-06-13: 10:28:00
It's a good one and I voted for you! - Stevenson0, 2007-06-13: 17:36:00
How did you get that punctuation in there? - mplsbohemian, 2007-06-13: 19:43:00
you can work all sorts of magic if you go into 'oops i want to change the spelling' bit of the edit section.... it makes things much more verbsatile - rikboyee, 2007-06-13: 22:23:00
----------------------------
Created by: Jabberwocky
Pronunciation: mask/ur/ade
Sentence: No one knew which department he worked in but with his maskqueraid of blackbery and wireless headset he easily passed his day wandering and betting on horses
Etymology: masquerade + mask + aid
Created by: rikboyee
Pronunciation: clam-err-flarj
Sentence: the only way to stop her intraypidation taking hold was to make sure she was well clamourflaged
Etymology: clamour, camouflage
Created by: keeno82uk
Pronunciation: dis-work-illusion-ment
Sentence: "that guy is so practicing disworkillusionment, as he always carries around that file"
Etymology: Meaning the illusion of work by cloaking your lack of said work using props, i.e folder, laptop
Created by: Mustang
Pronunciation: DOCK-yew-flawj
Sentence: Harper fancied himself a very clever tactician, using an old empty attache case as docuflage, believing that coworkers were convinced that he was actually packing a large work schedule, though everyone in the office had been on to his scam for years.
Etymology: Blend of the words 'document' (various paperwork) and 'camouflage' (a device or stratagem used for concealment)
Created by: Nosila
Pronunciation: sha man ila
Sentence: Steve was the shamanila at the office. Most of his 8 hour shift was devoted to avoiding work. He had carried around his faithful manila folder daily trying to look busy. For 8 years he had fooled everyone. Until the day he got his new manager, Liz. She asked him to write out his job description. How in the world was he going to turn his one sentence actual duties (Carries around a file folder.) into a whole page or two of action verbs and activities?
Etymology: Sham (a person who makes deceitful pretenses;something that is a counterfeit; not what it seems to be) & Manila (a strong paper or thin cardboard with a smooth light brown finish made from e.g. Manila hemp & Shaman (one who practices sorcery)
Created by: sanssouci
Pronunciation: pen doop
Sentence: "I think I am going to pendupe for a while, I can't be botherd to do anymore work today but don't want Mr Stone to think I'm not pulling my weight in the office."
Etymology: pen - any of various instruments for writing or drawing with ink or a similar substance. A pen is a writing implement," c.1300, from O.Fr. penne "quill pen, feather," dupe - to make a dupe of; deceive; delude; trick. Dupe orriginates from 1680s, from Fr. dupe "deceived person," from M.Fr. duppe (early 15c.), thieves' jargon, probably from phrase de huppe "of the hoopoe," an extravagantly crested and reputedly stupid bird.
Created by: Rhyme79
Pronunciation: fob-jekt
Sentence: Shuffling papers whilst wearing my glasses on the end of my nose is the most effective combination of fobjects I have found. It creates the illusion that I'm actually doing what I'm paid to do.
Etymology: Fob -(as in 'fob off', deceive or dupe) + object = fobject
----------------------------
COMMENTS:
Short and snappy - I could use this. :) - Discoveria, 2012-09-26: 12:14:00
----------------------------
Created by: artr
Pronunciation: smärtfōnē
Sentence: Tom can always be seen with his smartphony in hand. It gives him the air of being up on current technology. He has never read an e-mail on it. He has never made or received a phone call. The truth is that he barely understands how to turn it on.
Etymology: smartphone (a mobile phone that incorporates a PDA) + phony (not genuine; fraudulent)
Created by: petaj
Pronunciation: in-DUST-ri-caters
Sentence: Memo To: WOT Team..... From: WOT Team Leader %%%%%%%%%%%% Hi Team, The big boss is coming to visit on Friday. Please make sure that you have a good selection of industricators and suggestoilibles on hand to ensure that she leaves with 'right' impression. We don't want her to think that WOT stands for Waste of Time. ta, oh and please eat this memo before Friday.
Etymology: industry + indicator + extricate (could get the lazy staffer an allayoffment, and out of a sticky situation)
----------------------------
COMMENTS:
LOVE the sentence! - purpleartichokes, 2007-06-13: 10:39:00
if the definition was having too many awesome words and not being able to choose, my word would be petajalot. - jadenguy, 2007-06-13: 12:15:00
if the definition was having too many awesome words and not being able to choose, my word would be petajalot. - jadenguy, 2007-06-13: 12:26:00
...dont' refresh AND send post data or whatever. - jadenguy, 2007-06-13: 12:27:00
The other one I had that I discarded was apparaphertoilia. Paraphernalia to create an appearance of toil. - petaj, 2007-06-13: 18:33:00
----------------------------