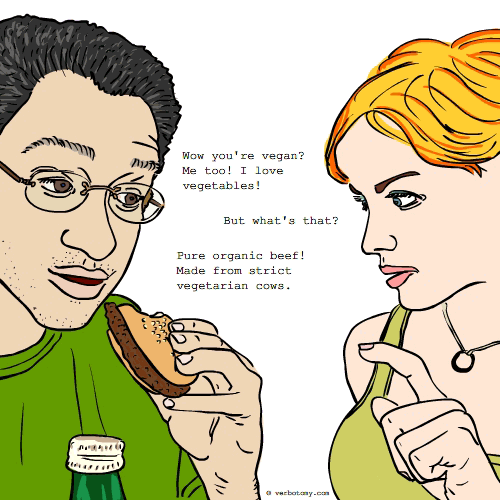 DEFINITION: v., To pretend that you like something that you don't, in hopes that someone else will like your pretensions. n., A person who doesn't like what they actually like, and pretends to like what other people like.
Voted For: Feigngain
Successfully added your vote For "Feigngain".
You still have one vote left...
Created by: bayview5377
Pronunciation: sik-oh-FAB-ri-cate (v) or sik-oh-FAB-ri-kit (n)
Sentence: I wanted the cute redhead to like me so when she told me she was a Steelers fan I had to sycophabricate my response. I want to be a sophisticate but what I did makes me a sycophabricate.
Etymology: From the words "sycophant", meaning a self-serving servile flatterer, and "fabricate", meaning to make up something untrue.
Created by: jeremy21
Pronunciation: /pre-tendif-icate/
Sentence: Chad pretendificated when he was eating salt and vinegar chips.
Etymology: pretendificate comes from pretending or lying about what you do. ificate brings out more action in the word
Created by: MrDave2176
Pronunciation: foh-vor
Sentence: Marge alway fauxvored the cinnamon raisin bagels at work since they were always the last to go, not knowing that Mark only bought them because he thought she liked them.
Etymology: Faux (fake) + (Fa)vor (prefer)
Created by: galwaywegian
Pronunciation: vay ggen
Sentence: his diet was strictlu vaguen. he always ate lunch from inside a paper bag.
Etymology: vegan, vague
----------------------------
COMMENTS:
and I'm sure he always ate what was in vogue as well - Jabberwocky, 2008-10-24: 12:35:00
----------------------------
Created by: leemarquis
Pronunciation:
Sentence:
Etymology:
Created by: QuantumMechanic
Pronunciation: mee' mik
Sentence: He was a such a meemick, he ate one of my cucumber muffin sushi rice balls covered in honey.
Etymology: mee (
Created by: Nosila
Pronunciation: fayn glor ee us
Sentence: Frederico Blanco thought himself a real gourmand. He claimed a 5 Star French cooking degree and many other terribly impressive credentials. He became a restaurant critic and was regularly quoted when naming new food trends. He was feignglorious, because his real name was Freddy White from the neighbourhood, who had barely scraped by into Grade 10 and could not boil water or make toast to save his life.
Etymology: Feign (pretend) & Vainglorious (feeling self-importance)
Created by: Nuwanda
Pronunciation: more-feend
Sentence: Julia was intoxicated by the feeling of power she got when she morfiend into various social circles merely taking on their interests. After a while, she morfiend so often that she became an actual morfiend, unable to distinguish her own likes and dislikes any more.
Etymology: morph--to change + fiend--an evil person, combined to sound like morphine.
Created by: Nosila
Pronunciation: mas ker ee ter
Sentence: When Sue Doe met Shammy Davis Junior at a society cocktail party, he was sampling escargots, grenouilles and caviar with great zeal. Although she pretended to be worldly, she had never tried these delicacies either. Shammy was actually a masquereater and hated the taste of these new flavors. She commented on how savvy he was to dine on snails, frog legs and fish eggs, at which point his lack of knowledge made him pale. She asked him if was going to have some Baked Alaska for dessert. He wondered which part of Alaska they were baking and hoped it was not Deadhorse or Valdez...the former might give him nightmares and the latter might still have an oily taste to it! You can't have your Kake and eat it too. Juneau Nome what I mean?
Etymology: Masquerade (making a false outward show;pretend to be someone or something that you are not) & Eater (someone who consumes food for nourishment). Deadhorse, Valdez, Kake, Juneau and Nome are all towns/settlements in Alaska.
Created by: purpleartichokes
Pronunciation: pree-var-eh-grate
Sentence: To stay in the boss's favor, I can prevarigreat like a pro.
Etymology: prevaricate, great