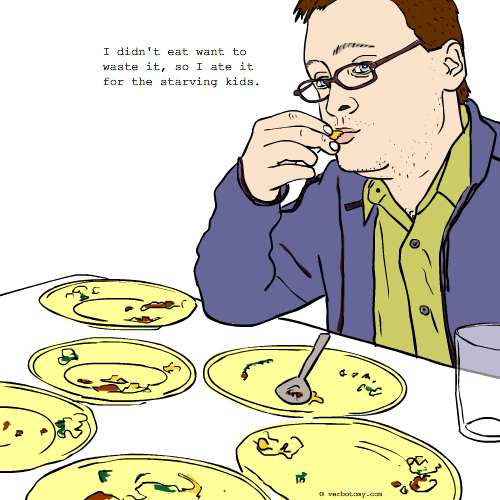 DEFINITION: v., To finish your plate and eat all the food in front of you, even when not hungry. n., Compulsive over-consumption of food in order to relieve guilt.
Voted For: Remorsel
Successfully added your vote For "Remorsel".
You still have one vote left...
Created by: crmow
Pronunciation: ir-i-FEEST-uh-buh-l
Sentence: Jerry had an irrefeastable urge to scarf down every entree on the buffet.
Etymology: irresistable + feast
Created by: Nosila
Pronunciation: km punk chu ayt
Sentence: Gary's impulse to compuctuate himself at every meal was no doubt a result of growing up listening to his mother's incessant "Clean up your plate...kids in Africa are starving" rantings.
Etymology: Compunction (a feeling of deep regret (usually for some misdeed) & Ate (fed oneself)
Created by: karenanne
Pronunciation: kum PASH un eet
Sentence: Mr. Hoover always thinks of those less fortunate as he enjoys his meals, remembering his mother's words that "there are children in China who would love to eat" whatever is on his plate. He is very compassioneat, sometimes "dedicating" each of his second, third, etc., helpings to some unknown starving person. He even considers eating food off the floor to be "helping Mother Earth" by "recycling" something that would otherwise go uneaten. "Waste not, want not," he always says. More like "Waste not, waist YES."
Etymology: compassionate + eat
Created by: systemax57
Pronunciation:
Sentence:
Etymology:
Created by: oxinlingo
Pronunciation:
Sentence:
Etymology:
Created by: lumina
Pronunciation: scrap/e/tite
Sentence: Louis wondered how he was ever going to be in good enough shape to join the guys in their first "Bros to the Finishline Marathon." His mother first painted that picture of starving children in Africa who would do anything to eat his brussel sprouts for breakfast, lunch AND dinner when he was about three years old. Since then, he has had a very unhealthy scrappetite and cannot leave a single crumb on his plate. While his buddies cross the finish line, he will be on the sidelines tossing them cups of water, proud of the fact that it is due to his "inner humanitarian" that he can't join them on this one.
Etymology: Scrap + Appetite
Created by: mrskellyscl
Pronunciation: ex-pi-ate-shun
Sentence: Expiatetion is the prime factor that led to an entire generation of fat people. In the 50's, children grew up believing that if they ate all their food it would somehow make up for the suffering of starving kids in Europe who "would be happy to see that food". In the words of Alan Sherman, "They kept starving, and I got fat!"
Etymology: expiation: a means of atonement for wrongdoings or paying for a wrong + ate: past tense of eat Alan Sherman was a 1960s predecessor to Weird Al Yanckovic who made several records which changed the lyrics of songs. His most well known hit was "Hello Muddah, Hello Faddah." He died in 1973 at the age of 48 with diabetis and emphysema due largely to his weight. In the song, "Why I got Fat" he blamed his mother for making him clean his plate to help the starving children in Europe - something every kid growing up in the 50's and 60's heard from their mothers.
----------------------------
COMMENTS:
Here's a link to "Hail to Thee, Fat Person" To watch Alan Sherman's, "Hail to Thee, Fat person" link to: http://www.youtube.com/watch?v=eeoa0-U8-Yw - mrskellyscl, 2010-02-09: 05:42:00
----------------------------
Created by: galwaywegian
Pronunciation: cat o lihk
Sentence: He gave his plate a Catholick
Etymology: catholic, lick
----------------------------
COMMENTS:
I love it! - astorey, 2008-09-12: 10:43:00
----------------------------
Created by: KenM2
Pronunciation:
Sentence: I couldn't believe he performed shovelumption on those leftovers.
Etymology: Shoveling the food + Consumption
Created by: Mustang
Pronunciation: n. e-yew-roe-nate
Sentence:
Etymology: