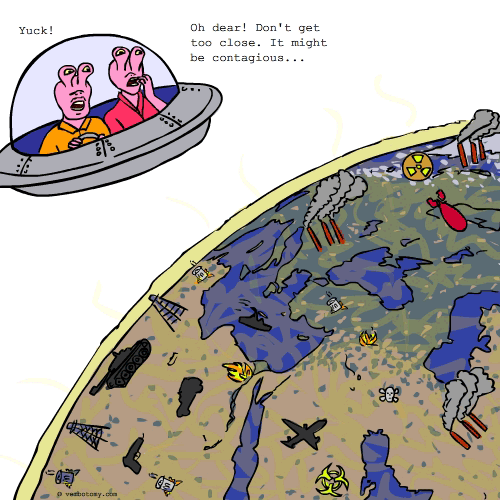 DEFINITION: n. A sick planet which has a cold, a fever, and some kind of weird infection. v. To be worried sick about the health of the planet, because you know the problem is really the people.
Voted For: Enferterra
Successfully added your vote For "Enferterra".
You still have one vote left...
Created by: metrohumanx
Pronunciation: pan-ORB-oh-ZOO-vecks
Sentence: A plague of greed's upon Our Sphere- It can be seen; it smells like fear. Plunder, harvest, strip her bare- Hurry now don't miss your share! A malady some thought inspired… The Struggle now must NOT grow tired. No catalogue or even index- Defines the word..... PANORBOZOOVEX !!!
Etymology: PAN+ORB+(bozo)+ZOO+VEX= PANORBOZOOVEX.....PAN: (prefix)comes from Greek and means "all." It is similar to the prefix omni- only omni- comes from Latin.....ORB: a spherical body, especially Earth, a spherical celestial object; Middle English, from Middle French orbe, from Latin orbis circle, disk, orb.....BOZO: a foolish or incompetent person, a famous 20th century clown; origin unknown [ 1916 ].....ZOO: a place, situation, or group marked by crowding, confusion, or unrestrained behavior, a collection of living animals usually for public display; short for zoological garden [1847].....VEX: to bring trouble, distress, or agitation to; Middle English, from Anglo-French vexer, from Latin vexare to agitate, harry; probably akin to Latin vehere to convey [15th century]
----------------------------
COMMENTS:
To the planetary barricades! Decentralize solar power! Revolution is NOT a dirty word! Ars Longa Vita Brevis! - metrohumanx, 2009-04-22: 01:30:00
The worsening world ... in versening unfurled ... and yet your last line and verbotomix ... evoke a smile ... for your fourplex! - silveryaspen, 2009-04-22: 11:31:00
You make it go from bad to verse, metro...like turning lemons into limoncello! - Nosila, 2009-04-22: 22:36:00
----------------------------
Created by: mweinmann
Pronunciation: flu + moon
Sentence: Man has walked on the moon but he has walked on the earth for more years and has taken many more steps there. If we were to inhabit the moon, our blue moon, our paper moon, our man in the moon, our moonglow, our new moon would all become just a flumoon....we would probably manage to infect it with the same maladies with which we have infected the planet we inhabit....
Etymology: flu (short for influenza;Influenza, commonly known as the flu, is an infectious disease) and moon (one of the seven major bodies which move relative to the fixed stars in the night sky—the Moon, Mercury, Venus, the Sun, Mars, Jupiter and Saturn.
----------------------------
COMMENTS:
Flu...ooo...moon, I saw you standing alone...without a dream in your heart...without a love of your own." Song of the Day, dedicated to Silveryaspen! - readerwriter, 2009-04-22: 10:47:00
Enjoyed your sentence, mweinmann - well crafted. - silveryaspen, 2009-04-22: 11:18:00
Silvery Moon is more fitting as a song for me, readerwriter. 'Sail along silvery moon, sail along lovers' lane, sail along silvery moon, to my love again!" There's another old verse about the moon I like "Oh, the moon shines east and the moon shines west, but I like the moonshine they make next door best!" - silveryaspen, 2009-04-22: 11:22:00
----------------------------
Created by: Mustang
Pronunciation: en-VYE-rus-mehnt
Sentence: What had once been a pristine world, devoid of any kind of pollution or environmental upheavals has suddenly developed a severe envirusment, a world where every corner was feeling the effects of enviro sickness.
Etymology: Blend of environment and virus.
----------------------------
COMMENTS:
good one Mustang - galwaywegian, 2009-04-22: 09:10:00
Excellent! - silveryaspen, 2009-04-22: 11:15:00
Envirusment and embarrassment! Good one, mustang. - Nosila, 2009-04-22: 22:35:00
----------------------------
Created by: galwaywegian
Pronunciation: guy aaaaaaaa
Sentence:
Etymology: gaia aaaaargh
Created by: karenanne
Pronunciation: TAIR ah fide
Sentence: After all the gloom-and-doom forecasts (both true and hyped) about the state of the Earth, most of us are now terrafied. What is the AlGore-ithm for solving the problem of ecoterrorism and replacing it with ecoterraism? If we don't get a tranfusion of hemoglobe-in and gammaglobe-ulin, we're going to end up with the globetrots.
Etymology: terra (earth) + terrified
Created by: mrskellyscl
Pronunciation: ho-mo-crea-toxic
Sentence: The guide pointed out the window and announced to the group of tourists, "This is an example of a homocreatoxic planet." Sadly, it is systematically being destroyed by the dominant species who either does not recognize or isn't concerned by the signs of impending demise. This is the only planet we've seen thus far that has come to this particular form of extinction. Anthropologists say that it once was like a garden with fields, mountains, oceans and millions of diverse creatures. This is as close as we can get to the planet without risking contagion. Now, let's move on to Saturn's exquisite rings..."
Etymology: Homo: (Latin) man/mankind + Creation: (creationism)the world as it was created by a creator + Toxic: poisonous, often by chemical means
----------------------------
COMMENTS:
Triple word play, very apt to the definition ... Great Create! - silveryaspen, 2009-04-22: 11:24:00
----------------------------
Created by: sclarr14
Pronunciation: En-Fer-Ter-Ra
Sentence: *In an airplane* Hey! Look out the window! I can see the entire enferterra from up here!
Etymology: From the spanish root words enferma (sick) ans terra (planet)
Voted For! | Comments and Points
Created by: galwaywegian
Pronunciation: asss trooooh noooooh missst
Sentence: She followed the screams through the physics department till she came to the door with the plaque which read "Prof. C. Licken, astrohnomist"
Etymology: astronomist, oh no,
Created by: silveryaspen
Pronunciation: in flu men zah
Sentence: The total world population, per the 2008 estimate by the United States Census International Programs Center is 6,679,493,900. As of February 2009, the world's population is estimated to be about 6.76 billion. Overcrowding and people pollutions are wreakening our planet. Terra caught a influmenza and is in a dangerous state of flux.
Etymology: INFLUENZA, MEN. Men - in the broader sense of the word, is often used to mean all people. Influenza - a widespread illness. Ergo: If the world has caught a wide spread illness from too many men, it suffers influmenza. /// Wreakening is a verbotomy of wreak and weakening. /// The last word flux, means not only a state of constant change, but archaically was a term for severe diarrhea ... something mankind needs to stop inflicting on our planet.
----------------------------
COMMENTS:
Excellent verbot Silvery, stating both cause and problem! Neat facts too! - Biscotti, 2009-04-22: 10:56:00
So can we get a vaccine against influmenza,silvery...sign me up! - Nosila, 2009-04-22: 22:34:00
Yes so true! Great word. - splendiction, 2009-04-22: 22:46:00
Best of the day! - Mustang, 2009-04-22: 22:56:00
Influmenza! Wonderful word and great info! :) - abrakadeborah, 2009-04-22: 22:58:00
----------------------------
Created by: artr
Pronunciation: yoōnəvərsilnis
Sentence: The citizens of Mars have voted to study the science of moving their planet to another solar system to get away from the universillness called Earth.
Etymology: universe/universal (all existing matter and space considered as a whole; the cosmos) + illness (a disease or period of sickness affecting the body or mind)