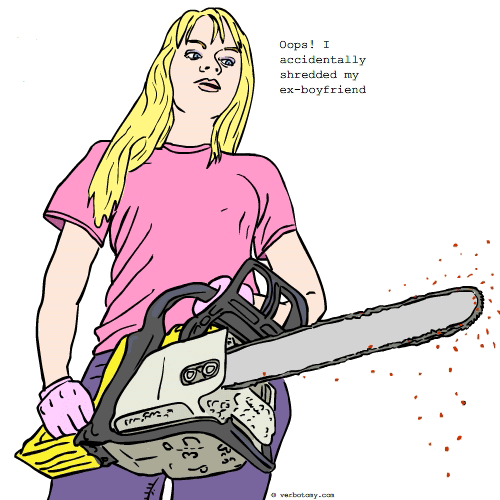 DEFINITION: v. To fret and worry after the accidental trashing of an important document, file or friend. n. The state of anxiety caused by an accidental deletion.
Already Voted
Vote not counted. We have already counted two anonymous votes from your network. If you haven't voted yet, you can login and then we will count your vote.
---
Remorris
You still have one vote left...
Created by: nickhole
Pronunciation:
Sentence: I was nearly done with my thesis when my cat unplugged my laptop and kerpoofed my essay.
Etymology:
Created by: artr
Pronunciation: shredərdredər
Sentence: Several years ago Millie was shredding her usual batch of junk mail when she spotted Ed McMahon's smiling face in the teeth of the paper chomper. Too late! Convinced that she had lost the chance of a lifetime to be a millionaire, she has become a shredderdreader, refusing to throw away any mail. The accumulation now occupies every nook of her small apartment. She eats only cold meals because lighting the stove would surely start a fire. The microwave was crushed by a pile of paper several months ago. Things are suddenly looking up for Millie. She has the opportunity to make some serious coin being featured in the new reality show, Hoarders. Thanks, Ed.
Etymology: shredder (a machine or other device for shredding something, esp. documents) + dreader(someone who anticipates with great apprehension or fear)
Created by: silveryaspen
Pronunciation: Axe its
Sentence: Shwreck opened the shredder to show me the scads of little axe blades, swinging up and down the documents, turning them into axits. Too late, I realized that monster Shwreck, with his weapon the shredder, had axited the file the boss wanted immediately. The Boss, Mr Haxle, was not amused when I dumped the axits in his in-box. My axiety was justified. I got the ax!
Etymology: AXES to BITS creates AXITS. Documents AXITED, (verb play on exited, permanently), create AXIETY, that anxiety caused when needed documents no longer exist, except as axits.
Created by: Babbalabba
Pronunciation: sh-redd-x-eea
Sentence: At Little Hills Rehabilitation center, Linsday was overcoming a severe case of shreddexia, imiges of bloody chainsaws still populating her mind as she sobbed to her psychologist, "Why, why...I...was just cutting the hedges and I...I-", draped in misery.
Etymology: (None)
Created by: Nosila
Pronunciation: shred jit ate
Sentence: Nathalie had found her new boyfriend in a compromising position with his teenage lover. Of course, she lost no time in revving up her chain saw and dispensing of the guilty parties. She did shredgitate a bit because, in hindsight, on such short notice, where else would she find another date for the New Year's Eve bash she had booked and a babysitter for her 6 kids? It was inshredulous that she might spend such a special day in jail!!!
Etymology: Shred(a tiny or scarcely detectable amount; tear into shreds) & Agitate (a mental state of extreme emotional disturbance;the feeling of being agitated; not calm)
----------------------------
COMMENTS:
Was surprised there was no reference to the most famous shredding incident of all time, Watergate. Luv shredigate! Do you ever wonder how much shredding is part of office politics, too? - silveryaspen, 2008-12-30: 16:40:00
----------------------------
Created by: Nosila
Pronunciation: in ad vert ent ekt omee angst
Sentence: Although it bothered her a lot, Hilary Hack had no choice but to do it. Her Hockey Star cheating boyfriend, Randy Gote had been caught with his pants down, again. She had warned him of the consequences the last time, but apparently he did not take her seriously. When she had caught him, she revved up the old Black & Decker in a fit of jealous rage and told him afterwords that the only Hockey Team he could try out for now was the Castor Raiders. Still, she was overcome with a feeling of inadvertentectomyangst...because his days of body-checking and stick-handling were over.
Etymology: Inadvertent (accidental;by chance) & -ectomy (suffix for surgical removal/incision of something to eliminate it) & Angst (an acute but unspecific feeling of anxiety)
----------------------------
COMMENTS:
....aaaaggghhhhh..... I wanted to use "ectomy"! :-) - XMbIPb, 2010-05-14: 10:33:00
after listening to the word for 3 minutes straight, it surely does sound like "in every tent tom yanks". sublime messages you are delivering? - freiflug, 2010-05-14: 13:18:00
----------------------------
Created by: marcogp6
Pronunciation: Noun
Sentence: The barrage of facebook photos of his ex with her new boyfriend, reminded the man of his worst trashedy.
Etymology:
Created by: calculon
Pronunciation: 'dest-ROO
Sentence: Phillipa destrued her gift receipt, upon noticing that her newly-purchased pom-pom tuque clashed with her leather jacket, her stiletto-heels, and her carefully-constructed self-image as a no-nonsense corporate attorney.
Etymology: From "Destroy" or "Destruction", it's sad but it's true, and "Rue" - to regret, or wish to undo.
Created by: stache
Pronunciation: kən-trĭt'ə-rā'shən
Sentence: "Save changes?" The question seems innocuous, but the slip of the mouse that leads to a "no" answer can result in overwhelming contriteration.
Etymology: contrite (remorseful, penitent) + obliteration (destruction without a trace; annihilation)
----------------------------
COMMENTS:
I'll be using mouse slips ... clever way to express it! Your word expresses not only the meaning, but the feeling, too. Double Kudos! - silveryaspen, 2008-03-05: 14:11:00
----------------------------
Created by: libertybelle
Pronunciation: shred-ded-WAT
Sentence: Marvin, in his obsession to protect himself from identity fraud, commited a major shreddedWHAT when he realized his marriage liscense was in his pile of bank statements to be shredded. His wife gave the typical response to him when she exclaimed, "You shredded WHAT!?!"
Etymology: play on shredded wheat: cereal + exclamation WHAT!!
----------------------------
COMMENTS:
Cute! - ErWenn, 2008-03-05: 09:35:00
very nice - Jabberwocky, 2008-03-05: 10:55:00
Serial shredders eliciting cries of shreddedwhat! Great pun = Great fun! This is a wonderful won! - silveryaspen, 2008-03-05: 13:51:00
Great! - purpleartichokes, 2008-03-05: 19:35:00
----------------------------