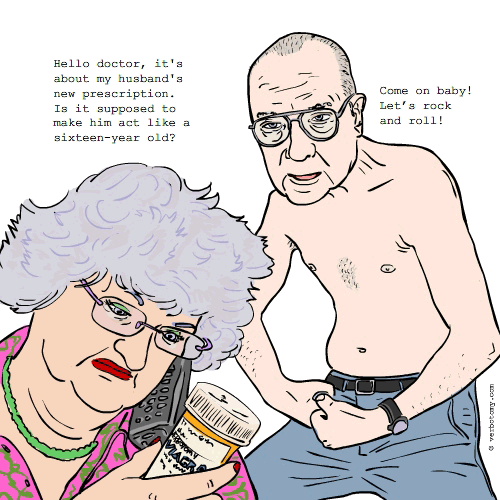 DEFINITION: n. An unintended consequence of medical or psychological therapy, especially if the therapy is supposed to make you feel "young again". v. To feel young and stupid again.
Voted For: Pubescebo
Successfully added your vote For "Pubescebo".
You still have one vote left...
Created by: Rhyme79
Pronunciation: frisk-ee-fighs
Sentence: Dr., I want to friskifize myself. Can I get something over the counter, or should I try a shady, grey-market website?
Etymology: Frisky- energetic, horny. Suffix 'ize' to infer the subject becoming the nature of the verb.
Created by: texmom
Pronunciation: re-vivi-sect-shun
Sentence: By having the revivisection done, Mr. Jones felt like climbing rocks again.
Etymology: re- do again vivi - live section - procedure
Created by: Pythias
Pronunciation: vi-a-tro-gen-e-sis
Sentence: Your husband's behaviour may result from a rare side effect sometimes referred to as clinical viatrogenesis. This is not necessarily a bad thing.
Etymology: Viagra + iatrogenesis ( means "brought forth by a healer" )
Created by: CharlieB
Pronunciation: ther-a-pew-tix
Sentence: Jim felt young again after he started taking the pills. He had endless energy and couldn't sit still. Unfortunately, the side effect was an uncurable nervous tic, where his head twitched manically all day and night. His wife left him and everyone pointed and laughed at him in the streets. But to him the therapeuttics were worth it. They'd all be dead and he'd be living it up in Ibiza.
Etymology: therapeutic (helpful healing) + tic (persistent muscular contraction)
Created by: serendipity9000
Pronunciation: spry-pra-duct
Sentence: The therapy had the weirdest spryproduct - he started doing cartwheels after every session!
Etymology: spry (lively or active) + product; pun on byproduct (side effect)
----------------------------
COMMENTS:
Wonderful! - ErWenn, 2007-06-18: 12:22:00
Though I think your pronunciation has one too many syllables. - ErWenn, 2007-06-18: 12:23:00
I fixed the pronunciation guide - thanks! - serendipity9000, 2007-06-18: 12:30:00
----------------------------
Created by: bubbos
Pronunciation: You-ther-apy
Sentence: A heavy dose of youtherapy has made John realize what he's been missing all these years.
Etymology: Youth + therapy
Created by: mrskellyscl
Pronunciation: vi-ag-gra-vate
Sentence: Herb was feeling like a young buck again; however, Martha was becoming viaggravated because he kept following her around the house, making lewd comments and showing off what was left of his scrawny body. Exasperated, she dumped his prescription down the garbage disposal, tossed ice water in his lap and left to play bingo.
Etymology: viagra: prescription for a certain male dysfunctional condition + aggravate: to rouse to exasperation; annoy
----------------------------
COMMENTS:
viagreat word! - Nosila, 2010-01-12: 07:08:00
----------------------------
Created by: idavecook
Pronunciation: Vie Act Tra
Sentence: Eugene's viactra had gotten so bad, he just asked his granddaughter to the prom.
Etymology: Viagra + Actor
Created by: Mustang
Pronunciation: tess-TOST-ehr-ram-paij
Sentence: Harleigh was a very sedate and well behaved senior citizen until he began taking some 'new age' suppliments he got thru a TV offer and after a few days on the therapy he went on a testosterage, not only frightening his wife, Heloise, but wearing her to a frazzle as well.
Etymology: Blend of 'testosterone' (n. the sex hormone, C 19 H 28 O 2 , secreted by the testes, that stimulates the development of male sex organs, secondary sexual traits, and sperm) and 'rampage' (n. violent or excited behavior that is reckless, uncontrolled, or destructive)
Created by: artr
Pronunciation: rijoōvəninē
Sentence: Walter was having issues with his circulation. A side effect of his new prescription is increased blood flow to certain underused parts of his anatomy. His wife amused and bemused by his rejuveninny behavior.
Etymology: rejuvenate (make someone or something look or feel younger) + ninny (a foolish person)