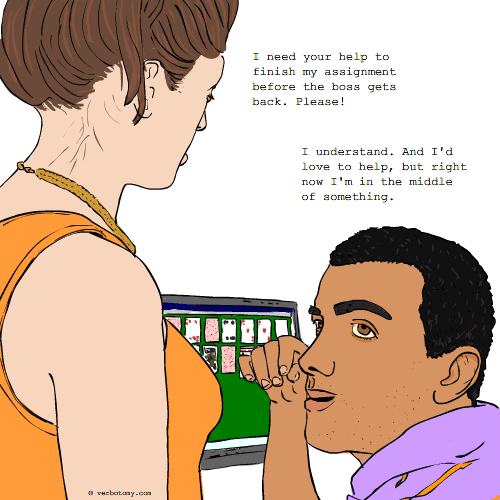 DEFINITION: v. To listen intently and sympathize with your colleagues when they request assistance, and then to simply, and completely, forget about it. n. The ability to sympathize with, yet ignore, requests for help.
Voted For: Sympalies
Successfully added your vote For "Sympalies".
You still have one vote left...
Created by: toralora
Pronunciation: sim/pah/faik
Sentence: I though he was supportive but as it turned out it was all one big sympafake.
Etymology: sympathize + fake/false
Created by: artr
Pronunciation: kəmpashənät
Sentence: As much as Judy saw heads nodding as she explained her dilemma, when it came down to getting help, her coworkers are decidedly compassionot. What she later discovered was that upper management had replaced a number of her coworkers with life-sized bobbleheads.
Etymology: compassionate (feeling or showing sympathy and concern for others) + not (used to express the negative of other words)
----------------------------
COMMENTS:
good one - galwaywegian, 2011-02-02: 09:53:00
----------------------------
Created by: Nosila
Pronunciation: lak nol lej
Sentence: Although Henry would acknowledge Rita's requests for help, he was so lazy and forgetful that there was a big lacknowledge in assisting her.
Etymology: Lack (be without) & Acknowledge (accept to be what is claimed or accept power and authority)
Created by: purpleartichokes
Pronunciation: diss-membur
Sentence: When Sue came back from vacation, she found that Wendy had dissmembered to stop the production of Christmas cookies. Now she had to find a way to turn Santa Clauses into Leprechauns.
Etymology: diss (disrespect), disremember (to forget)
----------------------------
COMMENTS:
word isn't bad, sentence is brilliant! - galwaywegian, 2007-02-27: 06:05:00
I have a clear image of someone chopping the arms and legs off gingerbread men. - petaj, 2007-02-27: 17:38:00
----------------------------
Created by: galwaywegian
Pronunciation: help fool ness
Sentence: Deep down she new that Jon's particular brand of helpfoolness was not going to save the situation.
Etymology: helpful, fool
Created by: aj3131
Pronunciation: Vag-less
Sentence: Every dude can be vagless.
Etymology: well you guys know what is meant.
Created by: ekath
Pronunciation: com-pass-iv-ness
Sentence: Her attitude and attention, which seemingly sincere, should not be misleading. Its all scheming compassiveness.
Etymology: from compassionate + passive
Created by: abrakadeborah
Pronunciation: Aw-too-bad-no
Sentence: "Aww...I'm so sorry and I feel your pain Paula Pokealong, but dear I will not help you again with your work and it's an awtoobadno situation for you that you must handle it this time on your own."
Etymology: Aw;—used to express mild disappointment, gentle entreaty, or real or mock sympathy or sentiment. Too; to an excessive degree : excessively : to such a degree as to be regrettable. Bad; failing to reach an acceptable standard. NO!; not so —used to express negation, dissent, denial, or refusal.
Created by: Mustang
Pronunciation: kuhm-PAH-shuhn
Sentence: Once again Rick responded with typical compasshun to Sharon's request for assistance with her looming deadline, seeming to be caring and sympathetic yet never finding the time to actually come to her aid.
Etymology: Blend of 'compassion' ( a feeling of deep sympathy and sorrow for another who is stricken by misfortune, accompanied by a strong desire to alleviate the suffering) and 'shun' (to keep away from (a place, person, object, etc.), from motives of dislike, caution, etc.; take pains to avoid)
Created by: Osomatic
Pronunciation: fo - fer
Sentence: I said I'd help him move his couch, but it was totally a fauxffer.
Etymology: Well, "faux" means "false." So.