Vote for the best verboticism.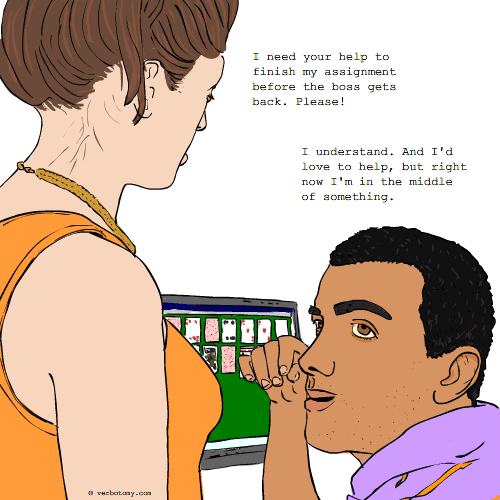 DEFINITION: v. To listen intently and sympathize with your colleagues when they request assistance, and then to simply, and completely, forget about it. n. The ability to sympathize with, yet ignore, requests for help.
Verboticisms
Click on each verboticism to read the sentences created by the Verbotomy writers, and to see your voting options...
You have two votes. Click on the words to read the details, then vote your favorite.
Created by: toralora
Pronunciation: sim/pah/faik
Sentence: I though he was supportive but as it turned out it was all one big sympafake.
Etymology: sympathize + fake/false
Created by: Jabberwocky
Pronunciation: flip/sur/vus
Sentence: His flipservice was so convincing, he never did any actual work
Etymology: flip (about face) + lip service (hypocracy)
----------------------------
COMMENTS:
Can also be tied to flippant, which is quite appropriate. - purpleartichokes, 2007-02-27: 10:01:00
Excellent point purple - Jabberwocky, 2007-02-27: 13:30:00
----------------------------
Created by: mweinmann
Pronunciation: yous - fayl
Sentence: Lorne proved to be usefail most of the time. Louise thought he cared, thought he understood her problem and then thought he wanted to help but for some reason, he never was able to.
Etymology: useful, fail
Created by: Jabberwocky
Pronunciation: em/pa/theh/tik
Sentence: Our IT team is very empathetic. They listen attentively to our problems and then promptly forget about them.
Etymology: empathy + pathetic
Created by: adbern
Pronunciation: ege-spunge
Sentence: However he always listen very carefully when you ask him something, he never do it. He's a egosponge.
Etymology: ego from egoist + sponge from his memory is like a sponge
Created by: Mustang
Pronunciation: kuhm-PAH-shuhn
Sentence: Once again Rick responded with typical compasshun to Sharon's request for assistance with her looming deadline, seeming to be caring and sympathetic yet never finding the time to actually come to her aid.
Etymology: Blend of 'compassion' ( a feeling of deep sympathy and sorrow for another who is stricken by misfortune, accompanied by a strong desire to alleviate the suffering) and 'shun' (to keep away from (a place, person, object, etc.), from motives of dislike, caution, etc.; take pains to avoid)
Created by: porsche
Pronunciation: I/pod/nod
Sentence: He was a master of the ipodnod. He looked intensely interested but he was really listening to his favorite tunes
Etymology: ipod + nod
----------------------------
COMMENTS:
Is this a confession? - wordmeister, 2007-02-27: 19:31:00
----------------------------
Created by: w5lf9s
Pronunciation: ahls.hu.mers
Sentence: When she reminded him the third time to print out that report for her, she began to wonder whether he might be suffering from that particular form of Alzhumour's she had read about.
Etymology: Alzheimer's disease (the first symtoms of which are forgetfulness) + to humour someone
----------------------------
COMMENTS:
Maybe he just considered she was a lazy cow who knew perfectly well how to hit the print button. - petaj, 2007-02-27: 17:42:00
----------------------------
Created by: Ahmad
Pronunciation: help-o-lo-gize
Sentence: Saba helpologize when i asked her to help me out in my assignment as she got to do something.
Etymology: help + apologize
Created by: galwaywegian
Pronunciation: simmm pat eye gow
Sentence: He was tres sympatigo, nodding sympathetically while reversing out the door
Etymology: sympatico, I go