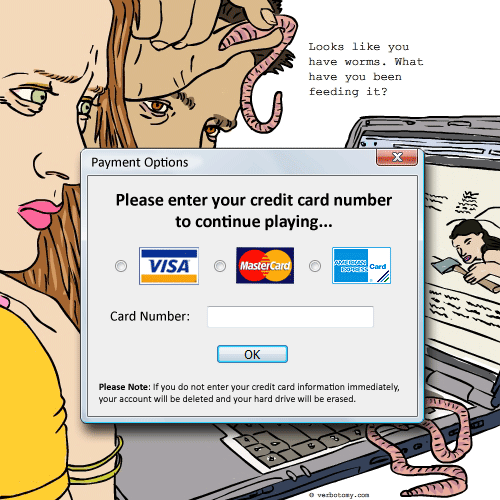 DEFINITION: n. A self-deprecating computer virus which is constantly changing its identity due to problems with its logic and/or self-confidence. v. To randomly change your tune, just so you can bug other people.
Voted For: Vermista
Successfully added your vote For "Vermista".
You still have one vote left...
Created by: Nosila
Pronunciation: kam eel leon par ker bolz
Sentence: Our computer at work has been hit by a new virus or worm. There was no warning beforehand...it just popped up Wednesday. It seems to change direction constantly...one minute all your e-mails disappear, next minute you get them back, plus ones that really belong in the director's computer. Oh well, it was not our fault the virus unloaded some very entertaining reading for us. Apparently the same rules forbidding personal use of the computer do not apply to the boss. Who knew he'd had a passionate, also married, girlfriend on the side for over 30 years? With graphic pictures? We've dubbed the virus a chameleonparkerbowles. It's going to be a royal pain for him when Mrs. Director finds out. Maybe this would be a good time to leverage this new knowledge vis-a-vis a raise to silence the troops? His mother is also going to crown him when she finds out. Without our raise, she too may get a mysterious e-mail, with pictures. And someday her Prints may come...
Etymology: Chameleon (a changeable or inconstant person; a lizard that can change to the colour of its surroundings) & Camilla Parker-Bowles (famous "other woman" who carried on a torrid affair with Prince Charles for over 30 years, even while he had married another. Since Diana, his ex expired, he has married his true love...why the heck didn't he do it in the first place??)
----------------------------
COMMENTS:
We crown thee queen of the pun! Thanks for the royal laughter! Mega-nificent! - silveryaspen, 2009-04-01: 01:11:00
yes, why didn't he - truth to your word - splendiction, 2009-04-01: 21:46:00
----------------------------
Created by: artr
Pronunciation: zigfræg
Sentence: Jim's computer is infected with a virus. He never knows how it will show up as it zigfrags its way through the operating system. He'll type a command, watch the spinner and see what happens this time. Yesterday it erased most of his family photos. Today it emailed a porn link to everybody in his address book. Can't wait to see what tomorrow brings.
Etymology: zigzag (with frequent sharp turns from side to side) + frag (fragment)
Created by: Nosila
Pronunciation: kam mee lee on lyne
Sentence: As if trying to learn and keep up with modern computer technology is not hard enough for older people, every now and then some punk, somewhere in the world, throws out a morphing virus or bug. These types change constantly and therefore are called chameleonline viruses. Maybe we will eventually have the technology to track these viral vandals down and make them pay for the inconvenience and damage done to other people's PC's. In our lifetime...
Etymology: Chameleon (lizard of Africa and Madagascar able to change skin color; a changeable or inconstant person) & Online (controlled by or connected to a computer(of an activity or service) available on or performed using the Internet or other computer network)
Created by: metrohumanx
Pronunciation: AGG-ruh-MORE-fickle-OH-grrr!
Sentence: Anne loved her lappytop more than her kin.. She turned them away, but let viruses in. Clicking became just a cruel misdirection- Lappy acquired a logic infection… Slowing it down until barely alive- Mocking and shocking her internal drive… What was the name of this horrible joker? It was an AGGRAMORFICKLEOGRE !!!
Etymology: AGGRAvate+MORph+FICKLE+OGRE= AGGRAMORFICKLEOGRE.....AGGRAVATE:intensify unpleasantly, to make worse, more serious, or more severe, burden; Latin aggravatus, past participle of aggravare to make heavier, from ad- + gravare to burden, from gravis heavy.....MORPH: To change from one form to another, a local population of a species that consists of interbreeding organisms; back-formation from morpheme.....FICKLE: given to erratic changeableness, marked by lack of constancy or stability; Middle English fikel deceitful, inconstant, from Old English ficol deceitful; akin to Old English befician to deceive, and probably to Old English fāh hostile.....OGRE: a dreaded person or object, a hideous giant of fairy tales and folklore that feeds on human beings and computers, a monster; French, probably ultimately from Latin Orcus, god of the underworld.
----------------------------
COMMENTS:
Free virus scan available at: Trendmicro.com Highly recommended an very thorough. MetrohumanX :) - metrohumanx, 2009-04-01: 14:20:00
Metro~ Thank you! and great word as usual! *I use Trend Micro Internet Security Pro.(home protection for up to 3 PCs):) - abrakadeborah, 2009-04-01: 15:41:00
Thanks. Yes, Trendmicro NEVER failed me. I used it a lot at the library to clean up the machines.... - metrohumanx, 2009-04-01: 16:02:00
I have a family member on here today that joined and made up a word...see if you can guess which word ;) - abrakadeborah, 2009-04-01: 16:20:00
The 'ladybug' in that create told me! That's what happens when you are bugged! (wink/big grin) - silveryaspen, 2009-04-01: 21:45:00
Love the way in iambic pentameter, how you make up a poem about a computer! - Nosila, 2009-04-01: 22:28:00
----------------------------
Created by: remistram
Pronunciation: mew-bug-tait
Sentence: People who mubugtate at parties always end up alone and locked in the bathroom either vomiting or counting the bathroom tiles. Computers who mubugtate at parties always end up being crashed through the window or locked in the bathroom vomiting.
Etymology: mutate + bug (as in virus, and to annoy)
Created by: readerwriter
Pronunciation: verh-mihs-ta
Sentence: After it was exposed that Vermista was not the latest version of the world's largest computer operating system, its creators restructured and began growing the herb, Wormwood, and producing a remedy for intestinal worms they called Vermouthsta. When that failed they decided to produce a red dye and began breeding and then drying the bodies of the wood louse. They called it Vermilionista. After that failure, they thought about opening an Italian restaurant specializing in what they would call Vermicellista. But, alas, in the end they would not repent and on the Judgement Day they were sent to the place where "their worm does not die and the fire is not quenched."
Etymology: From VERMIS, the Latin for worm.
----------------------------
COMMENTS:
I'm just mad about saffron.... - metrohumanx, 2009-04-01: 14:52:00
hahaha...this was great!! - mweinmann, 2009-04-01: 17:02:00
----------------------------
Voted For! | Comments and Points
Created by: kateinkorea
Pronunciation: FICK ON
Sentence: I heard a group of guys in the computer lab talking about making viruses. They were arguing over what they would call it, and they all had these clever names lined up one after another. I think these intellectual bullies should grow up and quit trying to complicate other people's lives. So I stood up and told them that they should call their disasterpiece FICKON…named after the fickle, con artists that started it. To my chagrin I found out later that they liked the name because viruses changed often and they felt like they were pulling off a con.
Etymology: FICKLE: changing often and suddenly CONFICKER VIRUS: CON : a trick; an act of cheating
----------------------------
COMMENTS:
Oh my! And if you don't like it you can just Fickoff???? - readerwriter, 2009-04-01: 10:11:00
Oh my is right! - kateinkorea, 2009-04-01: 10:47:00
Love the word and story, kate, and it isn't even a ficktional one! - Nosila, 2009-04-01: 22:25:00
----------------------------
Created by: michelleohmy
Pronunciation: un-dee-fine-uh-morph-ic
Sentence: In order to be elected, politicians should take an undefinamorphic stance on important issues in order to pander to different voter groups and to make it impossible for the general public to determine what their actual campaign platform is even.
Etymology: Tarskis undefinability theorem- the concept of truth in that arithmetic is not definable using the expressive means that that arithmetic affords; implies a major limitation on the scope of self-representation + Polymorphic Virus: viruses that encrypt or encode themselves in a different way (using different algorithms and encryption keys) every time they infect a system.
Created by: petaj
Pronunciation: vairy-a-bug-l
Sentence: I wish you would make up your mind. I am so tired of your variabuggling.
Etymology: variable + bug
Created by: mrskellyscl
Pronunciation: ba-sil-us-va-sil-us
Sentence: The whole world was braced in anticipation of the dreaded basillusvacillus infection that was burrowing itself in random computers looking for their eharmony and twitter passwords and other sensitive information.
Etymology: Bacillus (virus) Vacillate (change, vary) Us (us)
----------------------------
COMMENTS:
always enjoy a rhyme - makes it easier to remember and brings smiles much of the time - silveryaspen, 2009-04-01: 21:20:00
----------------------------