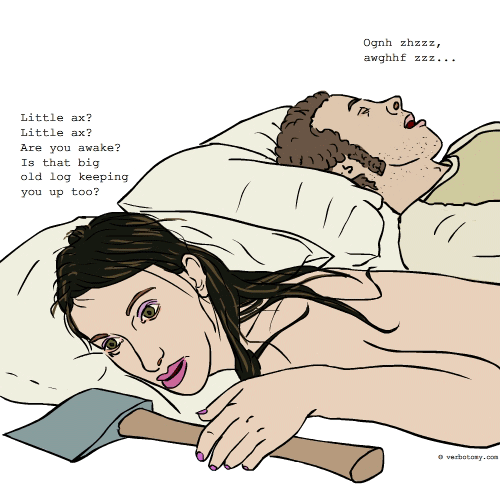 DEFINITION: v. To talk to, encourage and advise inanimate objects, in hopes that they will work better. n. A person who talks to their tools, cars, kitchen appliances, furniture, or whatever...
Already Voted
Vote not counted. We have already counted two anonymous votes from your network. If you haven't voted yet, you can login and then we will count your vote.
---
Drillvel
You still have one vote left...
Created by: remistram
Pronunciation: gah-jet-yak
Sentence: Her gadgetyack was performed not only to encourage the lawn mower, but to scare all the neighbours into thinking she was crazy, and more importantly not to mess with her.
Etymology: gadget + yack (as in yackety-yak)
Created by: artr
Pronunciation: ôtōpəmɔrfaɪz
Sentence: Most couples have ups and downs in their relationships. John and Camaro are no exception. Some mornings he has to sweet talk her just to get her to turn over. When she is happy she practically purrs. John's male friends understand how he could autopomorphize his car. His female friends are just a little jealous of Cammy.
Etymology: auto (a road vehicle, typically with four wheels, powered by an internal combustion engine or electric motor and able to carry a small number of people) + anthropomorphize (the attribution of human characteristics or behavior to a god, animal, or object)
Created by: Nosila
Pronunciation: aks playn
Sentence: Mary had to axplain to her trusty hatchet what would happen when she could not hack her snoring hubby anymore.
Etymology: Ax (edge tool with heavy sharp blade) & Explain (define, make to understand)
Created by: Mustang
Pronunciation: yew-tens-uhl-LEX-eh-kon
Sentence: Martha had developed her own very extensive utensilexicon, a language whereby she actually believed she could communicate with and encourage her kitchen utensils and appliances as well as other tools to behave in ways beneficial to her.
Etymology: Blend of 'utensil' (any instrument, vessel, or tool serving a useful purpose) and 'lexicon' (the vocabulary of a particular language, field, social class, person, etc)
Created by: galwaywegian
Pronunciation: ree lay shun chip
Sentence: Sylvia believed that wood was alive, so she tried to develop a relationchip with all things wooden, from tree hugging to joining splinter groups
Etymology: relationship, chip
Created by: kateinkorea
Pronunciation: AN throw po MORE prate
Sentence: "May I sit on you?" she said to the chair. "Of course I can. I know you don't mind." And then turning to the table, she said, "Now I will put my soup on you. Don't worry it's not too hot. Now then where was I yesterday? I was telling you about the time that I went to France twenty years ago and how I met that nice gentleman there, and…" All day long she would anthropomoreprate and we would have to listen to her anthropomoreprattle bore us to tears, other than to make us want to laugh. But she continued, as if everything around her had ears and held on to her every word.
Etymology: ANTHROPOMORPHIC: treating inanimate objects, gods, or animals like they are real MORE: lots, continuous PRATE: to talk too much in a stupid or boring way
----------------------------
COMMENTS:
:) nice word there Kateinkorea! - abrakadeborah, 2009-03-25: 03:21:00
Great sentence, excellent choice and blending of words! - silveryaspen, 2009-03-25: 09:52:00
terrific - Jabberwocky, 2009-03-25: 15:14:00
----------------------------
Created by: mweinmann
Pronunciation: fur - rench
Sentence: Suzy slowly turned the bolt and this time; used soothing words spoken in frwrench. It seemed to work as the wrench smoothly fit over the bolt and responded to her parisian accent. Job done, thought Suzy as she tipped her beret....
Etymology: french (a romantic languate), wrench (a tool used to tighten bolts).
----------------------------
COMMENTS:
tres bien! - Nosila, 2010-10-07: 21:52:00
----------------------------
Created by: Ismelstar
Pronunciation: [an-thruh-broh-mawrf-min-yuhn]
Sentence: Speaking gently, Catalonia anthrobromorphminized the office printer, whispering, "Don't you know what a hurry I'm in? All I want for you to do is print. Print for me O sweet Cannon M882. Print!" "You'll never understand Her like I do," muttered Ralph as he passed them on the way to the water cooler.
Etymology: A mash up of anthropomorphism, bro and minion. To attribution Best Friends Forever characteristics to inanimate objects in order to make them your minion and do your bidding.
----------------------------
COMMENTS:
WOW, WEE! and I thought I made them long! - abrakadeborah, 2012-03-07: 14:41:00
Say that five times, fast! ;) - abrakadeborah, 2012-03-07: 14:42:00
----------------------------
Created by: BoltonAlan
Pronunciation: ob-jek-tor-ate
Sentence: Your PC won't go any faster if you objectorate to it
Etymology: Object (a tangible and visible thing). Orate (To speak in a formal, often pompous manner).
Created by: Jabberwocky
Pronunciation: tule/eh/kin/ee/sis
Sentence: Sam thought that by means of toolekinesis he could build his deck at record speed. He took it as a personal affront and considered it a rebellion when he accidentally screwed his foot onto a plank.
Etymology: tool + telekinesis
----------------------------
COMMENTS:
Is Sam related to Tim the toolman on the tv show Home Improvement? - silveryaspen, 2009-03-25: 14:48:00
It's such a cute creation I can't help exclaiming Holy Tooledo! - silveryaspen, 2009-03-25: 14:53:00
----------------------------