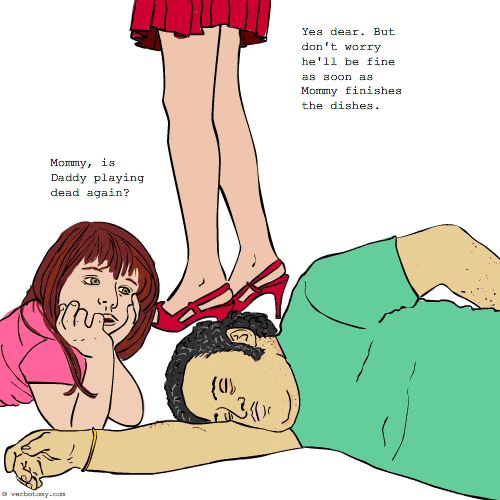 DEFINITION: v. To be physically overcome by a sudden illness, disability, or even death when asked to participate in unrewarding activities -- like work, or household chores. n. A person who gets sick when asked to work.
Voted For: Chorolepsy
Successfully added your vote For "Chorolepsy".
You still have one vote left...
Created by: chale
Pronunciation:
Sentence: My dad fell slackpawed to the floor when he saw the vacuum cleaner.
Etymology:
Created by: plushev
Pronunciation: Mort/ment/olli
Sentence:
Etymology: from mort and mentally
Created by: lela2210
Pronunciation: chorh-poks
Sentence: He would have helped with the ironing, but he was struck by a crippling yet strangely short lived case of chorepox.
Etymology: chore: A small or odd job pox: A disease characterised by multiple skin pustules
Created by: tpm01
Pronunciation:
Sentence: The son didn't want to mow the grass for his father so he decided to shmurg and have to stay on the couch all day.
Etymology:
Created by: vladtheimpala
Pronunciation:
Sentence: As the argument between his wife and mother degenerated to new lows, Barry remained futral.
Etymology: Futile and Neutral
Created by: Viveja
Pronunciation:
Sentence:
Etymology:
Created by: littleguybrush
Pronunciation: con-veen-o-death
Sentence: Dad pulled a convenodeath when asked to do the dishes.
Etymology: convenient plus death
Created by: Tesla
Pronunciation: moil-a-dee
Sentence: Bob suffered from severe moilady, breaking out in hives whenever laundry was mentioned.
Etymology: Moil + malady
Created by: mememe
Pronunciation: wow-me-wuvly-huzband
Sentence: your father is a wowmiwuvlyhuzband he is.
Etymology: derived from the words wow, my , lovely, and husband.
Created by: exmugger
Pronunciation: sudden-slack-er
Sentence: When ask to clean the room, chole turned suddenslacker and dropped to the floor.
Etymology: sudden + slacker